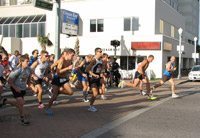 This time last year I was running a 17:48 at the East Coast Surfing Championship 5K (that's me getting a slight head start at the 2008 event). This year, however, is a different story completely. A 2nd metatarsal stress fracture has kept me sidelined for the last five weeks and it looks like it will be a week or two before I'm allowed to run again.
The blog has definitely suffered with my lack of running (you'd think I'd actually have more time to post useless bits of information wouldn't you?), but I'm still trying to maintain some sort of fitness with numerous bike workouts and core exercise routines.
I won't post all the gory details here, but if you are interested in what I've been up to, head on over to dailymile.com where I've been logging all my recent activity.
One-legged push-ups are going well and my notoriously poor biking speed is slowly getting faster. I've also been keeping an eye on the calorie intake and thankfully my weight is only about a pound heavier than this time five weeks ago. Hopefully the return to running will be a successful one, but first of all I'm going to need to teach myself to walk without the Aircast boot.
My next trip to see the doctor is on Friday 4th, and I'm hoping to see more bone growth on the third round of x-rays. Of course, the Rock 'n' Roll Half Marathon is out of the question this year (unless Elite Racing have added an Aircast division), but looking on the bright side, there are plenty of great races coming up in the next couple of months. Just don't expect any speedy times for a while!
Finally, good luck to everyone racing this weekend, and maybe I'll see you out on the course at Rock 'n' Roll? I'll be the one on the mountain bike wishing I was racing…