Well, it's almost to the stage where I'm forgetting how challenging the Western States 100 Endurance Run was, so I guess that means it's about time for a race recap. Ever so briefly, the pre-race couple of days were very enjoyable, and thanks to my crew of wife Ally, daughter Shannon and friend Greg, not stressful at all.
We stayed at the luxurious Squaw Creek Resort and Spa, which was just a few minutes drive from the race headquarters and start at Squaw Valley. One day I'll return to the Resort/Spa to take full advantage of the many facilities on offer.
Packet pickup on Friday morning was just as organized as all the online race reports described – you're treated like royalty from the moment you get weighed, to the moment you leave the village with a bag full of quality schwag. For the record, I weighed in at 140lbs, which would be used on race day to gauge loss of body weight at various checkpoints along the course.
After my traditional dinner of hamburger, fries and a Guinness, we retired early to bed with gear already laid out and alarm set for 3am. Sleep came easy and before I could stress too much, it was time to head to the start to pick up the timing chip/bib and get weighed in once again.
Starting Gear
After much deliberation leading up to the race, I settled on the following starting gear, with plenty of reserve clothing/accessories packed just in case I needed them along the way:
Start to Robinson Flat [74th Overall]
After hanging out indoors for a while, it was soon time to stroll the few hundred feet to the start line. Naturally we took a few
selfies
for posterity's sake, before Ally and crew made their way to snag a prime photo-taking spot. Hanging out at the start I bumped into
Kaci Lickteig
who had finished 2nd at the Rocky Raccoon 100 earlier this year and was one of the pre-race favorites for the Women's race. It was nice to see a familiar face and chat briefly as the clock slowly ticked down.
Then, all of a sudden, just as race founder Gordy Ainsleigh was saying a few words, the final 10 seconds were counted down and we were off and running. The race start is a bit cruel with just over 2,500ft of elevation gain in the first 4 miles, yet the lead guys and girls took off as if the terrain was flat. Meanwhile I settled into a steady hike/jog to *save* my legs/lungs for the final 96 miles of the race. No point going anaerobic at this stage of the game, right?
The air was cool, but the atmosphere was electric. I enjoyed the hike, and unusually for me, chatted quite a lot with runners from North Carolina, California, Texas and Alaska. I also took the opportunity to glance back several times and was amazed at the long line of runners snaking all the way back to Squaw. The higher we climbed, the more magnificent the views became. The last section of the climb was pretty steep, but after power-hiking for a few more minutes we finally reached the summit. Again, the view of Lake Tahoe from the top was breathtaking.
After cresting Squaw, I think there was about 7 miles of rocky, rolling singletrack to negotiate – most of it downhill. I decided to take things easy this early in the race, as one of my biggest fears was destroying the quads leaving nothing left for the runnable miles much further down the line. The Lyon Ridge aid station was buzzing with excitement and offered plenty of support and encouragement, but on this occasion all I needed was a quick water top up.
The next 5 miles to Red Star Ridge were once again rocky, but rolled along nicely. It was also cool to see Kim Wrinkle doing his iRunFar-thing in this section, but unfortunately there was no time to stop and chat. At Red Star Ridge I took the time to drop off a couple of empty Island Boost packages, top off with water and refill my Tailwind soft flask. Aside from feeling a little light-headed (probably due to the average 7,000ft elevation), I was happy with how things were panning out.
The next section down to the Duncan Canyon aid station, and then Duncan Canyon itself, was spectacular, yet a little taxing on the legs. The downhill was pretty long, and surprisingly for this early in the race, I found myself all alone with no-one close by. No worries though – a few more miles and I'd get to see my crew for the first time at Robinson Flat. The "few miles" turned out to be a grinding, almost 4 mile climb, which for some reason, I wasn't really expecting. I'd read the course description numerous times before the race, but oddly this climb had escaped my memory. Ugh.
The aid station noise finally came into earshot just as the trail flattened out a bit. Great news! I jogged in to the aid station where a volunteer removed my hydration vest so I could get weighed. It was a bit overwhelming to be honest, with several people asking questions at the same – "What was your starting weight?", "What can I get you?", "What's in your bottles?", "Do you have crew here"? Thankfully, as I hopped on the scale I spotted my crew enthusiastically waving in the distance and was able to hop off the scale and bypass any more questions and the majority of the aid station tables. For the record, I weighed in at 136lbs, but with the scale positioned on a sand/dirt mix, I didn't think it was that accurate – besides, I'd been religious about my fluid intake and was happy with my level of thirst.
Robinson Flat to Michigan Bluff [68th Overall]
Again, it was great to see my crew at the aid station, but there was no time to hang around and chat. I dropped off my arm sleeves, gloves & empty fuel packets, as Shannon quickly switched out my Salomon soft flasks and Ally sprayed me down with MISSION sunscreen.
Out of Robinson there was a shortish 1 mile climb, followed by another 4-ish mile descent down to Miller's Defeat (Mile 34). The legs still felt good and it was really nice to drop down to 6,000ft where the air felt more breathable. I remember really enjoying this dusty section of the course and for the first time in the race, managed to string together 4 miles in the 9:xx range.
Miller's Defeat to Dusty Corners was another fun 4 mile section. I was able to stretch out the legs and even passed a couple of runners with a couple of sub-9:xx miles. Dusty Corners aid station was really enthusiastic too. I topped off my fluids and took advantage of a major sponge down before setting off to Last Chance.
This section rolled quite a bit, and I think there were a few sections where I decided to power hike instead of jog. A few runners around me commented on the temperature, but to be honest, I wasn't finding it hot and the Mission Multi-Cool Buff was doing its job nicely. So far so good.
From Last Chance we dropped down another 1,800ft in the next 2.5 miles. The quads took a bit of a beating on this descent as I found it really difficult not to stride out. I guess I need to work on my descending skills. Thankfully, at the bottom of the canyon was a most welcome river crossing which really felt good on the legs. I could have stayed there for hours!
Once across the river, I was faced with the notorious hike to the Devil's Thumb aid station – 36 glorious switchbacks on a 1,750ft climb. From what I remember there were only a couple of runnable sections on this climb, and I definitely worked up a sweat as I made my way to the top. At the aid station I took time to chug down some water, refill my bottles and stuff the cooling buff with ice.
Out of Devil's Thumb there was a long (5 mile), gradual descent down to the El Dorado Creek. Halfway down the descent I noticed my 50 mile split was just under 10 hours – not too shabby, and well on pace for a shiny, silver sub-24 buckle. I forced the thought out of my mind though as there was still a lot of running left to do. It was also on this descent that I first noticed signs that my quads were getting sore. I tried to back off the pace a touch, but the braking action of slowing down seemed to put even more pressure on the muscles. With each painful stride forward, I decided my mind and body was ready for another climb.
Once across the bridge at the bottom (at least I think there was a bridge), the trail quickly steepened and I settled in for the almost 3 mile climb to Michigan Bluff (Mile 55.7) where I'd get to see my crew again. I was drinking a lot on this section of the course and at one point was a little concerned that I'd run out of fluids before I reached the aid station. Finally, the trail popped out onto a dusty, rutted road and in the distance I could hear the clapping and cheering of the Michigan Bluff aid station. Ah, civilization at last!
Entering the aid station I removed my hydration vest and weighed in at 138.5lbs. That's more like it! I bypassed the food/drink tables and jogged along to where Ally, Shannon and Greg had set up my supplies. After 50+ miles of running, it was really good to see them again. I switched out bottles, stocked up with Tailwind/Island Boost and took a minute or so to cool off with the giant MISSION cooling towel. Aside from the quads, everything felt good, although I'm pretty sure I whinged a bit about the two "brutal climbs" that I'd just negotiated. I didn't hang around too long at Michigan Bluff and after a quick "See you at Foresthill", I was off running again.
Michigan Bluff to Foresthill [66th Overall]
I ran part of the next section down to Volcano Canyon with another runner whose name escapes me at the moment. It was good to chat a bit, but he soon left me as the singletrack dropped off the closer we got to the canyon. I expected this section to be a bit flatter and, despite taking things pretty easy up to this point, was surprised at how much the downhills were already hurting.
The climb out of Volcano was a welcome respite for the quads, and it was nice to power hike the paved Bath Road section with one of Shannon's friends who was looking for her runner (she was on pacing duties). From Bath Road it was just over a mile to the Foresthill aid station where I'd get to see my crew again and pick up Greg who would accompany me the last 38 miles of the race. This was a fun section along Foresthill Road with lots of cars honking their horns and folks outside their houses shouting and cheering.
The aid station was a bit overwhelming and quite hectic – lots of crew, and plenty of pacers all waiting anxiously for their runners. After a quick weigh in (138.5lbs again), and a few cups of coke, I exited the station and jogged along to find Ally, Shannon and Greg. Greg was raring to go, but I needed a few minutes to take on board more fuel and liquids, and also stuff the Petzl Nao Headlamp into my hydration vest for later on along the course. It was kinda nice to get going again, but as we headed out I realised it would be much later at night when I'd see my crew again at Highway 49 (Mile 93.5). 31.5 miles seemed so far away.
Foresthill to Highway 49 [77th Overall]
After running solo for much of the first 62 miles, it was great to have Greg for company and to chat a bit as we started the descent down to the American River Canyon along Cal Street. The 16 miles to the Rucky Chucky river crossing passed pretty quickly, although fatigue was definitely setting in and my quads were locking up.
Foresthill to Cal-1 was a nice descent, but it was hard to stretch out as my quads rebelled. Cal-1 to Cal-2 was a lot more technical, with numerous rollers along the red-soiled terrain. I think I stopped to shake out some rocks from one of my shoes along this stretch, and was surprised how tough it was just to bend down. Cal-2 soon arrived, however, and after topping up fluids and squeezing down an Island Boost, we were soon off again.
Cal-2 to Cal-3 was more downhill and more rollers. We hiked the ups, jogged the flats and suffered through the steeper parts of the descent. Once at Cal-3 I knew there was only about 5 miles to go to the near side aid station. Thankfully the singletrack levelled off a bit and we were able to run a decent pace along this stretch. At least it *felt* like a decent pace at the time…
I expected the singletrack to continue all the way to the river crossing, but it ended kind of abruptly and turned into a dusty fire road instead. I think there was a bit of a hike involved along here, before the road dropped down gently to the aid station. Once again I jumped on the scale (140lbs – back to my pre-race weight), topped off fluids and as darkness was almost upon us, strapped on a waist lamp and the Petzl Nao.
The short, steep descent to the river was slow going. My quads hurt and it was difficult to pick out a boulder to step down onto. The river crossing, however, was awesome. The cold water felt great on my legs and the support from the volunteers manning the guide rope was fantastic. At the far side of the river I mentioned how good the water felt on my quads, but at that precise moment, my right foot slipped on a rock and I nearly cramped up big time. Thankfully I successfully avoided the cramp and was able to jog slowly up to the far side aid station where our drop bags were waiting.
For the first time in the race I sat down and let a volunteer change my soaked shoes/socks. With 22 miles to go, it would be nice to at least start off with dry feet. The volunteer struggled a bit with my Injinjis, so I bent forward and helped her out. Greg changed his shoes too and after a few more minutes we were off power hiking to Green Gate – a steady 2 mile climb on a rather nice fire road.
I made sure to drink plenty on the climb and munched on a couple of dried pineapple pieces which I'd stowed in my drop bag. They tasted great and made a pleasant change from Tailwind and Island Boost. This section of the race was quite busy with several pacers making their way down to the far side aid station to meet and pick up their runners. It was also quite cool to be moving along with just a headlamp lighting the way.
We reached Green Gate in 61st position overall (the best of the day), quicker than expected and mentally I was still feeling good. Unfortunately it was on this next section to Auburn Lake Trails that I realized my quads were 100% shot and I wouldn't be running much, if any, of the remaining 20 miles. The pain was intolerable and frustratingly I was forced to hobble down the descents one sorry step at a time. I'm still wincing at the very thought. Thankfully, I was still on pace for a sub-24 finish and was able to stride out on the flats and hike the ups at a pretty decent clip.
The 5 mile stretch to Auburn Lake Trails seemed to take forever, and by this time my Garmin had died and I was reliant on Greg to keep me up-to-date with regards to pace, estimated finish time etc. From what I can remember, ALT was a great, fully-stocked aid station, but with me reduced to a walk-only mode, there was literally no time to hang around.
Somewhat despondently, we headed out of Auburn Lake Trails faced with another rolling 4.5 miles to go to the next aid station at Browns Bar. I kept telling myself at least there were only 15 miles to the finish and in my mind mapped out the distance of a comparative route that I run most weekends. One step at a time, Steve. One step at a time.
Greg and I chatted often but also went quiet for long stretches. I think the stretch to Browns Bar was predominantly a quiet one, aside from the numerous times we were passed by runners moving quicker than us (i.e. not walking). I probably bugged Greg a lot on this section asking "How far since Auburn Lake Trails?", "How much further to Browns Bar?", "How much time in the bank for my sub-24?". It was also frustrating as I felt like we should be running this allegedly-easy section of the course, but my legs just wouldn't allow it.
Finally, Browns Bar came into earshot with some crazy loud tunes playing in the distance. It was a bit weird though as the closer we got, the quieter the songs became. Did we miss a turn, or did we have to run some kind of crazy loop to get down to the aid station? Suddenly, the tunes got louder and the aid station miraculously appeared before us! [Note: we found out after the race that Rogue Valley Runners who man the aid station apparently like to confuse runners by messing with the volume of their music. Thanks guys - it certainly worked for us.]
Out of Brown's Bar came another painful 1.5 mile descent (are you kidding me?), followed by a 1.75 mile hike to Highway 49 where Ally and Shannon would be [patiently] waiting. Again, this section seemed to take forever, and the steep descent did nothing to help rejuvenate my quads. After being passed by at least another 4 or 5 sets of runners accompanied by their pacers, the Highway 49 streetlamps soon came into view and it was just a short hop across the road to the aid station.
I could sense Ally and Shannon were concerned about my dramatic slowing from Foresthill to Highway 49, but they didn't mention it, and just made quick work of switching out my bottles and getting me on my way. I sat down briefly for some reason (not sure why to be honest), and decided to swap my Petzl Nao (which was starting to annoy me) for my Black Diamond ReVolt headlamp. Might as well have a bit of comfort for the final 6.5 miles, eh?
Highway 49 to Finish [87th Overall]
Heading out of Highway 49, we were greeted by another 1 mile gradual climb up to Cool Meadow. I would have loved to have run this section of the course but my legs were having none of it. Once across the meadow, there was another annoying 2.5 mile descent down to No Hands Bridge. Again, the pre-race plan was to run this section quite hard and make up a bit of time, but all I could do was keep up a pretty good walk pace.
The bridge soon came into view and was semi-lit up with Holiday lights. A nice touch, but all I could think about was one more climb, and just over a 5K left to the finish. As we crossed the bridge, Greg reassured me that I was on for a sub-23 finish if I could just keep the same pace going. However, I knew the climb up to Robie Point was a tough one and it would take a real effort to reach the Placer High School track in time.
The climb was indeed pretty brutal and coupled with some confusion regarding the distance to Robie, I was just ready to hit the asphalt and be done with the race. The folks at the Robie Point aid station provided a huge boost, however, and as we hit the last slope of the day, it hit me that I was about to complete the Western States 100 Endurance Run. Ally and Shannon were waiting just beyond the 99 mile marker, and it was really cool (and emotional) to follow the painted WS100 footprints and stride out together towards Placer High. The school floodlights soon came into view, and it was such an amazing feeling to hop onto the track and run the last 250m to the finish line, just as I'd imagined so many times in the weeks/months leading up to the race.
The End
After crossing the line and thanking Ally, Shannon and Greg, I wasn't really sure what to do with myself. I chatted briefly with Kim Wrinkle (iRunFar.com), sat down for a while to reflect on the race, but soon started to feel chilly. Ally went back to the crew vehicle to grab warm clothes and some compression gear, whilst I weighed in for the final time (140.5lbs would you believe), before heading to the medical tent to snag a cot and a blanket to keep me warm.
The next 6 to 8 hours were a mix of snoozing in the car, chowing down on the post-race breakfast, sitting in a chair icing my feet and attempting to stay out of the sun. Finally it was time to head to the Awards Ceremony where the Top 10 Male/Females were announced, and every finisher presented with their respective buckle.
Post-Race
Thanks to the Merrell Bare Access Trail and Injinji TRAIL 2.0 socks, my feet are the happiest they've ever been post-100 Miler. Aside from a couple of small hot spots, they look almost the same as they did before the race. My quads, however, took several days to come around, and 9 days on, are still a teeny bit tender. I thought I'd prepared enough for the Western States 100, but in reality I guess I was nowhere near ready for the almost 23,000ft of descending after all. In all honesty the 18,000ft of climbing wasn't too bad, and I felt pretty comfortable hiking at a good clip where I needed to. I'm just a little disappointed that I wasn't able to run much in the last 22 miles and take advantage of the "easier" sections of the course that I kept reading about.
Deep in the latter miles of the race, I remember telling Greg that I had no plans to return to the Western States 100. Despite the trashed quads, I had no doubts along the way that I could finish (which of course I did), but I wasn't feeling the need to return and put myself through the pain and suffering of a very challenging 100 Miler. Of course, just a day or two after the race, thoughts of "I could do this better" and "Maybe if I tried this?" started to creep into my mind, and maybe, just maybe, one day I'll be entering the WS100 Lottery again.
I would also like to officially thank Ally, Shannon and Greg for their tireless work last weekend in supporting me. Running 100 Milers is tough, but it's arguably just as tough, if not tougher, to crew these races. I owe each of you big time. Also, the online support I received via Facebook and Twitter was amazing, and it really kept me going to know that so many people were tracking my crazy journey to Auburn. A sincere thank you to everyone.
Finally, thanks to Hammer Nutrition, Tailwind and Island Boost for fueling me through the 100 miles with no stomach issues whatsoever. Aside from a couple of pieces of dried pineapple, I stuck religiously to a liquid only strategy, and it worked tremendously. I did tire slightly of the Tailwind taste in the last 10 miles, but I think if I'd been running, that wouldn't have been so much of an issue.
So, lots of positives to be taken from the race – I finished with happy feet and a happy stomach, and achieved my pre-race goal of earning a Sub-24 buckle. There's also the knowledge that I can definitely do better if I'm lucky enough to get another shot at the race one day. We'll see, I guess…
Other Online Race Recaps:
Ian Sharman – Sharman Ultra
Juan Escobar – Tales of an El Paso Trail Runner
Stephanie Howe
Max King – Western States and All That History
Alex Varner – Western States 2014
Larisa Dannis – The Dark Horse
Mike Aish – California Dreaming
Dylan Bowman – Western States 100
Pam Smith – Western States 2014: One Great Big Fake Orgasm
David Laney – Western States 100 Mile Endurance Run

Bit of a last minute decision to run this one! Western States 100 preparation has been going well, but in the back of my mind I couldn't shake the thought that I needed one final, long training run. Of course, some actual trail experience with a modicum of incline/decline would sure to be beneficial too.
Aside from the typical Friday afternoon traffic, the drive to the DC area was fairly uneventful – there was even enough time to meet good friend Andy O'Brien at The North Face Tyson's Corner store for packet pickup. One less thing to do on race morning if nothing else. Dinner was enjoyable at the local Sweetwater Tavern, and with all my gear laid out by 9pm, it was soon time to set the Saturday morning alarm and turn in for the night.
As expected, 3:30am came all too quickly. Breakfast was a couple of scoops of Sustained Energy – enough calories to eliminate that hungry feeling but without having to force down any solid foods. 20 minutes later, dressed and bags loaded, it was time to head to the race.
The start area was unlike most typical Ultra events – music blaring, DJ making announcements and many of the vendor tents bustling with excited runners. I just wandered around with Ally; chatting, sipping water and counting down the minutes to the off.
A few minutes before 5am, runners were ushered to the start line, and after a brief speech by The North Face athlete Dean Karnazes, we were off and running. Four young kids took off like it was a 10K but I settled into the pack and concentrated on taking things nice and easy.
The first few miles took place on a grassy field (perfect for getting the feet wet early in the race!), a golf cart path cutting through several fairways, before finally reaching the Potomac Heritage Trail. Pace was in the low to mid 8:00s and everything (as it should at this early stage) felt good. My plan for the day was to keep things under control and run a steady, even-paced race, without getting sucked in to the usual race day madness. I was also keen to test out a shoe/sock combination (Merrell Bare Access Trail/Injinji TRAIL 2.0) and practice consistent fueling with my planned Western States nutrition. As we continued along the winding single-track trail I forced myself to check my heart rate reading every once in a while to ensure the effort level stayed easy.
I was amazed how quickly the first 15 miles passed, and as I approached the Great Falls aid station where Ally was patiently waiting, realised I was almost one third done with the race already. I topped up with water, dumped in a serving of Tailwind and headed out on the first of three "Great Falls Loops" in 15th place.
With 3 out-and-backs per 6.9 mile loop, it was an excellent chance to see how far ahead the other runners were. The 3 or 4 "fast kids" were nowhere to be seen, but I counted at least 10 other guys ahead of me – some looking good, some already struggling. I told myself to stick to the plan, maintain the steady pace and make the most of what ups and downs there were on the course. I made it back to the Great Falls aid station with Loop 1 completed right on 60 minutes. Ally was nowhere to be seen, but I figured she was probably out logging some miles of her own. After a quick Tailwind top-up and serving of Island Boost, I was off and running for Loop 2.
With some of the 50 Mile runners starting their first loop, the course was definitely more crowded now. I just kept the steady pace going; feeling strong on the ups and swift on the downs. I got back to Great Falls in 59 minutes, with Ally waiting at the drop bags to find out what I needed. I stuck to the Tailwind/Island Boost combo, but made a point of telling her that at the end of the next loop I'd be ditching the Ultimate Direction AK Vest and just carrying a handheld for the final 15 miles. The temperature was rising and I looked forward to getting some air around my upper body.
The final 6.9 mile loop passed quickly. Once again, I focused on consistent fueling and steady pacing, and managed to overtake a couple more runners on the return to the aid station. Ally was ready with my supplies and after ditching the AK Vest, I was soon on my way. I didn't realise at the time, but Loop 3 took exactly an hour – giving me splits of 60, 59 and 60 minutes for the 3 loops. Happy with that!
With just about 15 miles left to run, my main goal was to keep on top of hydration/nutrition and stay as strong as possible. I knew there were a few rollers on the way back and wondered how my legs would react to the ups and downs. Frustratingly, I managed to miss the left turn onto Bootlegger Trail and probably wasted at least 4 or 5 minutes backtracking to the short, steep incline. I'm always amazed how a momentary lapse in concentration (this time I was looking down at the rocky terrain to make sure I didn't trip) can potentially cost you a lot of time and wasted energy. Thankfully, on this occasion, I quickly realized my mistake and was able to head back to make the correct turn.
Last time I ran this race I remember struggling somewhat with the heat and distance between aid stations. The final half marathon distance seemed to drag on forever, and the steep little inclines as the trail ventured away from the river really took their toll. This year I felt much stronger and in control. I power hiked the ups and was able to negotiate the downs much more fluently.
The trail was also quite busy with marathon runners heading out towards Great Falls for their race, and 50K runners heading back to finish off theirs. I guess saying "Good job!" at least 100 hundred times helps pass the time, and it was nice to receive several "Looking strong!" comments too.
Eventually I reached the Mile 47 Sugarland aid station where I heard someone shout "Look who it is!". Turns out local guy Aric Martinez had showed up to watch the last few miles of the race and offer his support. It was cool to see Aric but I didn't want to hang around, so after downing a few cups of Coca-Cola and a quick water bottle top-up, I set off on the 2.2 mile out-and-back which would bring us back to Sugarland.
The out-and-back was a little muddy but not bad enough to slow me down, and aside from dodging a few flying marathon-relay runners, it was quite uneventful. To be honest, I just wanted to close out the race and get some proper food inside me. However, as I entered Sugarland for the final time with approximately 1.6 miles to go, Aric informed me that the 3rd place guy (really?) was just 90 seconds ahead. Apparently he was 4 minutes ahead when I started the out-and-back so I'd gained 2.5 minutes in just 2.2 miles without picking up the pace at all.
All through this race I was proud that I'd stuck to my plan and avoided getting sucked into race mode, but with a podium slot now within striking distance, a switch flipped, and I was off doing what I love to do – chase down the opposition. It took about 3/4 of a mile to reel him in, and from that point on there was no looking back. I crossed the line in 7:21:42 (about 15 minutes quicker than my 2011 race) and was confirmed as the 3rd place guy by the race announcer.
Ally was there at the finish, and after enjoying the best post-race beer ever (a Sierra Nevada Torpedo Extra IPA) and a quick bite to eat, it was time to change into dry clothes and head home.
Favorite stat of the race – in the first 48 miles I ran just two sub-8 minute miles, but with someone to chase and the race-mode switch flipped on, I closed out the last 1.5 miles at a crazy 6:40/mile pace. Nice to know there was something in reserve…
Gear/Fuel:
It's been a year or so since I retired my one-and-only pair of Merrell running shoes – the Barefoot Trail Glove. I loved the lightweight Trail Glove for both road and trail running and racked up almost 500 miles on them before deciding it was time to demote them to a grass-cutting shoe. I've been a bit out of the loop with Merrell's latest offerings, so when a representative approached me about trying the new Bare Access Trail, I quickly jumped at the chance.
I've logged just over 55 miles in the soon-to-be-released Bare Access Trail, and so far I'm mightily impressed. There doesn't appear to be much information online about the shoe, but I did find the following video posted by RunningShoes.com:
If you'd rather skip the video, highlights are as follows:
Zero drop
Lightweight
Trail specific outsole
2.5mm lugs (Merrell website states 4mm)
For me, the best thing about the Bare Access Trail is the roomy toe box and the way the shoe almost disappears on your feet. I've suffered pretty badly with blisters in several of my recent Ultra races (2 x 24-hour events and the Rocky Raccoon 100), with many of the issues stemming from jammed up toes in the toe box. Thanks to the Bare Access Trail and the recent addition of Injinji toe socks, my recent training runs have been far more comfortable in the toe department. Let's hope the combination works when I tackle my next big event.
The shoes weigh in at just over 8oz and are super comfortable with their synthetic leather/air mesh upper and lycra lining. I've risked a few sockless runs with no issues, but for the most part stick with Injinji RUN 2.0 or TRAIL 2.0 socks. The Blue/Flame test shoe I have is a size 10 (1/2 size up from my regular 9.5), so the added bulk of a sock is quite necessary. I could probably get away with a 9.5, but to be honest I'm enjoying the extra room up front for my toes to splay and spread. Note: the footbed is non-removable.
The Vibram outsole is luggy, yet very flexible, and grips really well on a variety of off-road surfaces. I've also worn the shoe on some short road and road-to-trail runs with no issues. Actually, despite the lugs, the Bare Access Trail performs very well on the road. The 8mm MBound midsole adds a nice level of protection to the shoe without adding a huge amount of unnecessary bulk.
The lace system is simple, yet effective and best of all, the laces stay tied. The tongue is slightly padded and does not put pressure on the foot like other trail shoes sometimes do. The heel collar is also very comfortable and sits at just the right height.
Two other features worth noting – thanks to the air mesh upper, the shoe drains quickly and very efficiently, although I think the coolmax Injinji socks are a factor here too. Finally, the wraparound toe bumper is nice and flexible and does its job well.
I've really enjoyed my miles in the Bare Access Trail and am seriously considering them as my main shoe for The Western States 100. The flexible platform and low profile feel really natural, and it's the shoe I've been reaching for first whenever I head to the trails for a run.
The Merrell Bare Access Trail has just been listed on the Merrell website, and is available for purchase in the Ice/Lime or Molten Lava colorways. Current retail price is a respectable $100.00.
The Bare Access Trail are also available at Road Runner Sports and Shoebuy.com. Current retail price is $99.95, although you can probably find a 15 or 20% off code to use at Shoebuy.
Disclaimer: The Bare Access Trail are a media sample provided free of charge by Merrell.
I walked away from the 2013 Virginia 24-Hour Run/Walk for Cancer with 112.5 miles and a 2nd place overall finish. At the time I was happy with the mileage (a PR distance) and comfortable with the decision to stop running with a couple of hours left on the clock. My body was cold and my mind had mentally checked out of the race. Enough was definitely enough. As the days/weeks/months ticked on, however, my decision to "quit" started to bug me, and I wasn't happy that I'd left a couple of hours and potentially another 10 miles on the table. This year, I promised myself, would be different.
Fast forward 12 months, and it was time to line up and take the challenge again. Brian Burk headed up our Run4Life team which included wife, Ally, and daughter, Shannon, who were both taking part in their first 24-hour event. In 2013 we won the team award with 788.75 miles. It would be interesting to see how many miles we could rack up this year.
The race started a little late (7:15am), but everyone was in good spirits as Race Director George Nelson counted us down to set us on our way. The first several loops with Tad Meyer felt great – the pace was easy and the good conversation helped the miles tick by really quickly. As enjoyable as each 3.75 mile loop was, however, I *knew* I was running too fast for a 24 hour run, but didn't do anything about it. I really need to practice better pacing if I'm going to maximize my potential at these Ultra events.
Despite stopping after each loop to top up fluids (Tailwind Nutrition was the fuel of choice for the race), we ran the first 20 miles in around 2 hours 47 minutes – quicker than my opening 20 at Rocky Raccoon where I'd spent hardly any time at the aid stations. Basically, the pace, despite feeling very comfortable, was way too fast.
The weather was great but probably a little warm for an Ultra – I think it topped out at the low 80s in the early afternoon. Hydration was good, and my hourly Endurolyte Extreme capsule was taking care of my electrolyte levels. Around Mile 30 I started to develop a hot spot on my right foot, so decided to change out of my Pearl Izumi EM Road N1s (which actually gave me a bit of trouble on some of the slick parts of the course), and into the Trail N1s. The extra traction and sturdier outsole was a welcome relief, and the hot spot seemed to disappear. I also took the opportunity to slap on some MISSION Sunscreen and switch from a longsleeve to singlet.
Naturally, as the morning wore on, the pace slowed. I'd kind of expected this to happen after the early swift pace, but wasn't prepared for how tough things would get. Amazingly, Tad experienced the same feelings as me, and we both struggled to maintain any kind of decent pace. Tad's description of having "legs like stone" summed up the next 30 or 40 miles perfectly.
The second 20 mile block took around 3 hours 15 minutes, and at this point I think we were still the leading two runners. Not for much longer though. As our constant-running turned more and more into running abbreviated with longer and longer walk breaks, our average pace slowed and slowed. We were both despondent and neither of us seemed able to break the cycle – quite strange as typically we're both such strong minded and determined runners.
In addition to the stone legs, my feet were also giving me a hard time. The hot spot came back, so I decided to change socks and shoes. And then a few loops later, I changed shoes again. I hoped the Hokas would be the miracle boost I was looking for and set off with a slightly renewed energy.
Despite the steadily slowing pace, Tad managed to set a 50 Mile PR, but by this time we were discussing when would be a good time to drop from the race. I'm not sure how or why I allowed myself to get into such a low mental state, and I almost convinced myself that dropping early would save my stone legs from further damage so that I could resume training that much earlier the following week.
To add to the misery, last year's winner, Keith Straw, passed us at some point in the afternoon to move into the lead. Keith always runs a smartly paced race and just cruised by us as if we were standing still. I remember saying to Tad that the "old me" would have responded to being overtaken with at least a slight chase down of Keith, but in this instance I wasn't really bothered and was quite content to let him go.
The third 20 mile block was the slowest of the day to date – 4 hour 07 minutes – but it was still 24 minutes faster than miles 60 to 80, where the average pace was 13:33 per mile. Tad and I were still together at this point, although I'd contemplated dropping at both the 100km AND 75 Mile mark. Somehow I stuck with it and battled on into the night.
Unfortunately, the Hokas weren't the boost I was looking for, so yet again I decided on a sock/shoe change. I also took the opportunity to switch into compression shorts and a long sleeve for the night time miles, and told Tad it would probably take a while for me to change, so it would probably be best if headed out for the next loop on his own. The compression shorts felt great, but my feet were still not happy in the Pearl Izumi EM Trail N1s.
Strangely enough, running seemed less painful than walking with regards to my blistered feet, so for the next loop I ran pretty much the whole 3.75 miles. That hadn't happened since way earlier in the day and actually provided a small boost of encouragement. At the end of the loop Tad was refuelling at our makeshift aid station near the start/finish area. I quickly topped up my handheld from the pre-mixed 5 gallon cooler of Tailwind and told Tad that I needed to keep moving – I'd finally found some sort of rhythm and didn't want to lose it. I headed out for the next loop with a renewed energy, feeling much more like my old self.
From here on out my perspective changed. I started to go through the numbers in my head – how many miles I'd logged, how much time was left on the clock, how far ahead was Keith. I started to run for a mile, walk for a minute and the loops seemed to pass quicker and quicker. Two of Shannon's friends (Drew Midland and Liam Arocho) helped out by keeping me company on several loops. The conversation was a nice distraction, but I found myself taking more walk breaks than I really needed and decided to go solo for the rest of the race.
My Garmin died just before reaching 100 miles, but the elapsed time was about 18 hours 40 minutes. The fifth 20 mile block had taken exactly 4 hours – faster than both of the last two 20 mile blocks! Night running must agree with me. I think I told Drew that I was confident of beating last year's distance (112.5 miles) and with any luck I could get to 120 miles before the end of the 24 hours. He was mentally in a better state than me and confirmed that my calculations were correct. Heading into the race, I had a feeling the course record of 125 miles could be achievable, but after walking so many miles in the afternoon, I figured today wouldn't be that day.
I remember closing in and passing Keith, but cannot for the life of me remember at what stage of the race this happened. I do know that from this point forward I was on a mission to stay ahead of him though. Each loop was a personal battle to keep running. I allowed myself some walk breaks, but tried to run as much as possible. Time spent at the start/finish area at the end of each loop was kept to a minimum too – after a quick handheld refill and a few swigs of coke, I was off and running with a "See you next time" to whoever was still hanging around.
At approximately 5:15am I wearily finished off another loop. As I filled up my handheld, the timing guy announced that another 2 loops and 2 x 1 mile out-and-backs would give me the course record. I appreciated the info but replied "There's not enough time. I can't do another 2 full loops." As I headed out for what I thought would be my final full loop, it hit me – "Wait a minute, the race started late. I have until 7:15am!" For the last 5 or 6 hours all my calculations were based on a 7am finish. The extra 15 minutes breathed new life into me and I took off.
Sure enough, I was able to complete two more loops to put me at 123.75 miles, and had enough time left on the clock for at least an out-and-back run that would enable me to tie the course record. I chugged down some more coke and set off as fast as my legs would carry me. I made it back to the start/finish area where quite a large crowd had assembled – all cheering and clapping and generally urging me on. "One more mile, Steve" I said to myself and took off again.
The run out to the 0.5 mile marker was quite emotional. After such a rough day I was about to set a new course record and win the race. Keith was still out on his final full loop and although he had enough time left to run a 1.25 mile out-and-back, I figured it was impossible for him to run any more. My body was hurting and my feet were a mess, but nothing was going to stop me from running the final half mile back to the finish line.
Ally and Shannon were waiting at the finish line, along with the rest of the team and numerous other folk. Finally it was time to stop running and enjoy the moment!
Keith did indeed end up with 125 miles, earning a 2nd place finish and a coveted 125 mile plaque. I have to thank him for pushing me all the way and inspiring me to keep on running when the easy option would have been to stop. Also, I can't end this race recap without thanking Tad Meyer who ended up with a new 100 Mile PR before calling it a night some time during the 19th hour. Despite the rough patches, it was a real pleasure to spend many hours and many miles on the trail with Tad – he's an amazing athlete and a real nice guy.
Congrats also to Team Run4Life. We weren't able to defend our title, but there were many fantastic performances and the team spirit was tremendous. Something tells me we'll be back to have another go next year. Right, Brian? Last, but by no means least, the day was made extra special by having Ally and Shannon taking part. They each logged 52.5 miles yet still found time to support me in my crazy endeavour. Naturally, I'm very proud of them both!
Gear/Fuel:
Hoka One One Bondi 3
Inov-8 Gaiters
iPod Shuffle
Footnote: Many of the race details are already a bit fuzzy, so apologies in advance if I've misquoted or messed up any of the facts. Thanks also to everyone who came out to support at Sandy Bottom Nature Park – your assistance and generosity is greatly appreciated.
Other Online Race Recaps:
Brian Burk – Brian's Running Adventures
Cara Hendrickson – What are you Running For?
Frank Lilley – Amazing
Megan Stegemiller – running off the beaten path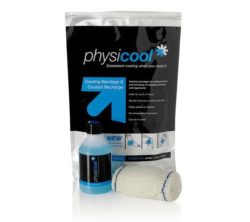 I've been following Physicool on Twitter for quite some now, so was thrilled when they offered to send me a sampling of their product to test and review.
Thankfully [touch wood], I'm running injury free at the moment, although my right shin/calf has been a little tender of late. What better time to test the physicool Cooling Bandage?
How it works:
The concept is a novel one – instead of pushing cold in (such as ice), physicool draws heat out for instant cooling. physicool is a unique cooling bandage infused with a coolant. The coolant draws heat away from the affected area by evaporation. As the deep tissues cool down, the compression effect of the bandage modifies the inflammatory response to soft tissue, helping healing and recovery. Each bandage cools for up to 2 hours and can be re-used by applying more coolant.
physicool explain the science of cooling by rapid evaporationon and cooling with open-cell technology on the How it Works section of their website and their excellent "How to Apply" video (below) is a useful resource too.
physicool currently sell 4 products:
Size A Bandage ($14.95) – suitable for wrapping wrists and elbows.
Size B Bandage ($19.95) – suitable for torso, thighs and shoulder areas.
16.9oz Coolant Spray ($26.95) – used to recharge either of the physicool bandages for many more uses.
Combination Pack ($20.95) – a Size A bandage and 5oz bottle of coolant.
The product I received was the Combination Pack containing a Size A bandage and bottle of coolant – enough for a couple of recharges according to the bottle label.
I like the fact that no refrigeration is necessary and that the product can be used right out of the self-seal packet. User instructions are clear and concise, and printed on both the large outer Combination Pack and inner Size A bandage pack. Coolant recharge instructions are clearly visible on the coolant bottle label as would be expected.
Application on my lower leg was quick and easy.
Tear packet above the self-seal line on the bandage packet.
Remove the bandage, squeezing any excess coolant back into the package.
Wrap bandage gently around the affected area, being careful not to overlap by more than one third.
When the bandage is completely unraveled, fasten the end using the attached physicool logo'd velcro strip.
Elevate the injury, but be sure to keep the bandage uncovered with good air circulation.
After a couple of hours, the cooling effect will stop. Remove and re-roll the bandage, placing it back in the original packet along with 5 capfuls (approx. 75ml) of coolant, so that it's ready for the next use.
Does it Work?
I have to say the physicool experience is far more comfortable and convenient than the traditional bag-of-ice-on-the-injury treatment that most athletes tend to favour.
Within seconds of wrapping the bandage on the affected area, the cooling sensation kicks in and you get to enjoy a nice tingly sensation. In the case of my sore shin, the relief was pretty much instant.
The first time using the product, I kept the bandage on for probably 90 minutes. The bandage stayed cool/cold the whole time and was not uncomfortable at all – in fact it was quite a soothing sensation. The only slight downside to the initial application was the smell of the coolant. No smell would be ideal, but it is what it is I guess. Results were similar to better than traditional ice treatment in that the shin responded to the treatment, but the whole experience is far more pleasant and sustainable than applying an ice pack to the affected area.
"Cool" things about the product are that you can apply coolant to the bandage in situ to recharge the cooling effect, the cooling technology works, it's completely portable and is very easy to apply. physicool is definitely something I'll be packing in my race gear bag and keeping close to hand for those little niggles that crop up from time to time.
Links:
physicool website
Follow physicool on Twitter
Like physicool on Facebook
physicool on Amazon.com
(Disclaimer: the product reviewed in this post is a media sample provided free of charge by physicool).