As many of my regular blog readers know, I'm a big fan of Hammer Nutrition products. However, I do like to keep my options open and enjoy trying different sports fuels from time to time. One of my favorite alternatives are the unique Island Boost Premium Fuel products, created by Laura Mildon, "an easily distracted runner with a very sensitive digestive system who got physically sick using traditional fueling products."
Island Boost is available in 3 great flavors (Passion Fruit, Strawberry/Orange and Blueberry/Pomegranate), and unlike traditional energy gels is a liquid, rather than a solid or thick gel. This means it can be taken without water for instant on-the-go energy. Ingredients include glucose, fructose, water, coconut water, high quality juice concentrate, sodium, potassium, sorbate and sodium benzoate.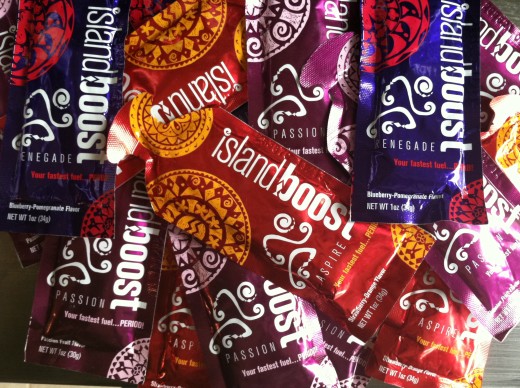 I used Island Boost successfully at the 24 The Hard Way event last weekend, and as advertised, the "boost" was instant and very noticeable. In addition, the fuel packets were really straightforward to open (nothing worse than wrestling with a gel pack in the middle of a 24 hour event!) and extremely easy to digest – simply tear, squeeze and go.
Blueberry/Pomegranate is definitely my favorite flavor, with Strawberry/Orange a close runner up. However, with a brand new Chocolate-flavored product on the horizon, that might have to change. Laura and her Island Boost team tried more than 35 formulations of Chocolate Island Boost before nailing a formula they were 100% happy with – the result; a true gourmet fuel using high-end chocolate and premium vanilla. Unfortunately, they don't have sufficient funds to complete the FDA testing and manufacture Chocolate Island Boost while running their current operations, so have set up an Indiegogo Campaign to raise funds to help with the manufacturing process.
Full campaign details can be found at the Indiegogo website, where you can contribute funds and select one of many perks. For example, contribute $1 and receive 2 packets of Chocolate Island Boost if and when the funding goal is reached and FDA approval is obtained. For $40, you'll get 10 packets of Island Boost, temporary tattoos, a cool water bottle and your choice of one runner's hat or visor. Contributions go all the way up to $50,000 where you can become "The Face of Island Boost", and the campaign runs through November 30th.
Hopefully the Island Boost campaign will be a success and the excellent chocolate flavor will soon find its way to market. Good luck, Laura, and thanks for allowing me to sample the unique chocolate fuel!
Links:
Follow Island Booster on Twitter
Like Island Boost on Facebook
Indiegogo Campaign
Not sure where to start with this recap to be honest, so here goes nothing…
I signed up for 24 The Hard Way back in July, about a month before I tackled the Leadville Trail 100. I had a lot of fun at the 24 Hour Run for Cancer in April where I managed to run a new personal best of 112.5 miles in just under 22 hours, but a few days post-race I found myself wanting more. After browsing the popular Ultra calendars, I soon came across "24 The Hard Way"; a fun-sounding event in Oklahoma City which had been selected as the 2013 24-HR U.S. National Championship race. Perfect.
Leadville was soon behind me, and after an enjoyable couple of recovery weeks it was soon time to lace up the shoes, resume training and have fun at a few local races:
The 12-HR Adventure Trail Race went well, where I managed to snag a rare win and run a solid 71.5 miles.
The following week I placed Top 3 at the Neptune Festival 8K in a surprising 29:02 on tired legs.
One week later I was racing again – this time at the Cardiff Half Marathon in Wales. Expectation was low, but I came away with a new lifetime best 1:17:55.
I took a much-needed week off after the Cardiff Half to enjoy family time in Wales and Scotland. The mental and physical break from running was great, but must admit it was difficult to get back into the swing of things on the return to the USA. I struggled on several runs – feeling slow, lethargic and awkward – then, just over a week post-vacation and less than a week before 24 The Hard Way, I came down with a cold. Hmmm.
As race day approached, my confidence started to wane. I rested, hydrated and rested some more, but frustratingly still felt wiped out. Rather than waste a couple of plane tickets and a race entry, the only option was to fly to Oklahoma, take my place on the start line and see how things panned out.
Friday was a tad better. It was good to catch the early flight, arrive at the hotel by mid-morning then spend the rest of the day picking up supplies, organizing race-day gear and relaxing. Dinner was my usual burger and Guinness, and after a pleasant hour or so with online friend Glenn McDaniel, it was time to hit the hay.
Packet pickup was quick and easy. Ally set up the crew area (pictured left) just past the start/finish aid station, and after a quick relax in the car it was time to head to the start line for the pre-race meeting. At 9am sharp we were off.
The early miles were pretty uneventful – just a matter of getting familiar with the almost-one-mile loop and settling in to a comfortable pace. Despite not feeling 100% I was still able to maintain a good rhythm and stay quite relaxed. At the end of the 1st hour I took a planned walk break. It felt weird to walk so early in the race but figured it would preserve my legs for when the going got tough.
Ally was on hand with nutrition and fluids whenever I needed them. Each time I completed a loop, I'd run through the aid station, pick up either a flask of Tailwind, some water or an Island Boost pack, then be on my way. The first 3 or 4 hours passed by fairly quickly but I remember feeling distinctly out of sorts and definitely not firing on all cylinders. I must admit the thought of quitting early entered my mind more than once, and I even mentioned it to one of the other runners, Al, who was making steady and consistent progress. Al replied that it was too early in the day to make a rash decision and to "give it a few more loops" to see how things developed. I'm glad I did. Thanks, Al!
As the afternoon rolled on, the rain started. Nothing too heavy, just a steady drizzle that did little to dampen the spirits of the runners. Actually, aside from the humidity, it was quite refreshing, but compared to the other two 24-hour races I've taken part in, the hours ticked by slowly. I remember 6 hours in thinking "Ugh, I still have 18 hours to go."
Energy-wise things were good. Tailwind, Island Boost and coconut water were keeping me going nicely, and at no point did I feel like I "needed" calories. At some point switched to Hammer Perpetuem for several loops as I figured the protein would be beneficial, but soon after that I was back on the coconut water which Ally had convinced me to buy "just in case" I fancied it during the race.
I went through 50 miles in around 7 hours 20 minutes, still managing to log splits in the 8:30/mile range, and finding myself looking forward to the dark hours which were fast approaching. Chatting to the runners on the course helped pass the time and before long it was time to grab the Black Diamond ReVolt Headlamp.
Between 10 and 11 hours I had quite the rough patch. It was a real slog to keep moving and as much as I tried not to, I kept focusing on the negatives such as my cold, sore throat and wet clothing/shoes. Once again, I found myself considering calling it a day after 12 hours and putting an end to the rough patch, but after a quick stop to change shoes and clothes, things started to feel better. I've found this happens quite a lot in ultras! Now as I got going again, my thoughts soon turned to the 100 mile barrier, and after a few speedy loops I calculated that a sub-16 was potentially on the cards. *All* I had to do was keep up a consistent pace and try to stay under 10 minute miles. Easy, right?
Ally kept me on track with my fluid and nutrition needs, but as the loops got slower and slower (loops 91-95 were all in the 10:15-11:40 range), I figured the 100 mile PR was slipping away. I mentioned this to Ally, but she was having none of it, and said a sub-16 was still there for the taking and to go for it. The result – 7 consecutive loops under 10:00/mile and a new 100 mile PR of 15:56! I guess anything is possible if you believe hard enough.
Now it was time to relax just a bit, but with the definite goal of beating my current 24-hour best distance of 112.5 miles. With almost 8 hours remaining on the clock, I hoped this would be pretty easy to attain, but as my pace slowed during the next few hours, I found myself struggling again and just looking forward to the sun coming up.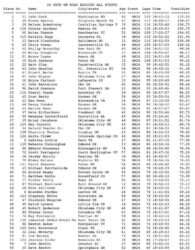 For most of the race I kept my eye on the monitors at the main aid station which displayed the overall standings and the lap split for each runner as they passed over the timing mat. There were a few technical issues early on in the race, but from what I could tell I was somewhat surprisingly maintaining 4th or 5th position for much of the race. Even more surprisingly; somehow during the 19th hour I managed to sneak into 2nd place overall…but still a massive 7 miles behind race leader and eventual winner, John Cash. The 2nd place was fairly short lived, however, as my right foot/ankle started hurting. Steady running turned into a mix of run/walking, then the run/walk mix frustratingly turned into just walking.
The pain was located on top of the right foot and the familiar "I've tied my shoelace too tight" feeling. I stopped to change and re-lace my shoes, but the damage was done and running was just too painful. An awkward power walk was all I could manage from here on in. The good news was that I'd run further than ever run before and every mile I could now cover would count towards a new personal best. However, with the temperature dropping every hour and me finding it difficult to generate any significant body heat, progress got slower and slower. The hot coffee at the end of each loop helped a little, but with 22 hours and 45 minutes on the clock, thoughts of seriously messing up my foot won me over and I decided to bite the bullet and call it a day at 133 loops and a little under 128 miles.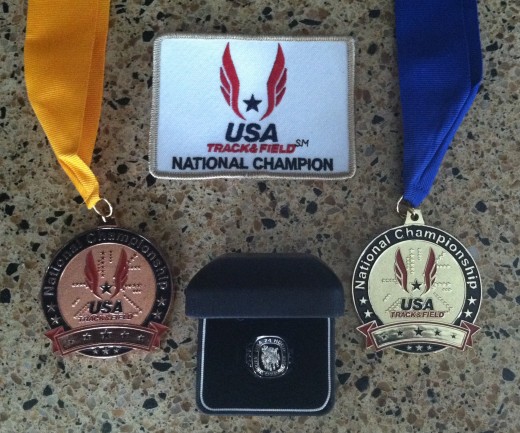 4th Place Male. 1st Place 45-49. Custom "24 The Hard Way" ring.
Note: official distance was updated to 128.87 miles/134 loops after the Race Director spotted a timing chip error during Hour 17.
Other Race Reports:
Nick Seymour
Chris Roman
Cherie Yanek
David Ploskonka
The 2013 Cardiff Half Marathon just happened to be taking place on the same weekend I'd be home visiting family in Wales. Billed as "one of the biggest and best road races in the UK", and being held in the city I was born and raised, it was one of the easiest signups of the year. Sure, my legs were still a bit jaded from the 12-HR Adventure Trail Race just two weeks previous, and after concentrating on the ultra scene for much of 2013, I headed into the race with zero expectation of a fast finish time and a main goal of enjoying the event and reliving some of my favorite running routes from 30 years ago. Yes, 30 years ago…
Ally and I headed into Cardiff Town Center rather early to snag a prime parking slot. Race day packet pickup for the international runners was quick and easy, and with everything collected, we headed back to the car to relax for a bit and stay warm. Pretty soon, however, it was time for one last bathroom visit and to make our way via the color coded paths to the start line. Unlike the 2011 event, I made it through to Corral #1 with 15 minutes to spare and enough time for some strides and a few dynamic stretches. After a hearty rendition of the Welsh National Anthem, the air horn sounded to signal the start of the race.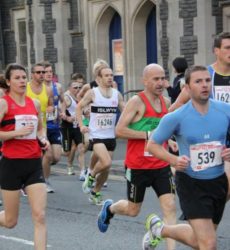 The first mile was fast, furious and a bit frantic. I usually glance down at my Garmin to get an idea of the pace I'm running, but with so many runners in close proximity, I didn't want to risk a collision or worse still, a crashing fall to the ground. Instead, I focused on running the tangents and staying as relaxed as possible. Mile 1 – 5:54. Yikes, a bit quick.
The mass of runners thinned out just a little bit in the 2nd mile, but I still found myself in a big pack of club runners all charging along at a good clip. The cool, sunny conditions felt great and when the Garmin beeped to signal a 5:50 mile split, I grinned to myself knowing a special day was potentially on the cards. Sure, there was still lots of racing still left to do, but in the back of my mind I just had a feeling that my 1/2 Marathon PR of 1:18:25 was there for the taking.
Mile 3 was slightly uphill and a bit slower at 5:59, but I made back some time in the next mile with a 5:54. 4 miles down, 9 to go and everything feeling fantastic. Mile 5 had us running across the Cardiff Bay Barrage, and with a split of 5:48 it felt more like 10K race pace rather than that of a 1/2 marathon. I tried to put the "Have I started off too fast?" thoughts to the back of my mind, and just concentrated on staying relaxed and racing one mile at a time.
The Cardiff Bay crowds were great and no doubt helped me log another swift mile as I breezed through the 10K mark in 36:54 – just a few seconds slower than my finish time at this year's Elizabeth River Run 10K. As the race went on, I noted that my Garmin was beeping earlier and earlier in comparison to the mile markers on the course, so it would be critical to keep the sub-6:00s going for as long as possible.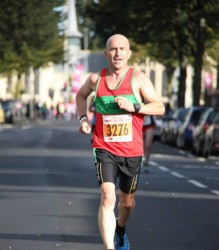 Mile 7 was long and straight along Lloyd George Avenue, but with more great crowd support I managed another 5:55. I think Mile 8 was the first time in the race I started to sense fatigue was setting in. Legs were just a little bit heavier and I struggled to maintain the same quick cadence from the early miles. Somehow I managed another 5:55, and with five miles left to run, I figured the PR was still there for the taking.
A couple more hard fought miles were soon behind me (5:53, 5:56), and with the thought of my family cheering for me at the 11 mile mark, I pressed on and logged another sub-6:00, crossing the 10 mile timing mat in 59:29 – ironically, only the 3rd or 4th time I've broken the magic hour for this distance. With the Garmin now beeping a full tenth of a mile before the official mile markers, I tried calculating how fast I'd need to run the closing 2.1 miles, struggled with the maths so focused on just running as fast as possible for as long as possible.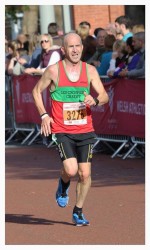 In the penultimate mile I ended up in a bit of a battle with another runner. We traded places several times along Lake Road West, which wasn't exactly comfortable, but I'm sure helped me to a 5:50 12th mile. With just over a mile to go, I shook out the tension from my shoulders and steeled myself for a "leave it all on the course" effort. Mile 13 started with a cruel little "hill" on Fairoak Road which caused me to log my slowest half mile of the race (3:04). Ouch! I hoped I hadn't blown my chances, but pushed on towards the last mile marker and the 90° turn onto King Edward VII Avenue where the finish line would finally come into view. With just a few hundred meters left to run, I kicked for home and sprinted as fast as my legs would carry me, crossing the line in a new personal best of 1:17:55.
Have to be honest, I'm not really sure where this race performance came from. I'd long given up on breaking 1:18 and figured aiming for sub-1:20 in future half marathons would be enough of a challenge, so maybe I should put my surprising finish time down to the the excellent weather, hometown course and family support?
Race stats:
Official finish time – 1:17:55
Age group position – 5th out of 1137
Gender position – 98th out of 8296
Overall position – 104th out of 14336
Photo credits:
Wouter Poortinga
Paul Sheppard
Thanks to a very generous offer from The Watch Company, I've been testing out the Suunto Ambit2 S for the past month or so. Over the years I've owned several Garmin GPS watches, but recently the eye-catching looks of the Suunto range have had me thinking it could be time for a change.
The model I received was a Graphite Ambit2 S – a super-sleek design with advanced features for running, biking, swimming and multisport events. At first glance, the S model appears similar to the more expensive Ambit2, but lacks both barometric pressure and temperature features. At 72g, the S is also slightly lighter than the Ambit2, with a battery life of approximately 25 hours using a 60 second recording interval, compared to 50 hours for the Ambit2.
Box contents were pretty minimal, with just a USB charging cable, comprehensive user manual and the watch itself. My particular unit did not contain a heart rate monitor strap, but there is a variant available if you'd like to go that route. For the record, the Ambit2 S is ANT+™ certified and paired easily with my existing Garmin heart rate strap. In fact, it should pair easily with any ANT+™ footpod, speed/cadence sensor, power meter etc. The 4-pin charging clip simply clamps onto the unit itself, and can be powered via a USB wall outlet or USB computer/laptop port. The manual is very comprehensive, but thankfully, pretty easy to follow.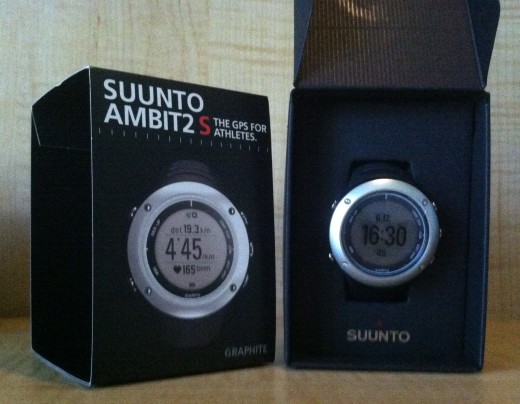 So far, I've only used the run and bike features of the watch. After entering my weight and max heart rate, then setting up some of the available general options (time/date formats, tones and display), I was off on my first run. Despite being used to the intuitive Garmin devices, it was pretty straightforward to figure out how to kick things off on the Suunto too. Simply press the top right Start/Stop button, then select which activity you'll be doing; which, in the case of my first workout was running.
Satellites were found quickly (literally just a couple of seconds), and using a combination of the Next and View buttons, there was a wealth of data available throughout the run – all of which is customizable if required. To pause a workout (i.e. when crossing the road, or waiting at traffic lights), simply press Start/Stop to trigger the pause. Simply press the same button to resume the run. Naturally, there's a Lap button available where you can create markers/intervals that can be viewed post-workout. I haven't used it, but you can also set up an AutoPause feature which detects when you've stopped running and will pause the watch automatically.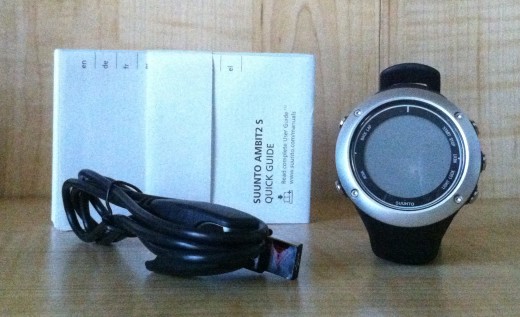 Post-run, it was time to upload the workout. First thing to do is download and install the Suunto Moveslink software from the Suunto Movescount web page. This acts as a device agent to upload data from your watch to the Movescount site, similar to the ANT Agent if you're more familiar with Garmin products.
Once the software is installed and configured, connect your watch to your computer using the USB cable and the Moveslink agent will upload the data automatically. Once the data is uploaded, head over to movescount.com, which is Suunto's free online site for viewing/analyzing your workouts. Again, I guess you can compare this to the Garmin Connect website. The initial setup may seem like a bit of hassle, but it's a one time deal and doesn't take long at all.
I really like the look of the Ambit2 S compared to my Garmin GPS – it's definitely more watch-looking than the rectangular laptop-on-a-wrist 910XT. However, I wasn't totally happy with how the Suunto felt on my wrist during a run. It's probably more to do with the shape of my wrist than the weight of the watch or the design of the strap, but it was either too loose and moved around a bit, or too tight which caused slight discomfort on my knobby wrist bone. On a positive note, the display is very easy to read, and once I'd configured the unit to my own preferences, was straightforward to navigate.
Initially, I wasn't too keen on having to connect the watch to my computer via a cable, but uploads have been straightforward and there haven't been any annoying failed uploads like I seem to regularly experience with the Garmin ANT Agent. The clamp-action of the clip is sturdy too and there's no danger of a bad connection when you're charging the unit between workouts.
So, all in all, I'm pretty pleased with the Ambit2 S, and am looking forward to using it more during training and future races. The swim and multisport features also look great, plus there's the maps, compass and navigation to explore as well. Regular retail price for the Ambit2 S without HR strap is $400, but if you're interested, you'll probably be able to pick one up a bit cheaper at one of the links below.
More info: for a really comprehensive review of both the Ambit2 and Ambit2 S, please visit the excellent DC Rainmaker web site. Make sure you have plenty of time on your hands though, as the quantity/quality of information in Ray's post is staggering.
Other Links:
I've been looking forward to the 2103 12-HR Adventure Trail Run for quite some time. I really enjoyed the event in 2011, but last year picked up an injury just a week or so before the race, forcing me to drop after just a quarter of a mile. Looking back, it was foolish to even take my place on the start line, but it was just one of those things I had to do, even though deep down I knew it was a pointless exercise.
Anyway, on to this year's race. With several months of early-season Leadville training in the bank, I still felt like I was in pretty decent shape. Recovery from the gruelling 100 Miler had gone well, and I'd even managed to knock out a fairly solid half marathon in early September.
I logged some confidence-boosting runs on Monday, Tuesday, Wednesday of race week, then took things real easy on Thursday/Friday with just a couple of short runs. The Friday night pre-race meal was my traditional burger and fries with a pint of Guinness, which always seems to sit well. Back at the hotel it was time to organize and lay out the race gear, then turn in fairly early for a good night of sleep.
After recently watching an excellent video on fueling and nutrition for athletic performance, I'd decided to exclusively use Hammer Nutrition products on race day. Taking Steve Born's advice of not consuming any food 3 hours before the race, I skipped breakfast and made do with drinking several ounces of water instead. My stomach did feel empty, but I trusted in Steve's wisdom that "you should complete your pre-workout/race fueling three or more hours prior to the start to allow adequate time for insulin and blood glucose to normalize." You can read more about this on Page 99/100 of the Endurance Athlete's Guide.
After the standard pre-race briefing and 1st time ultra runners welcome from Race Directors Alex & Scott, we were soon off and running. Part of the 1st loop would be run in darkness, but with my Petzl Nao Headlamp lighting the way, there was no real difficulty in navigating the trail. I settled in quickly to a good pace and enjoyed chatting with the experienced marathon/ultra runner Michael Campbell. A few guys had set off at a brisk pace and were soon out of sight after just a couple of miles. Michael dropped off at some point, but his place was quickly filled by The Flying Frenchman, Olivier LeBlond. Olivier is a super talented ultra runner with an impressive 100 mile best of 14:33:25. We've run several of the same races in the past 2 or 3 years, and he always has a knack of making things look easy.
We ran pretty much the first 4 loops together. Conversation was good and the pace was comfortable, although we both knew it was probably a bit too swift for a 12 hour race. I distinctly remember saying "We never learn, do we?" as we clicked off several miles in the low-8:00s. There were a few guys ahead of us that we'd kind of labelled with nicknames – Beard, 125, Green, Black & Team. We were happy to let them do their own thing, and I thought of world class ultra runner, Karl Meltzer, and his typical race strategy of running his own race and not worrying about the opposition. 12 hours is a long time to race, and so much can change along the way.
Loop 1 – 57:27
Loop 2 – 56:54
Loop 3 – 54:49 (probably a little fast…)
Loop 4 – 55:22
Fuelling was going well. At the end of each loop I'd run up the slope to the start/finish timing mat, shout out my race number to Alex, before breezing through the official picnic shelter aid station and down the slope to my own little aid station at the back of my MINI. Servings of Perpetuem were arranged neatly in small ziploc bags which I dumped into my handheld and topped off with water. I grabbed a gel to take out on the course and also popped a couple of Endurolytes before heading back out for another loop. Olivier did his thing at the aid station and we were able to set off together at a similar pace.
I think it was early in Loop 5 where Olivier stopped for a bathroom break. I carried on running at the same pace, expecting him to catch up pretty quickly. However, it was at the end of the loop where I was refueling that Olivier came into the aid station as I was just leaving. A mile or so later on North Orenda Road I heard the "crunch, crunch" of footsteps behind and just like that we were back together. I was going through a bit of a rough patch with my groin at that time, and Olivier was running strong. He breezed by easily and started to gap me. I maintained the same pace up the gradual incline and by the time we reached Scenic Drive a half mile later, Olivier had opened up a nice little lead. Sportingly, he glanced around as I was sidestepping through the gate-opening, and slowed his pace allowing me to catch up.
Loop 5 – 55:38
It felt good to run down Pyrite Mine Road with company again, even if the conversation had started to peter out due to us both feeling a little tired. I felt Olivier was running stronger than me on the gravel fire road, and it was definitely an effort to keep up with him on this downhill stretch of the race. We made the right turn onto the trail along the river, and if I remember correctly, I think Olivier said his legs were starting to get tired. Mine were too, but at least the pace still felt manageable. I went ahead on the single track and enjoyed the slight climb, then the descent, then the numerous twists and turns before reaching the suspension bridge. For the first time in the race I felt like I was in the zone and cruising nicely, and it was good boost to finish off the loop strongly.
Loop 6 – 56:34
After almost 6 hours of racing, the taste of Perpetuem started to lose its appeal. Also, my stomach also felt a little bloated, so to refresh the system I decided to run a loop with just water and an espresso gel to keep the calorie intake going. Just past the halfway mark of the race, I remember experiencing a bit of a low spot. My groin was acting up, and the inclines were definitely getting tougher. The urge to walk the more challenging sections of the course got stronger, but I told myself to hang in there and keep things ticking over for as long as possible. In 2011 I succumbed to too much walking, and looking back, I think that was more due to me being soft than actually needing to slow down to a walk. Gotta stay tough. I closed out the loop in good spirits, despite it being my slowest of the day to date.
Loop 7 – 1:00:02
Here's me finishing up Loop 7 – still smiling, but ready for some Tylenol to help ease the sore groin. Video courtesy
Andy O
.
The next loop was meant to be another water-and-gel loop, but chatting to Andy at my aid station distracted me, and I set off with no gel – a silly mistake which I hoped wouldn't come back to haunt me. About a third of a mile from the trailhead, Olivier and I crossed paths. His shout of "You're on fire!" was a nice boost and I headed on up the trail feeling pretty good. The solo loop was a tough one, but I hung on quite well to close it out in just over an hour.
Loop 8 – 1:01:48
At this stage in the race, I knew I'd be able to comfortably match the 10 loops from 2011. My pre-race goal of 11 loops was also on the cards, but the thought of another 20 miles of running was tough on the mind. It really is so easy to get defeated by the big picture in these ultra races, so I just tried to focus on breaking up each loop into small, runnable sections. Sure enough, in no time at all, I was back at the main aid station. However, the lack of fuel in the previous loop had definitely caught up with me, so I decided to chug down some Coke and Mountain Dew while Craig (the aid station volunteer) filled up my handheld with icy water. I grabbed a couple of gels at the car before setting off on the next loop.
Loop 9 – 1:03:27
This was a weird loop. Less and less people seemed to be out on the trail now, and with the sky getting gloomier by the minute, I figured the late afternoon rain prediction would soon become a reality. I'd found out at the aid station that Olivier had dropped from the race after his 8th loop, so my thoughts turned to the clock and potentially beating the old course record (thanks, Scott Crabb for putting that little worm into my mind). The only problem… what was the record? I thought Olivier had completed his 71.5 miles from 2011 in 11:15ish, but wasn't 100% sure. Maybe I could shoot for finishing in 11 hours and hope that was enough? A couple of 70 minute loops should do the trick, right? Who knows? Let's just run and hope for the best, I said to myself.
With half the loop done and my legs getting heavier by the minute, I stopped at the Scenic Drive water stop to take in some extra fluids and down another gel. I also took a minute to stretch out my calves before setting off again like an old man hobbling down the street. A short way down Pyrite Mine Road the heavens opened and the rain came down. Hard. I glanced at my Garmin and realized I'd need to pick up the pace if I wanted to close out the loop in 70 minutes. Maybe the gel kicked in early, but somehow I managed to find some speed on the gravely fire road, and before I knew it, was making the sharp right turn onto the single track alongside the river – my favorite section of the race. The rain felt fantastic and once again I was bouncing along, big smile on my face, reveling in the conditions. Somewhere on the tedious Birch Bluff Trail I passed daughter, Shannon, who was was closing out her last loop on the way to an amazing ultra debut of 39 miles. I finished out my loop absolutely soaked but in fairly good spirits. I downed more Coke and Mountain Dew at the aid station, exchanged a few words with Olivier and Andy, then set off on my final loop.
Loop 10 – 1:06:11 (slowest of the day)
Once again I forgot to pick up a gel, but figured I could get through the final 6.5 miles with water alone. The rain was still pelting down and by now there were hardly any runners left on the trail, although numerous turtles, snakes and frogs all came out of hiding to join in the fun. Just after crossing the ever-bouncy suspension bridge, I spotted Ally and her running companion heading towards the bridge with just a couple of miles left to run. Despite the rain, both were in good spirits and still looking strong.
Me? I was purely on a mission, driven on by the possibility of a course record, but more importantly, just enjoying the buzz of running at my absolute limit. I've experienced this before in the final loop at the 2011 24-HR Adventure Trail Race, and more recently in the final miles of the Rocky Raccoon 100. It's hard to explain; the mind and body are absolutely exhausted, but somehow you can keep pushing, pushing, pushing to the finish. It's a surreal feeling that I definitely want to experience again in the future.
Loop 11 – 1:02:49
I closed out the loop with 10 hours 51 minutes on the clock. Alex and Scott tried to get me out for another loop, but I'd paced myself to be done after 11, and to be honest, 11 was more than enough. Pre-race goal achieved with plenty of time to spare.
Here's the Garmin details. Not quite the official 71.5 miles (11 x 6.5 miles), but if you zoom in a bit you can see how spotty the GPS tracks are.
So, all in all a very enjoyable event, with many positives to be taken away.
Fueling was good, despite a bit of a sour stomach mid-way through the race.
Shoes and socks were a good choice on the day.
RockTape is a great product.
Rough patches during the race can be worked through.
You're stronger than you think you are.
Gear
Fuel
Great video filmed a couple of years ago containing a wealth of valuable information regarding effective fueling for training and competition. Steve Born, Technical Advisor for Hammer Nutrition, is the speaker, and although many Hammer products are featured in the presentation, the techniques and methodology can be applied to other products and brands.
The video lasts for almost 2 hours, but is well worth watching and provides a great insight into several of the Hammer Nutrition products that I currently use.

Recorded live on August 11, 2011 at Pilgrim's Market in Coeur D'Alene.
The 15 topics Steve covers are as follows:
Keep fluid intake during exercise between 16-28 ounces per hour.
Restrict calorie intake to 280 calories/hour or less during exercise.
Avoid simple sugars in your fuels. Use complex carbohydrates only.
Exercise in the longer than 2-3 hour range requires protein too.
Soy or Whey protein? Which one to take, and when.
Use liquid fuels as your main energy source, even during prolonged training and races.
Electrolyte replenishment is just as important as calories and fluids.
Don't rely on salt tablets to fulfill electrolyte requirements.
Don't use any new supplement or fueling protocol on race day.
The importance of proper recovery.
Don't over consume food the night before a race (aka carb-loading).
For races and workouts over 60 minutes in length, finish any pre-race meal 3 hours prior to the start.
Don't sacrifice sleep to eat a pre-exercise meal.
If you are going to eat a pre-exercise meal, you don't need to consume a 1,000 calorie mega meal.
There's also a short question and answer session at the end of the video that covers a few other topics.
All of the products featured in the video are available on the Hammer Nutrition web site. If you're interested in trying one or more of the products, feel free to use my affiliate ID [29178] to receive 15% off your first order.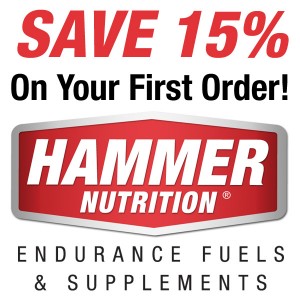 To receive your discount, simply browse the Hammer Nutrition website and select the product(s) which best meet your needs.
Your 15% discount will not be shown on your shopping cart total, but WILL be applied after your order has been processed. You will see the correct total in the order confirmation email that gets sent after one business day from the time your order was placed.
Referral Number: 29178
[Please Note: Referral credit does not apply to Compex units.]
I've had my eye on the compression + ice gear from 110% for quite a while now. I first read about their unique products on the Joe TRI's For Dom Blog way back in January 2012. The local Triathlon store, Final Kick Sports, also stock an impressive array of their goods, so when an offer to try the Transformer Short arrived in my inbox a month or so ago, I jumped at the chance.
From what I understand, a guy named Steve Petiit invented the product back in 2005 after sitting in an ice bath. In 2010 he sold the company to the folks at 110%, who have since made further developments with the product. Cool idea, if you pardon the pun.
According to the 110% web site, Transformer Shorts "combine the benefits of compression and the power of an ice bath in a single piece of gear, and target the hips, quadriceps, hamstrings IT band and glutes."
Compression gear for recovery is something I've been doing for quite some time. I'm also a fan of soaking in a cold (not necessarily icy) bath after a tough workout or race. The concept of combining compression clothing with ice is one of those "Why didn't I think of that?" ideas…
So, onto the product review and to find out whether the shorts actually do what they're supposed to do.
The shorts come packed in a square-shaped thermal bag. The bag is not only a nice storage option, but is designed to keep the included ice inserts cold for up to six hours. At first glance the shorts look like most other compression shorts on the market – black, stretchy spandex/polypropylene fabric with a bold 110% logo on the back of the left leg. However, on closer inspection, the shorts feature several strategically placed icing pockets that transforms them from high performance compression gear to an active recovery system in one simple step.
The reusable ice inserts (6 were included with the shorts) are easily prepared for their first use – simply soak the sheets in warm water for 5-10 minutes until the cells expand, dry them off, then place in the freezer with the cloth side up. The thermal bag will keep them frozen for up to 6 hours, or if placed in the shorts should stay cold for about an hour.
It's important to place the inserts with the black side facing the body. The inserts can be cut to size if required, then are simply slipped into the required icing pocket on the shorts.
For heat therapy, 110% state that the inserts can be warmed in a microwave for approximately 15 seconds before being placed into an ice pocket.
The shorts are pretty easy to put on (unlike some other compression brands on the market), and for the most part, very comfortable. They fit great in the waist (no drawstring to rip in to the belly fat) and provide an excellent level of compression to the glutes and thighs. The only negative is a seam that runs up both legs and across the front of the shorts. Maybe it's me, but it just feels odd.
I've worn the shorts after several runs in the last week or so and am really pleased with the results. The gradient compression is not only super supportive, but if the marketing hype is to be believed, provides increased circulation and mobility. The ice inserts are a breeze to insert, and definitely help keep post-run swelling and pain at bay.
If I can get over the odd placement of the front seam, I'll definitely try the shorts on a run sometime soon. The fabric is moisture wicking, and I'm sure the extra stability and muscle support will feel great.
Check out the video below for a closer look at the 110% Transformer Short, and be sure to take a look at the other great products on the 110% Play Harder web site.
Links:
110% Play Harder Website
Transformer Shorts Product Page
Size Chart
Customer Reviews
Amazon.com Product Page

This past weekend I took part in the 2013 Leadville Trail 100 – without doubt, the toughest, most challenging event of my 32 year running career. This recap could potentially turn into my longest ever blog post, so please bear with me as I attempt to process my many thoughts, memories and emotions.
Race stats
Number of starters – 943
Number of finishers – 497
Finish rate – 52.7%
Finish time – 27:16:17
Finish place – 209th/497
Age group position – 53rd/125
Gender position – 183rd/415
The History
The legendary "Race Across The Sky" 100 Mile Run takes place on extreme Colorado Rockies terrain, from elevations of 9,200 to 12,600 feet. I signed up somewhat on a whim way back on New Years Day, just over a month before attempting my first 100 Miler. Most people probably would have waited until after their first 100 before signing up for another one, but I didn't want the Leadville 100 to close out and risk not getting an entry slot.
The plan was to focus on the Rocky Raccoon 100 in February, have fun at a 24-HR event in April, then start the training cycle for Leadville in early May. Meanwhile, I'd read as much about the course, the conditions and the cut-off times.
Pre-Race
We arrived in Colorado a couple of days before the race, and made our way to Leadville via a Whole Foods in Denver where we stopped to pick up supplies and grab lunch. We were soon checked into our 3rd floor guest apartment located just a few blocks from the start of the race, where I unpacked some of my gear and started to get organized.
The next day or two consisted of a short shake out run, more planning/strategizing, a reccie of most of the aid stations/crew areas and probably most important of all, attending the mandatory pre-race meeting which was packed with almost 1,000 runners plus their support teams. After an awful pre-race dinner at The Silver Dollar Saloon (their food was just as bad as their web site), it was time to set the alarms and turn in for the night. Despite feeling just a tad nervous and a lot excited, sleep came surprisingly easy.
Race Day
The first words I heard on race morning were "I'm glad I'm not you" courtesy of super-crew member, and loving daughter, Shannon. Thanks. I think. Sustained Energy was the breakfast of choice, which I sipped easily as I layered up into my race gear. Head crew Ally was getting her stuff together as Jeff & Ryan (the two other crew/pace guys on my team) rolled up outside the apartment. Minutes later the crew vehicle was loaded with gear, and we made our way on foot down to the corner of 6th Street and Harrison Avenue for the start.
The Start to May Queen
Starting gear:
Nike shorts
Mission Athletecare cooling arm sleeves
Generic gloves
Gore beanie
Salomon waist pack
After a somewhat emotional start (lining up with almost 1,000 runners about to tackle one of the most challenging races in the USA really hit home), we were finally off and running. The goal was to keep things very easy on the initial downhill stretch to Turquoise Lake. I looked for Maddy in the hope of running some of the early miles together, but it was too dark and crowded to find her in the mass of runners crunching their way along the gravel of The Boulevard. As expected, the first 5 or 6 miles passed pretty quickly. The temperature was cool, but not cold, and pretty much perfect running weather. I alternated sips of Tailwind Endurance Fuel and water, and just concentrated on finding a good rhythm.
The first challenging section of the race was a short, steep, rocky slope known as Mini-Powerline. Everyone ahead of me stopped to walk, so I followed suit and just tried to pick out the best line. The climb didn't last long and pretty soon we were crossing a road and heading towards the single track trail around Turquoise Lake.
The trail was narrow, rocky and rooty with not too many chances to pass or be passed. Actually this suited me fine as my pace was good and it kept me from pushing too hard. I wondered where Maddy was, and even shouted out her name in the darkness in case she was close by and we could run together. Worth a try, but alas, there was no reply. We quickly reached and crossed the Tabor Boat Ramp, then continued on the trail around the lake and towards the May Queen aid station.
At the end of the trail, we popped out on to an asphalt road which made for a pleasant change from the early miles rocks, roots and gravel. The noise ahead clearly meant we were close to the aid station, and just as it came into view, I heard someone shout my name from behind. It was Maddy – big smile on her face and running along at a good, controlled pace. We exchanged a few words, but soon got separated again at the aid station where I took the opportunity to ditch my Petzl Nao Headlamp and exchange water bottles. It was great to see my crew after a couple of hours of running, but there was no time to hang around before setting off on the next leg of the journey.
May Queen to Outward Bound
The next 10 or so miles consisted of a gradual climb up to the top of Sugarloaf Pass (approx. 11,000ft), followed by the pretty steep and nasty Powerline descent. I hiked the steeper sections of the climb, stuck to the plan of gels, Tailwind and SaltStick capsules, and was really enjoying the experience of "running Leadville". Some of the runners were super chatty, but others (like me) were more focused on their races and in the zone.
The Powerline descent was a bit tricky on the dusty, rutted trail. Some parts were pretty steep, so I tried to find the balance between trashing my quads and maintaining a good pace. Somewhere on this section a runner (Charlie) introduced himself to me, and asked if I was the Hundred Pushups guy. Amazing! We chatted briefly before wishing each other well and going our separate ways.
Once at the bottom of Powerline, there was a nice paved road where I could draw from the crowds and pick up the pace slightly to run to the Outward Bound aid station. I expected to be weighed at Outward Bound, but for some reason the volunteers just ushered me in and out without any checks, leaving me to hunt down my crew for another handheld bottle/gel exchange. I think the only other change was to ditch my beanie which I'd stowed in my waist pack, pick up a visor to shade my eyes from the sun and get sprayed with Mission sunscreen to keep my head from burning. Again, I didn't hang around and was soon heading to County Road 11 and the next leg of the race. 24 miles down, 76 to go.
Outward Bound to Half Pipe
The sun felt great on this relatively short section, and I was able to pass several runners without having to pick up the pace. The road was paved, fairly flat and it was cool to be passed by my support team as they made their way to the next crew station. After navigating through a grassy meadow, we made a left turn where the crew zone soon came into view. I'd only carried one handheld on this section, so picked up another before continuing on to the Half Pipe aid station located 2 or 3 miles away.
Half Pipe to Twin Lakes
I stopped briefly at Half Pipe to ditch a couple of annoying sticky gel wrappers, and took the opportunity to grab a quick slice of watermelon and a cup of water. The next 4 or 5 miles were a gradual uphill until we popped out at the Mount Elbert trailhead and the Camelbak-sponsored water station. Again, I took the opportunity for a quick water top-up, high-fived the young lad operating the spigot, then took off in good spirits towards Twin Lakes.
This section was mainly single track, with some rocky switchbacks to navigate the closer we got to Twin Lakes. Oddly enough, I was able to hear the aid station before I could see it, and after a short, steep descent (where I'm glad to report I didn't fall), I hit the road running in the search of calories and my crew.
Once again it was a big boost to hook up with my support team. As I concentrated on taking in calories, my crew swiftly changed shoes (Saucony Kinvara Trail) and socks (Drymax), and applied more sunscreen. I switched out the visor for a hat (knew it was going to be extra sunny at the top of Hope Pass), strapped on the Nathan Vapor Wrap pack, and without thinking too much about the massive climb ahead, took off across the meadow and towards the river crossing. 40 miles down, 60 to go.
Twin Lakes to Hopeless
Running swiftly across the meadow, I attempted to brace myself for the toughest 20 miles of the Leadville 100 – firstly a 3,400 ft climb to the summit of Hope Pass, via the Hopeless aid station, then a wicked descent down into the ghost town of Winfield. At Winfield, you grab aid and a pacer and do it all in reverse.
The meadow was easy to navigate, although the Nathan pack containing 2 liters of water felt heavier than I remembered in training. Ugh. The river crossing was refreshing though. Not too deep, but cold enough to numb my feet for a few hundred meters. Nice. Once the feeling in my feet came back, I realised my Drymax socks had scrunched down with the weight of the water and were causing some friction on the back of my ankle. I quickly tried to pull them up, but decided to press on rather than spend too much time messing with them. Note to self – stick with the Swiftwicks next time.
The climb up Hope Pass was just as tough as everyone makes out. However, I switched my Garmin to display elevation and was surprised at how quickly the number increased – 9,200.. 9,400.. 9,700.. 10,000.. 10,300… I was able to keep my breathing under control until about the 10,800ft mark where the grade seemed to kick up a few more %.
At Twin Lakes I'd made the decision to leave my
Black Diamond Trekking Poles
behind – I hadn't trained much with them, and figured they'd be more of a hindrance than a help. In hindsight I should have carried them "just in case", as I soon found any kind of forward progress was difficult without some form of aid. Luckily I found a longish stick on the side of the trail which I used quite effectively for at least half a mile. The stick was quite spindly though, so I kept my eyes peeled for something sturdier. As luck would have it, tucked just off the single track I spotted two almost perfect sticks which were MADE for the climb.
From this point on, progress was good and the effort level under control again. I made it to Hopeless, topped up my Nathan and sucked down some Tailwind from the Salomon flask I was also carrying. I munched on some Sport Beans, thanked the awesome volunteers (and llamas) at the surreal aid station, and trekked on towards the summit.
Hopeless to Winfield
The switchbacks seemed never ending, but eventually I made it to the top. I took a deep breath, turned myself around and spent a good 30 seconds just looking back at the amazing view with the tiny town of Leadville in the distance. I shook my head in disbelief at the miles and terrain I'd already covered – 45 miles so far and we weren't even 9 hours into the race. No time for sightseeing though, so I turned around again and began the treacherous descent into Winfield.
I have to be honest here; the descent was pretty scary for this flatlander with limited downhill experience. The trail was narrow and dusty with a sheer drop on many sections of the descent. It would have been way too easy to lose control on the steeper sections and go barreling off down the side of the mountain, so I took things rather gingerly and made sure of my footing.
The cool part of the descent was having to step aside for the race leaders – first Michael Aish, closely followed by one of my favorite runners Ian Sharman, then Nick Clark with Scott Jurek and his pacer Hal Koerner not too far behind. It's not often you get to share the trail with some of your idols, so I tried to take inspiration from them, and continued the descent with a bit more confidence.
The trail to Winfield seemed to snake on forever. To take my mind off things I started to count the runners in front of me who were over halfway done and heading back up to the summit. I lost count after about 50, but at the same time I could hear the noise and excitement of the Winfield aid station. Finally I popped out of the trailhead onto the dusty, washboard road and bounced along to the aid station where I realised I was still carrying the trusty old school trekking poles.
Ryan, my pacer, was there to greet me – he grabbed the sticks and directed me into the tent where I was to be weighed. I think I was about 3 pounds down. The medical guy looked me in the eye, asked if I was okay (I was), then ushered me out of the tent where I picked up some soup and salted potatoes before plopping myself down into the crew chair.
Once again I was able to consume some food while my crew took care of a sock change, Garmin 910XT exchange, Nathan hydration top up and an awesome sponge down of the legs and head. I also decided to pick up my Black Diamond poles before heading off for the second half of the race. 50 miles down, 50 to go. Halfway split 9:54:56 – almost an hour ahead of schedule, but feeling surprisingly good.
First Half Garmin Stats

Winfield to Hopeless
According to many blog reports/race recaps, a lot of runners quit at Winfield. The Hope Pass crossing is pretty crazy, and I guess it can easily psyche you out. My plan was to get in and out of Winfield as quickly as possible so that quitting would not be an option. I can honestly say that pulling out here was never an option. Sure, the climb was going to be brutal, but I was halfway done and my legs were ready for the challenge. Ryan and I set off in good spirits. It felt great to have company and I was looking forward to spotting a few friends on the climb back up Hope Pass.
Maddy was one of the first people I came across. She was about 1.7 miles from Winfield and still smiling like she was totally having a ball. I wished her well and continued the hike. I remember working hard back along the trail, feeling very thirsty and a bit lightheaded. I also remember having to constantly stop and pause on the trail – I'm not sure if it was the sheer volume of runners making their way down the narrow trail to Winfield, or the fact that I really needed to stop and catch my breath. It might have been a combination of both.
Somewhere on the ascent, the lightheadedness changed to a feeling of nausea and my breathing became more and more labored. My body was struggling to process the food I'd consumed at Winfield, and it was also trying to fuel my muscles for the tortuous climb to the summit. Something had to give, and it turned out to be the stomach. About 1,000ft from the top I stepped to the side of the trail to allow a few runners to pass by, steadied myself against a tree and threw up. Not once, not twice, but at least three times. Ryan was a little bit further along the trail probably wondering what I was up to. Thankfully I don't remember too many details about this stage in the race, but I do vividly recall seeing the many switchbacks still up ahead. This was the first low point of the race. I felt weak, sick, despondent and totally drained of energy.
[Sidenote: The day after the race I mentioned to Ally that I wish I'd seen my friend Jon Vizena out on the course. Jon, despite giving it his all, decided Twin Lakes II would be the stopping point of his race, so I sent a text congratulating him on his gutsy 60 miles and apologized for not spotting him on the Hope Pass ascent/descent. His reply stunned me -- "Haha, I talked to you on Hope and I told you I was hurting. You were coming up as I was going down." Wow. I have no recollection of seeing Jon, let alone talking to him. I guess I was pretty much out of it at that stage in the race.
After violently throwing up the immediate challenge was to get up and over the summit, then down to the Hopeless aid station. Ryan took my pack to lessen the weight I had to carry, and would stop to give me water every time I needed it. My throat was the driest it's ever been in my life and I found myself stopping often to drink and wet my mouth. I was absolutely parched and the heat was starting to get to me. Thankfully Ryan stuck to me like glue, we somehow made it to the summit, and then down to the Hopeless aid station for the second time.
Hopeless to Twin Lakes
On reaching Hopeless for the second time, I was (a) desperate for calories and (b) ready for the Nathan pack to be topped up with water. Ryan took care of the pack while I made my way to the food tent to grab noodles and a drink. The noodles/broth tasted great so I grabbed another cup before leaving the tent to find a shaded spot to sit down. Seconds after plonking myself down on a small camping stool, the water and noodles came up. Twice. Maybe three times. Ugh. I asked Ryan if he thought Tums would help. He thought they would, so headed to the aid station to grab a couple. I chewed the first one, tried to swallow, but the stomach just couldn't keep anything down.
Next thing I know one of the aid station volunteers appears on the scene. She asks if I'm okay (clearly I'm not), congratulates me on the time it's taken to arrive at Hopeless Part II, then instructs me to sit still for ten minutes to allow my stomach to settle down. Ten minutes later she reappears with a cup of broth and a cup of flat coke and proceeds to spoon feed small doses out of both cups. Meanwhile, Ryan is phoning Ally to let her know the situation, whilst slowly, but surely, I start to feel more alert and desperate to get going. The volunteer lady has other ideas, however. First she motions for Ryan to pick up some Roctane for me to sip on the descent back down to Twin Lakes, then makes me sit for a few more minutes for the calories to settle. Finally she instructs us to be on our way. I thank everyone within earshot and head on out of the aid station with 45 miles ahead of me. See ya later, llamas.
We slowly start walking out of Hopeless - Ryan loaded up with both packs and both sets of poles, me carrying just a flask full of Roctane. The walk turned into a jog, then the jog turned into a run. Somehow I managed to run pretty much all of the descent, and 40 minutes later we were back at the meadow, about 1.5 miles from Twin Lakes. My energy level was waning again, so we just decided to walk it in across the river and towards the aid station. Ryan ran ahead to prepare some stuff for the next leg, while I kept plugging away, trying to stay positive. Seeing Maddy's Mom was a welcome sight and gave me a bit of a boost in the final stretch before Twin Lakes. Finally, I arrived at the aid station where Jeff was waiting to walk me to the tent and take care of my nutrition needs.
Twin Lakes aid station was the third low point of the race. Nothing on the table was enticing, I felt completely drained, yet knew I still had 40 miles to cover. We sat inside the tent for a while, then moved to an outside seat when the tent started to get busy. As my crew were buzzing around getting things together, I sat for way too long and considered the dreaded DNF. Again, being totally honest, I doubted I could make it to the finish and didn't want to end up stranded between aid stations in a sorry state. I remember shaking my head in frustration, and with every shake I was closer to calling it a day - there was no way I could go another 40 miles the way I was feeling.
Even when Maddy came breezing through the aid station, I made a motion with my hands to let her know I was done. I watched her speed off into the distance and sat for at least another 10 minutes. Thinking. Debating. Wondering. Still shaking my head, I sipped more coke, then something clicked in my mind and I announced I'd be ready to go in 5 minutes. I told Ally I didn't come here to quit and that I was ready to give it my best shot and finish this thing. Ryan prepared the gear and we set off walking out of the aid station.
Twin Lakes to Half Pipe
The next leg of the race should have been 8.5 miles to the Half Pipe aid station, but I think it turned out to be at least 10. The climb out of Twin Lakes was just as steep as I expected it to be, but somehow I was able to keep moving. We made it safely to the Mount Elbert water station where I just cupped my hands and took in some water. In truth, the next section to Half Pipe was fairly runnable, but energy levels were low and walk pace was all I could manage. I tried to eat along the way, but nothing sat right and all I could take was water and the leftover Roctane.
By now it was dark, the headlamps were on and there was a long night ahead of us. As the temperature dropped I also started to think about hypothermia. I was barely moving quick enough to generate body heat so pulled the Salomon wind shell out of my pack and kept on walking. Eventually we made it to Half Pipe and the comfort of a heated tent. Energy levels were really low at this point, so I took my time, enjoyed the heater and tried to get a few spoonfuls of fuel inside.
The next stage was just a couple of miles to where my crew were waiting and where Shannon would take over the pacing role. I felt fairly energised on this short stretch and made it to the crew zone in pretty good spirits. 30 more miles and I would be done!
Half Pipe to Outward Bound
Shannon took over the pacing and it was great to spend time with her. Conversation was good and thankfully the miles ticked away pretty quickly. I had coconut water to sip and knew that after this leg there were only *two* more sections to go, and one big climb. I wish I'd had more energy as this would have been a great section to run, but I needed to conserve as much energy as possible for the remaining 7 or 8 hours I predicted it would take.
It was really good to get to the Outward Bound aid station - lots of people, lots of distractions and a comfy chair to sit in. Again, it was the same routine - sit down, allow the stomach to settle, sip calories and go. Here I tried some oatmeal and chili, both of which tasted good and seemed to sit okay. It was now past midnight and time to ring in my 47th birthday, but all good things come to an end and it was soon time to move on for the next leg of the journey and the dreaded Powerline climb.
Outward Bound to May Queen
Powerline would be the last serious climb of the race. In the back of my mind I knew if I could just make it to the top of the 11,000ft Sugar Loaf Pass, I'd almost be in the clear and set for a sub-30 hour finish. Powerline was a cool, but cruel climb on a dusty, rutted surface. The cool part was looking ahead to see numerous dots of headlamp light from runners further up the climb. The cruel part was the 6 or 7 false summits that made the climb go on forever and ever. Somehow we made great progress up Powerline, and aside from one weak spot on the first part of the climb, the pace was good and we were able to pass several runners. Perhaps it was the miracle chili at Outward Bound?
The climb was also a warm one, so much so that I had to remove one layer and unzip the long sleeve Salomon top I had on underneath the thin wind shell. Much to the relief of Ryan and myself, we finally reached the summit and were soon able to make the long trek down to the final aid station. The rooty trail was quite windy and seemed to snake on forever. At one stage I thought we were close to May Queen, but the trail twisted away from the noise before looping back around to a small bridge crossing and the road to the campground. We made it. *Just* 13.5 miles to go.
May Queen to Finish
As we ran over the timing mat and towards the mass of crews and crew vehicles, we speculated whether Shannon or Jeff would be ready to take over the pacing role. However, Shannon was freezing and taking refuge in the Jeep, and Jeff was waiting with calories galore to help fuel me to the finish, including peanut butter, bread, soup and the strongest instant coffee ever! Despite a few minor hot spots, my feet were still feeling good, but I figured a change of shoes with just over a half marathon to run could be a good thing. The Saucony Virratas felt like carpet slippers and was definitely a great decision.
After several sips of broth and a spoonful or two of peanut butter, Ryan and I set off towards the rooty trail that would take us a good portion of the way around Turquoise Lake. Ryan won't mind me saying he was feeling pretty tired by now. The trail around the lake was monotonous, tedious and meandered on and on and on. It felt like you were running the same stretch time and time again.
We briefly stopped at the Tabor Boat Ramp, just in case the crew had made it and Shannon was ready to run the final 7 miles. The area was pretty deserted though, so we just continued along the trail, desperate for it to end. Eventually we popped up onto a road, ran a bit more rooty trail before scrambling down the wicked 1/3 of a mile Mini Powerline descent.
It felt so good to reach the bottom and exit left onto the wide gravel road. I tried to remember how far this point was from the start of the race, and guessed it was about 4 or 5 miles. Not too bad I suppose, but at this stage in the game all we wanted was to be done. To make matters worse, after the shelter of the lake trail, the exposed gravel road felt pretty chilly. Time to zip up the jacket again. The long stretch to the finish was pretty much all uphill, which surprisingly felt fine for the legs. A similar downhill could have been interesting the way the quads were feeling, but thankfully that was one thing I didn't have to worry about.
Eventually the high school came into view, and with the right turn onto 6th Street successfully navigated it was just a question of walking the final mile to the finish line. I glanced over at Ryan and said "I can't believe I made it." Squinting into the sun, I spotted Ally and Shannon in the distance, maybe a third of a mile from the finish line. It was great to see them again and quite an emotional moment for me. After almost calling it a day over 17 hours ago, somehow I'd managed to hike my way to the finish line. All that remained was to hit the red carpet running and cross that line.
Second Half Garmin Stats

Summary
I went into the race with the main aim of completing the course within the 30 hour cutoff, but also with a stretch goal of earning the coveted sub-25 hour gold/silver buckle. I thought long and hard about just playing it safe to make sure of the finish, but in the end decided to shoot high and go for gold, even if it meant blowing up and suffering for a bit towards the end. Despite the stomach issues, I'm glad I went for it, and strange as it may seem, it's a great confidence boost to know I ran the first 50 miles of the Leadville 100 in under 10 hours. I'm sure I'll return to Leadville one day, but for now I have other goals on my mind and lots of learning still to do….
As predicted, much like my race, this blog post has rambled on a bit it. To close, I'd like to sincerely thank my crew of Ally Speirs, Shannon Ralston, Ryan Knapp and Jeff Kline, and make it clear I wouldn't have achieved my Leadville 100 finish goal without them. For them to totally sacrifice their weekends to support me, means a great deal. Thanks for reading. Comments are welcomed in the space below.
Photographs courtesy of Ally Speirs. Please respect the copyright ©
It's been way too long since the last blog update, so here's a little taste of what's been happening. As many of you already know, on August 17th I'll be toeing the start line of the 2013 Leadville Trail 100. Training has gone well, but now I find myself in that awkward taper phase – the mind wants to keep running, but the body needs to recover and rest up for the big race.
After stringing together some pretty solid training weeks, I'm probably in the best shape of my life right now. 3 of the last 5 weeks have seen me log at least 100 miles. In July I ran over 400 miles for the first time ever, including several Rocky Mountain National Park runs/hikes at the PRSFIT Trail Running Camp. Thankfully I have no injury concerns or issues, and am totally focused on preparing for the most challenging race of my life.
It hasn't all been long runs and trail time, however. I've managed to log some faster training runs and even squeezed in a couple of fun 5Ks last month – the Independence Day 5K on July 4th, and more recently the Memorial Scholarship 5K on July 30th. I'm really happy with the respective finish times of 17:51 and 17:43, although I know they won't count for much as I attempt to haul myself up to the 12,600ft peak of Hope Pass from Twin Lakes.
I still have a few decisions to make with regard to nutrition, clothing and footwear, but for the most part I have everything sorted in my mind. Drop bags, crew and pacer details will also be finalized in the coming days. So much to think about, but at the end of the day, it's all about keeping moving during the race and focusing on the goal. The goal which I haven't quite defined at the moment….
Earlier this month I received an email from an Under Armour representative regarding an "exciting new running shoe launch", with the offer of a pair to try out before the product hits the stores in July.
Their brand new shoe is called SpeedForm, and will be available in an eye-catching array of colors – lime green, blue, orange and red. SpeedForm weighs in at a fraction under 6 ounces (approx. 170g), is super flexible and is manufactured with virtually no seams, stitching or insole. A somewhat unique fact is that SpeedForm is the first athletic shoe manufactured outside of a footwear factory. According to Under Armour's pre-launch marketing literature, Speedform was built in a bra factory, inspired by the bra-maker that used their knowledge of how to clothe the body to create the first Apollo spacesuits!
Here's a straight-out-of-the-box pic of the size 9.5, bright red pair I received yesterday.
Today I've been wearing them sockless around the house all day, and I have to say they are extremely comfortable – almost slipper-like in fact. Tonight I ran in the SpeedForm for the first time on a brisk 10 miler (with socks) and they performed exceptionally well – no hot spots, zero rubbing, great flexibility and super comfortable. Actually, they kind of reminded me of one of my favorite shoes, the Inov-8 Road-X Lite 155. I almost went sockless on the run, but decided not to risk blisters or hot spots, and save that experiment for a shorter run in the next couple of days.
So, initial impressions are rather good and I'm looking forward to logging more miles in the coming weeks. I may even give them an outing at a local July 4th 5K. We'll see….
Speedform will be available for purchase in July on UA.com for $120.