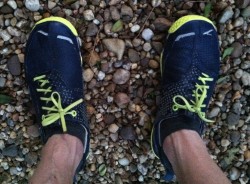 Towards the end of last summer I received an email from Kyle at SKORA Running asking if I'd be interested in getting hold of a pair of their shoes for use and review. SKORA were pretty active on Twitter at the time (actually, they still are), so although I'd never seen their shoes in person, the brand wasn't totally alien to me.
I liked their Run Real philosophy, but if I'm honest the one thing that stopped me buying a pair for myself was the rather hefty price-point – $110 for the BASE model, and $185 for the FORM. So, as you can imagine I jumped at the chance to try the shoes, and after a quick foot measurement Kyle determined I'd need a US Size 9.
A few days later the shoes arrived, packaged in a rather nifty box with magnetic closure no less. Nice touch, SKORA! The first thing I noticed on unwrapping the shoes was the wonderful aroma – not your average foam/rubber/plastic, but the unique smell of a goat leather upper and sheepskin lining.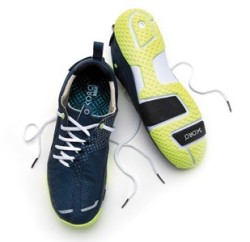 From the SKORA Running web site: FORM is definition of premium performance. Featuring a full-leather upper made of Pittards Goatskin leather with WR100X leather lining, the SKORA FORM is designed with asymmetric lacing and no-tongue construction to provide a glove-like fit in combination with stitch-down construction and an Ortholite sockliner. A perfect balance of comfort, cushioning and control, FORM will take you further on any road, trail or running surface you throw at it with a Zero-drop, 9mm stack height platform engineered for excellent groundfeel. Be one with your run, in the definitive style-icon – FORM.
FORM is built on the R01 platform composed of the REALFIT™ last, developed to offer a unique anatomical fit that closely matches the foot's shape. The R01 platform also features a zero-drop outsole/midsole with minimal cushioning and a curved section profile in both the forefoot and heel. This allows for optimal natural movement and performance.
Features:
– REALFIT™ last
– Pittards® Armor-Tan® Goat upper
– Pittards® WR100X® Sheepskin lining
– Asymmetrical lacing
– Anti-slip microfiber heelpad
– No-tongue design
– Elastic heel strap
– Reflective details
– 4mm Ortholite® sockliner
– High abrasion rubber
– Zero-drop construction
– Stich-down construction
– 9mm forefoot/heel stack height (13mm with insole)
My thoughts: The SKORA FORM is easily one of the most comfortable shoes I've ever worn, if not THE most comfortable. Since receiving the shoes last August I've logged close to 100 running miles in the FORM, and probably just as many walking/kicking around miles. For a zero drop shoe the FORM are surprisingly well cushioned. However, if you're looking for a total barefoot feel, then this probably isn't the shoe for you. Personally, I found the 9mm stack height to be just about perfect.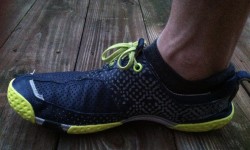 The FORM comes with a removable 4mm Ortholite® sockliner. I've logged several miles with the sockliner in place, but to be honest, much prefer the fit of the shoe without it. The sockliner felt unnecessarily bulky, and on a couple of occasions led to a hot spot on the ball of my left foot – nothing blister-forming, but something to be aware of. My favorite combination is the FORM without sockliner paired with a Balega Merino Hidden Comfort sock. It may be worth noting that I've also logged several sockless runs without major issues, Again, comfort level was high, but the US Size 9 was just a little on the large size and I experienced a small amount of foot movement within the shoe. Tightening the velcro heel strap helped a bit, but didn't totally eliminate the slippage.
Ground feel is very good to excellent, and I found the FORM to be super flexible like a second skin. The sole shows minimal wear after almost 100 miles, which isn't surprising as I've heard of runners with 600 miles and more on their shoes. Speaking of the sole, it may take a few runs to get used to the slapping sound as your foot strikes the ground. I'm not typically a "loud" runner and like to think of myself as being quite light on my feet, but there was definitely some slapping going on in the first 20 or 30 miles of wearing them. Maybe the shoes took a little breaking in or I'm just used to the sound now, but either way the slap, slap, slap is no more.
Likes:
Quality – I don't think you'll find a better made running shoe on the market. From the goat leather upper to the sheepskin liner, the FORM is pure class.
Comfort – although the FORM are not currently my daily go-to shoe for running, I do find myself wearing them most days just for knocking around the house/running errands. They are the most comfortable shoe I've ever owned – period. And the cool thing is, the more you wear them, the more comfortable they get.
Durability – despite only having logged approximately 100 running miles, the upper and sole appear almost like new. I'm pretty sure they'll still be going strong hundreds of miles down the road.
Dislikes:
Price – I guess for the average Joe $185 is a pretty hefty price to pay for running shoes, although if they're going to last in excess of 500 miles, then price per mile isn't *that* bad. I remember shelling out big bucks several years ago on a pair of Nike Mayflys which were advertised as lasting just 100km (62 miles). Not exactly the best purchase I ever made.
Laces – just a minor issue probably not worth mentioning, but the laces are soooo long. Even double-knotted they flap around a lot, so most of the time I just end up tucking them in. Annoying. SKORA do provide a couple of pairs of laces though – my Royal Blue FORM came with both white and fluorescent yellow. For what it's worth, the yellow ones are my favorite.
Heel strap – not really a complaint, but the elastic/velcro heel strap doesn't really do anything for me in terms of fit and function. Think I'd rather see a more traditional heel counter.
If you're thinking of taking the plunge and trying out a pair of SKORA running shoes, you may be interested to read about their current sale where they're offering 30% off specially marked products and FREE standard shipping. For example, the FORM Natural/Black/Red are currently on sale for $129.50 instead of the regular $185.00 price! Click here for more details.
Update: the above sale has now ended, but you can still save 10% when you use the following code at the SKORA Running web site: SKORA-46952556. Happy shopping!
Read more about the SKORA Run Real Philosophy on their web site, or watch the following video for a visual of their product offering. Enjoy!
SKORA Running Video from SKORA INC. on Vimeo.
Disclaimer: The FORM are a media sample provided free of charge by SKORA. Thanks again, Kyle.