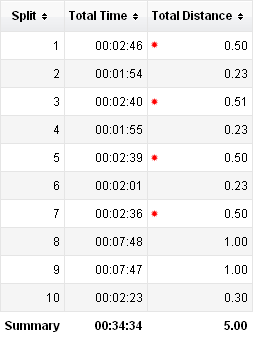 After several months of "thinking about" trying the much talked about Newton Running shoes, I finally plonked down the cash and purchased a pair of Newton Neutral Racers. I also wanted to buy the Neutral Trainer, but my local running store didn't have a size 9.5 in stock – not surprising really, as they're currently selling the Motion and Gravity models for an incredible $109.99 (a huge $65 saving!)
According to the Newton web site, it will take the average runner roughly 25 to 30 miles to adjust to the shoes. Apparently the short break-in period will "allow the Newton Active Membrane Technology™ and actuator lugs to adapt to your unique bio-mechanics".
For this reason, I warmed up for a couple of miles in my fairly new Pearl Izumi Surge – an interesting shoe which is lightweight, responsive and very comfortable. To test drive the Newtons I chose a 1200m loop of the Virginia Beach Sportsplex – 800m for the speed intervals with 400m for a recovery. I quickly changed shoes and immediately felt the forefoot lugs making contact with the ground. Weird.
I started the first 800m and took no time at all adjusting to the on-your-toes sensation. I won't say the running was effortless, but it did feel like someone was pushing me forward – maybe it was all in my mind, but the 2:46 split was still a surprise.
I jogged the (almost) 400m back to starting point, hit lap on the Garmin, and set off again. Same on-your-toes running style and even as fatigue set in after about 600m, I was still able to maintain the forefoot strike. To be honest, it's almost impossible to heel strike in the Newtons. Second 800m – 2:40.
At 2:39, the third split was the quickest 800m interval I've run in a very long time (if not ever). Admittedly, I only planned on running 4 x 800m, but to run a 2:39 was very satisfying.
Around about this time I noticed the outside of my right foot was rubbing against the inside of the shoe – probably due to too-thick Balega socks. Maybe I'll need to wear the thinner ones next time? Anyway, I briefly thought about loosening the laces but decided to just set off for the final interval and focus on maintaining good form instead. Split #4 – 2:36!
I spent a few minutes stretching my calves (more as a precaution than anything else), changed shoes and ran slowly back home, happy with the performance and very pleased with the Newton Racers. I just hope I can get hold of the Neutral Trainers pretty soon so I can start wearing them for tempo runs and some of my faster training.
By the way, stepping back into the Pearl Izumi's was a very strange sensation – despite only having about 40 miles on them, they felt flat as a pancake and wide as a barge. I'd guess it must have taken a good half mile to get used to the feeling of wearing traditional shoes again. Most odd!