Happy days at my first race since the Rocky Raccoon 100 – the Tidewater Striders Distance Series 30K. Despite minimal running since the 100 Miler, I had three goals in mind for this race:
Gain payback for the glute injury suffered at last year's 30K, where I pulled up lame after 9 miles and ended my streak of running every Distance Series 30K race since 2003.
Earn redemption for the DNF at January's Houston Marathon where cold, wet conditions were similar to what were forecast for Saturday's race.
Attempt to beat my current 30K PR of 1:56:25 set back in 2011.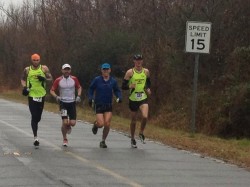 Maintaining 6:15/mile pace for 18.6 miles was never going to be easy. With just a couple of weeks of pure recovery running after Rocky Raccoon, I wasn't sure how my legs would respond to the faster pace.
The plan was to start fairly conservatively for the first 15-20K (maybe 6:20/mile), then push the pace in the second half with the hope of finishing strongly.
I wasn't sure if it was a bit foolish to go for a long distance PR just 3 weeks after the Rocky Raccoon 100, but with my legs feeling pretty good, why not, eh? Conditions for the race were cool and wet – lots of rain, but at least the temperature was in the mid-40s and not any colder. The pace in the first couple of miles went pretty much to plan, but by the first turnaround point at 10K the average was down to 6:12/mile — too fast.
At the 20K turnaround I was at 6:11/mile, but starting to slow and desperate for a boost from the recently-consumed Hammer Espresso Gel. I told myself "it was just 10K to go", dug deep and managed to hang on for a new PR by about 30 seconds. Official time was 1:55:54 in 2nd place overall behind local speedster, Ryan Carroll.
Couldn't be happier. Onwards and upwards!
Photo credit: Lisa Phillips-Jahnke