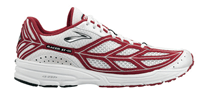 I've already picked out my racing shoes for the Shamrock Marathon – the 8.4oz Brooks ST3, but my next dilemma is what socks should I wear. Okay, so it might seem a trivial concern to most of my readers – it's just a sock after all – but it could be the difference on the day between happy feet and not so happy feet. Naturally I would much rather have happy feet for the 26.2 miles…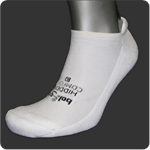 Recently I've been wearing the excellent Balega X-Athlete Hidden Comfort which sports the following features:
Hand-linked seamless toe for seamfree comfort
Specially constructed mesh ventilation panel to keep your feet cool and dry
High tab heel ensures that your liner stays in place, providing for a comfortable fit
Extra-deep heel pocket
Cushioning for impact resistance
They perform really well and although I've never had a blister problem, I've often wished they were less bulky.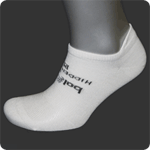 Enter the Balega X-Athlete Hidden Dry – a similar sock to the Hidden Dry with the extra-deep heel pocket and hand-linked seamless toe, but without the cushioning. Sounds just like what I was looking for doesn't it?
Well, I've tried them out on several practice runs and although I think they'd be perfect for distances up to a half-marathon, I'm not going to risk them in Sunday's marathon. The cushioning could be a great feature in the latter miles, when my legs are tired and I'm feeling every footstep.
As a final test, I even ran a couple of miles on the treadmill tonight. The Hidden Comfort definitely came out on top and I'll feel better knowing I have that extra protection as I take my place on the start line. Think I'll save the Hidden Drys for a fast 5k or 10k in the Spring….