A representative from SKINS USA recently reached out via email asking if I'd like to try a product from their new DNAmic Compression range. Well, what could I say? After several emails back and forth we agreed on the DNAmic Superpose Half Tights, with the product arriving just a few days later via UPS.
The Superpose Half Tights are a 4 way stretch outer short combined with a built-in SKINS Dynamic Gradient Compression Half Tight. The slightly stretchy polyester/elastane outer material is lightweight, breathable and quick drying, with the polyamide/elastane base layer providing all the support and compression. I own several other pairs of compression shorts and must say the SKINS Superpose provide noticeably more compression and comfort than other brands.
The compression base layer does have seams, but has not caused chafing on any of my test runs, possibly thanks in part to the regular use of Squirrel's Nut Butter on any potentially risky areas. The 9.5″ inch half tight sits right above the knee and provides an excellent level of compression. The 7″ outer short is a couple of inches longer than most of the other shorts in my collection, but its length doesn't impede the functionality of the product.
At just under 1.5″, the elastic waistband is quite narrow and to be honest is my least favorite/most annoying feature of the half tights. It tends to dig in a bit when running, and roll over on itself if I bend down to tie a shoe for example. I'd much prefer a more traditional drawcord-waistband and the ability to loosen/tighten as I see fit. At the rear of the shorts there's an okay-sized zip pocket (approximately 6″ x 2.5″) that holds the usual keys, cash, gels, but it's probably a bit small for your phone. The pocket bulges a bit with nothing in it, but that's more of an observation than a criticism. Both the outer short (left leg) and base layer (right leg) feature reflective SKINS logos, which is always a good thing for early morning/after dark workouts.
The half tights are really comfortable to run in, and appear to hold the quads/hamstrings together nicely. As stated above, the level of compression is excellent, without being too restrictive. The Superpose also work well in post-run recovery mode and I'm sure would be suitable for strength training in addition to running-only usage. As for the claimed "better performance" and "going harder for longer", that's really a difficult thing to quantify and probably best left for the experts.
As per the SKINS USA website, the DNAmic Men's Compression Superpose Half Tights are available in 4 colors (Tarmac, Marine, Black/Citron and Indigo) and in a range of sizes from XS to XXL. For maximum performance and recovery benefits, it is imperative you are fitted with the correct SKINS size. Check the following graphic and if you happen to fall in between two sizes, SKINS recommend you choose the smaller size.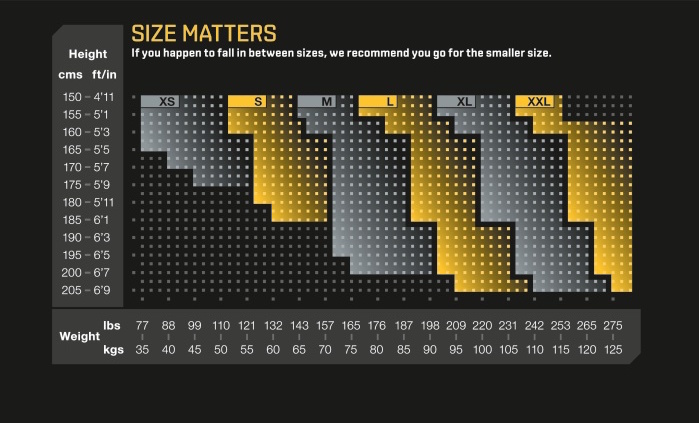 Product details from the SKINS website
Moisture Management
Moisture wicking fabric draws sweat away from the body to the surface of the garment where it evaporates to keep you dry.
Warp Knit
SKINS compression fabric is made from a warp knitted mix of yarns that give you a carefully calculated level of stretch for controlled compression and durability.
50+ UV Protction
SKINS proven 50+ UV protection.
Muscle Focus
Biomechanically positioned panels and seams support and stabilise the muscles to reduce fatigue and risk of injury.
Skin Fit
SKINS unique sizing system is based on our unique Body Mass Index (BMI)/anthropometrical algorithm, because you only get the full benefits of gradient compression if your SKINS fits you properly
Dynamic Gradient Compression
SKINS most advanced compression technology increases muscle oxygenation, stabilises active muscles and reduces blood lactate build up, to enhance performance and speed up recovery time.
SKINS DNAmic Compression Sportswear
SKINS new DNAmic range combines compression with vibrant designs to create the ultimate active wear for athletes looking to increase their training intensity. Other products in the DNAmic range include Compression Superpose 3/4 Tights, Compression Long Tights, Compression Long Sleeve Top, Compression Short Sleeve Top, Compression Shorts, Compression Sleeveless Top and several Thermal Compression products.
---
DNAmic Men's Compression Superpose Half Tights typically retail for $99.99, but there are limited sizes available on the SKINS website in the Indigo colorway for $30.00 at the moment (7/26/17). You might also get lucky on Amazon.com with prices starting at $79.99.
Update: SKINS USA have generously provided a 20% off code valid for the month of August on full priced SKINS purchased at www.skins.net – enter SKINSSPEIRS20 at checkout.
Disclaimer: The Superpose Half Tights featured in this review are a media sample provided free of charge by SKINS USA.