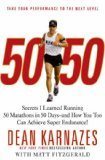 The great new book Dean Karnazes: Secrets I Learned Running 50 Marathons in 50 Days is due to be released on August 18th, 2008. As mentioned in a previous post I've managed to secure five hardcover editions to give away to my loyal readers!
Last time I checked there more than five of you reading this blog (must have been a good traffic day!), so the best thing for me to do is hold a competition to determine the five lucky winners. Don't worry, the rules are simple and everyone will stand a good chance.
Here's what you need to do:
Subscribe to my RSS Feed (see the RSS link over in the top right corner?) You can either subscribe to my posts via one of the web-based readers, or if you're more of an email person have my updates sent directly to your inbox. The choice is yours! Just leave a comment below to let me know which option you plumped for.
Head over to my Motivational Quotes page, find one of the quotes by Welsh runner Steve Jones and send it to me via email (steve dot speirs at gmail dot com)
If you author a blog or web site, please post about the competition and help spread the word. If you don't have a blog or web site, just tell as many of your friends in any way you like. Feel free to let me know about your promotion techniques, but don't feel obligated – this step is optional.
That's it! The rules are fairly basic too.
The competition ends at midnight EST on August 17th.
Unfortunately the publisher can only mail the books to an address within the US or Canada. Apologies to everyone else! I'll collect addresses from the winners once the competition has closed.
If there are more than five entries, the winners will be selected randomly and announced on this web site.
Let me know if you have any questions and good luck with the competition! By the way, the book is fantastic – a great read. Watch out for a Run Bulldog Run review some time soon….
By the way, thanks to the Hachette Book Group USA for providing the prizes!