I've used Hammer Nutrition Endurolytes during training and racing for well over a decade with great results – no cramping, and an ability to perform relatively well in the hot, humid conditions of a Virginia summer. My only [slight] criticism with the product would be having to consume 2 to 4 capsules per hour (dependent on weather conditions) in order to meet my personal electrolyte replenishment level – not a big deal to some, but when you're taking part in Ultra distance races, that's a lot of capsules to manage!
Now for the good news – Hammer recently launched a great new product, Endurolytes Extreme, which will make electrolyte replenishment a lot easier on long training runs and in future Ultra races. Each Endurolytes Extreme capsule contains three times the amount of sodium (300mg) and potassium (75mg) as the original Endurolytes formula, yet still maintains the same balanced 4:1 ratio.
Reasons to choose Endurolytes Extreme:
During unusually hot-weather events
If you're not acclimated to the weather conditions
If you consume a high-sodium diet
If you have an extremely high sweat rates
During early season training
Usage:
Take 1 capsule per hour during prolonged exercise. Hot weather conditions may warrant higher dosages.
Endurolytes Extreme are sold in 60 capsule and 120 capsule containers and are now available on the Hammer Nutrition website. Full product details can be found here.
Don't forget, if you're a new Hammer Nutrition customer, you can take advantage of their "15% off your first order" offer. Just mention the following code when you check out: 29178.
Note: the discount WON'T be displayed in your cart, but it WILL be deducted from your final total when the order is processed.
Feel like I've somewhat lost my way with regard to training since the Rocky Raccoon 100, so as March comes to a close, it's probably time to get things back on track. After Rocky I treated myself to almost two weeks of down time, with both the legs and the mind appreciating some much needed time off. The following week I managed to string some enjoyable easy runs together, and rounded off the 67 mile week with a surprisingly fast 20 at 6:38/mile pace.
Another 60 mile week closed out February – highlights of which were a 5k solo time trial in 18:05, and a lung-busting 16 mile effort with good friend Andrew Hoffer. With just over 2 weeks until the Shamrock Marathon, I decided to keep the weekly mileage in the 60s and log one more confidence-boosting weekend long run. The week went well with some treadmill elevation work on the nasty weather days, 5 swift 1000m efforts in my new Newton Running Distance IIIs, and a better-than-expected 20 miler at 6:29/mile pace (again, in the Newton Distance IIIs.)
Things seemed to be coming together nicely, so as we rolled into race week I decided to add the Saturday Shamrock 8K to the already-planned Shamrock Marathon which would take place on Sunday morning. Looking back, my last short race took place in September 2013, which for someone who enjoys racing as much as I do, is far too long ago. Anyway, aside from some Tuesday afternoon 1000m efforts, I eased back on the mileage and treated myself to a mini-taper week.
Saturday morning soon arrived, and although I felt quite one-paced during the race, I was happy with my 28:55 finish time and 2nd place Masters placing in the typically blustery Virginia Beach conditions.
The rest of the day was spent relaxing, looking forward to the marathon, and was capped off by an enjoyable Baker's Crust dinner with friends. Back at the house, however, I didn't feel quite right, and headed to bed hoping the queasy feeling would not amount to anything. No such luck – I woke early on Sunday with a sore throat and full of aches and pains. The throat I could deal with, but there was no way I'd be able to run 26.2 miles.
Long story short, it's taken just over a week to feel anywhere close to normal again. I did manage to log a few easy miles on the weekend, but my strength was low and even 4 miles was a real effort. The plan this week is to get back some strength, keep logging the easy miles and kick off April in a more positive light than I was able to close out March. I still hope to run well at next month's Virginia 24 Hour Run/Walk for Cancer, but the clock is ticking and the odds seem stacked against me.
One of the perks of maintaining this blog is the numerous product review requests that hit my inbox. Towards the end of last year the good people at Opedix sent me a pair of their KNEE-Tec™ Tights to test out.
The KNEE-Tec™ Compression Tights are categorized as Kinetic Health Gear, and, according to their website:
Have scientifically designed tensioning systems built within a comfortable, form-fitting base layer to enhance the kinetic functioning of your body. Working like an external muscle, a combination of fabric tensions help direct the body's internal forces and optimize harmonious joint function in the body's kinetic chain.
Kinetic health is the phrase used to describe how movement influences joint function. If you're interested to learn more, here's a great overview from Biomechanist, Michael Decker, Ph.D., and Dr. Richard Steadman, Orthopedic Knee Surgeon:
In basic terms, by properly supporting the motion of the joints, function is improved while preserving the health of our moving body. Sounds great in theory, but how do the tights perform?
Right out of the box, the compression tights felt like a quality product. On closer inspection, two types of fabric were apparent – the stretchier fabric in the quad, hamstring and calf area, and the thicker, more-supportive fabric that provides the tensioning around the key joints. The tights I received are black in color with contrasting orange stitching, but are also available in a Black/Metal colorway too. The size medium (waist 30″-32″) fitted well, although the leg length was a little shorter than I expected, and the cut of the waistband was unlike other compression tights I own – higher at the back than the front. This felt a little weird initially, but it's actually a very comfortable design.
The tights were only moderately challenging to put on, and once all the panels were lined up to their respective body parts, felt great and allowed plenty of movement. Aside from the patented tensioning design, there are a few other features worth noting – the stretchy, internal drawstring at the waist (which thankfully does not dig in like most other tights I own), the small, offset zip pocket at the rear (large enough for a gel, credit card, key and some cash), the Opedix logo above the right knee and some reflective OPEDIX text at the left ankle area.
I've worn the tights for short tempo runs, mid-distance easy runs and longer weekend jaunts on road and at the local state park. Comfort level is high and they definitely provide a great deal of support, especially on the longer efforts when fatigue sets in. They were probably overkill for the shorter, faster efforts, but to be honest weren't so restrictive that I couldn't hit my target pace. On chillier mornings the tights provided an excellent barrier against the cold air, but on the flipside, the breathable fabric kept my legs from overheating on the longer runs where I didn't wrap things up until the warmer mid-day temperatures kicked in.
The tights double up as a great recovery tool too. Post-run they provide a great deal of comfort and support, and I've even found myself lounging around watching TV at night wearing them.
Again, product quality is excellent, and the tights are still in excellent condition after many cycles through the washing machine over the winter months. For the record, it's best to wash the tights in cold water on a gentle cycle, and either hang them to dry or tumble dry low.
What's not to like about the KNEE-Tec™ Tights? Well, at $225 per pair, I'm not sure I would have picked them out online as a potential purchase, although I have noticed that generally the price of quality compression gear seems to be on the up. Also, the tights can be used for a multitude of activities including skiing and snowboarding, pilates, hiking, yoga and other ball sports/physical training, so I guess it's easy to get your money's worth from the product.
From the Opedix website:
Description
Our KNEE-Tec full tights incorporate patented Opedix Technology to promote dynamic alignment—improved mobility and stability—during training, rehab and everyday pursuits. By optimizing joint function, they allow you to do the things you love longer, better and with less pain and fatigue. 19-panel construction and a supple base fabric combine to create a comfortable fit for multiple body-types that improves the way you move for better overall performance.
Product Features
19-panel construction
90% nylon, 10% spandex
Gusseted crotch
Zippered back pocket
Durable internal stretch draw-cord at the waist
Moisture wicking to pull sweat away from the skin's surface
Breathable fabric to help regulate temperature
Anti-odor fiber technology to reduce odor and preserve freshness
Fit
The knee support area of the tights should fit directly over the patella/knee cap.
There should be minimal bunching at the back of the knee area for maximum comfort and stability.
Color Options
Uses
Keeps you performing at your peak. Ideal for post-surgical rehabilitation, skiing, running, yoga, biking, pilates, tennis, golf, and much more.
Links
Opedix website
KNEE-Tec™ Tights
Just wanted to pass on some info for a limited time offer from Ultimate Direction. Customers can save an additional 10% on Ultimate Direction sale items (Web Specials), which boosts savings to over 50% for select items.
Five of the best offers can be viewed below, but be sure to check the Ultimate Direction website for more great deals.
Save over 40% On The Ultimate Direction Fastdraw Plus Handheld Hydration System. Use Coupon Code UDSALE10 At Checkout. Extended To 3/14/14. Coupon Code: UDSALE10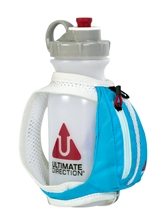 A must have for the serious runner and fitness enthusiast, the FastDraw Plus will continue to be your staple running piece, with a ID/key pocket and a variety of colors. Staying hydrated while running is easier than ever!
Features:
20 oz /.6L Bottle Included
Small zippered I.D/Key Pocket
All Ultimate Direction products are 100% BPA-Free
Comfort:
Tension-lock hand strap with reflective stripe
Save 20% On SJ Ultra Vests At UltimateDirection.com. Free Shipping On ALL Orders. Valid While Supplies Last!
World-renowned ultra-runner Scott Jurek designed the SJ Ultra Vest to be the ultimate pack for any occasion.
Featuring the best volume to weight ratio of any pack ever made, the 7.5 ounce SJ Ultra Vest can carry a half-day of gels or bars in the easily accessible front pockets, along with a unique expandable or compressible main compartment utilizing Cuben-Fiber, for a total capacity of an amazing 9.2 liters.
Options to carry trekking poles and an ice axe complete the package.
Features (Front):
Smart phone compatible pouches (2)
Gel or bar pouches (4)
Electrolyte or valuables pocket (2)
Emergency whistle
Features (Back):
Cuben Fiber bellows for large or small loads
Two sizes main compartments
Trekking pole (2) and Ice Axe loop (1)
Accommodates a 70 oz. reservoir
Save 32% On The Grind 12 Hydration Pack By Ultimate Direction. Use Coupon Code UDSALE10 At Checkout. Extended To 3/14/14. Coupon Code: UDSALE10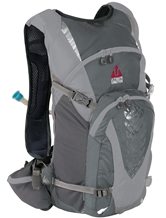 Loaded with features such as pump and tool pockets, organization for spare tubes and adequate room for an extra layer, this MTB pack is built for the trail.
Sleek in design, this pack enables a full range of motion and a molded back panel offers outstanding stability and ventilation – you'll be charging the trails without even realizing you've got a pack on your back.
Features:
96 oz / 2.8L reservoir included
3D AirMesh backpanel with molded framesheet for superior comfort and stability
3D AirMesh backpanel and shoulder straps for optimal ventilation
Drain hole
Storage:
Quick access storage pockets on waistbelt
Gel pockets on shoulder straps
Internal security pocket tool organizer
Map Sleeve
Get The Access Belt Hydration System From Ultimate Direction. Was $34.95 Now $18. Use Coupon Code UDSALE10 At Checkout. Extended To 3/14/14. Coupon Code: UDSALE10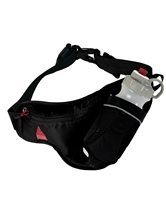 The Access has been updated for a more ergonomic shape for better comfort and fit. A redesigned, canted bottle pocket keeps a snug fit on the bottle to keep it safe and secure.
Features:
One 20 oz / .6L bottle included
Comfort stability belt with dual-adjust quick-release buckles
Strap secure webbing control
Reflective piping
All Ultimate Direction products are 100% BPA-Free
Storage:
Contoured zippered storage pocket with key hook
Take An Additional 10% Off The Sale Price On Access Gel Hydration Belts At UltimateDirection.com. Use Coupon Code UDSALE10 At Checkout. Extended To 3/14/14. Coupon Code: UDSALE10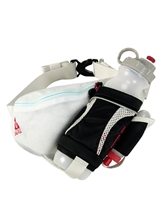 Flashing Heartbreak Hill in the Boston Marathon is not all mental…help prepare for the physical challenge with the Access Gel. It provides increased hydration with a 26-ounce bottle and a holster to hold a 4-ounce gel flask (included).
Features:
One 26 oz / .6L bottle & One 4oz / 188ML gel flask included
Comfort stability belt with dual-adjust quick-release buckles
Strap secure webbing control
Piggy back gel pocket secures gel flask and provides easy access
Reflective piping
All Ultimate Direction products are 100% BPA-Free
Storage:
Contoured zippered storage pocket with key hook
Storage Capacity: 32 in3 / .5L
Coupon Code: UDSALE10
End Date: February 28, 2014 Extended To 3/14/14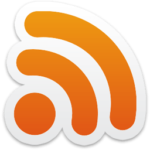 Quick post to let everyone know I've recently transitioned the Run Bulldog Run RSS Feed from Feedburner to FeedPress. I've used Feedburner for many years, but with Google no longer developing or actively supporting the service, I figured it was time for a change.
Hopefully, existing subscribers won't notice much of a difference and the transition will be pretty seamless. Feel free to let me know if you notice anything odd though.
If you haven't subscribed to my blog updates before, you can do so by following the feed below, or copy/paste the link into your preferred feed reader:
http://www.runbulldogrun.com/feed
Alternatively, you can subscribe to email updates by clicking on the following link: