Brooks have been well represented in my shoe rotation for many years, so when I received an email from one of their representatives asking if I'd like to test out the PureConnect 2, the answer was a resounding "Yes, please!"
Initial impression:
The 2nd Generation PureConnect weighs in at just over 7oz (size 9.5), and is a neutral shoe suitable for daily training or racing. Flexibility is good, and the mid-sole a nice combination of firmness and cushion. In my opinion, the red and black color way definitely makes for an eye-catching shoe!
My thoughts:
Since receiving the media sample from Brooks I've racked up about 150 miles on a mix of asphalt, concrete, grass, and dirt trail, in both wet and dry conditions. The PureConnect 2 is built on an Anatomical Last which makes for a slightly narrow fit. Typically the first couple of miles into a run were fine, but by the end of the workout the outsides of my feet were definitely feeling a little cramped. Traction was good in dry conditions, but the narrow, rounded outsole made for slower cornering and a slight hesitancy approaching turns.
According to Brooks, the split toe design is meant to "allow the big toe to function independently and engage the runner's natural balance during toe-off", but to be honest I didn't experience anything too unique. The front of the shoe curls up quite dramatically (see photo below), but this didn't impact toe-off or ground feel as much as I expected it to.
The mesh upper is very breathable, and features a stretchy nav band that hugs the midfoot to keep it secure. Some people love it; others seem to hate it. I guess I'm somewhere in the middle – it doesn't cause discomfort, yet it doesn't appear to add stability either. One thing I do like is the Asymmetrical Lacing. Earlier this year I suffered a swollen tendon located on the top of my foot. The only shoe I could wear that didn't cause more pain was the PureConnect 2, leaving traditionally laced shoes such as the Saucony Kinvara, Grid Type A5 and inov-8 Road-X Lite 155 relegated to the sidelines for several weeks.
I typically run in the PureConnect 2 once or twice a week for a maximum of 7 or 8 miles. Any further, and the narrowness of the shoe begins to cause cramping issues as mentioned above. I'm definitely a fan of the PureConnect 2, but if I'm being honest, it's not the first shoe I reach out for.
Likes:
Weight – around 7oz is perfect for a daily trainer, yet light enough to wear in races too.
Style – great looking shoe, with prominent reflective accents.
Asymmetrical Lacing – makes for a very comfortable fit, even if it looks a little weird.
4mm Heel-Toe Offset – anything in excess of 4mm is too clunky a shoe for me, so the PureConnect 2 fits the bill perfectly.
Dislikes:
Width – slightly too snug a fit for a perfectly comfortable ride.
Sole – outsole could be grippier. The 3 hollowed out areas in the forefoot tend to pick up rocks.
Durability – Brooks claim that "shoes from the PureProject line will last approximately 250-300 miles." For a $90 shoe, I'll be hoping for at least 400 miles. Time will tell I guess.
From the Brooks Running web site:
Embrace the ground beneath you with the featherweight feel and pliable flex of the PureConnect 2. This slim and nimble turn-hugger is the perfect fit when you crave less shoe and more freedom. A split toe groove extends toward the midfoot, engaging the natural movement of the foot and letting you feel every nuance of the run. With rad looks, the baby is ready to run, right out of the box.
Specs:
Category: Neutral
Weight: 7.2 oz
Platform: Anatomical Last
Construction: Stroebel
Launch Date: January 1, 2013
Technologies
• BioMoGo DNA Midsole
• IDEAL Heel
• Toe Flex
• Nav Band
• Anatomical Last
Disclaimer: The PureConnect2 are a media sample provided free of charge by Brooks Running.
Since January 13th I don't think a day has passed where I haven't thought about my DNF at the 2013 Houston Marathon. It's not like I've been dwelling on it for huge amounts of time, but I guess the disappointment of how the race panned out is still lingering. I do know, however, it was 100% the right thing to do. The Rocky Raccoon 100 was just 3 weeks away when I lined up at Houston, so doing-no-damage was always in the back of my mind.
The fact that I was able to far exceed my goal at Rocky Raccoon is partly due to the "smart" decision to pull out of Houston when things were going bad. Since Rocky, I've been fortunate enough to recover quickly and run a couple of solid local races – the Distance Series 30K and Mettle Events 15K – both of which turned out to be Personal Records. However, despite these relative successes, the main thing I've been looking forward to is a return to the marathon distance and another crack at 26.2 miles.
Enter the Shamrock Marathon – a local marathon that I've run 8 times since the year 2000, with finish times ranging between 2:52:55 and 3:07:30. I guess I kind of knew a few weeks ago I'd be running Shamrock this year, but didn't actually sign up until last Friday night at the pre-race expo. I left it late as I had to be sure there were no lingering issues from Rocky Raccoon, and be positive that my mind was 100% up for running another marathon. As race weekend approached, mind and body were good, so I took the plunge and signed up with the following goals in mind:
Break 3 hours to keep my sub-3 marathon streak going. Not hugely important, but I've run at least one sub-3 each year since 2004 and am curious to find out how long I can keep it going.
Run my fastest Shamrock Marathon. As mentioned above, my fastest Shamrock to date is 2:52:55 set back in 2007. On current form, I felt like I had a shot at something in the 2:50:xx range. We'll see.
Finish as high in the Masters Division as possible. Always an unknown, as you never know who will be lining up against you on race day.
Have fun. Houston was definitely not fun. I typically race with a smile on my face, so it was important to have an enjoyable marathon and regain my love of marathons.
So, onto race day. Conditions were cold and windy – pretty typical for the Shamrock Marathon – but at least it was dry. Parking at the Oceanfront wasn't too problematic, and after hanging out in the Holiday Inn lobby for a while, we made our way to the 44th Street and the start of the 1/2 Marathon where I said my goodbyes to Ally and Michelle. Despite a slight delay due to some timing equipment issues, it was fun to watch each of the 10 corrals start their 13.1 mile journey, which left me about an hour to prepare for the start of my race.
I headed back along the boardwalk to help visualize the final half mile of the race. The wind was whipping up nicely, so it was good to get back to the car to warm up for a while, get my head straight and go through some pre-race leg-loosener exercises.
All that was left to do was pin a couple of gels to my shorts, pull on the armwarmers and head to the start line.
The marathon start was also delayed about 5 minutes, but time passed pretty quickly as I chatted to several of the local runners. The plan for most of us was to use the tailwind and get into a rhythm for the first 5 miles, and then hope that the wind had died down a bit for the almost 10 miles heading north to the relative shelter of Shore Drive.
Finally we were off and running, and, unlike at Houston, I was relieved that 6:30/mile goal pace felt comfortable. The first 4 or 5 miles were uneventful. I enjoyed listening to all the banter from the runners around me, but focused on conserving energy and settling into my own race.
At mile 5.5 we made the 180 turn at Prosperity and for the first time in the race experienced the brisk north headwind. I'd counted at least 50 runners ahead of me at the turnaround, 9 or 10 of which looked to be aged 40 or over (i.e. in the Masters Division). Some looked to be coasting. Others already looked under pressure. Plenty of folks to chase down. Just the way I like it.
Thankfully, this early in the race I was still feeling strong, and maintaining goal pace was no real problem. The mile or so around Camp Pendleton broke things up nicely and before I knew it I was heading over the Rudee Inlet bridge and passing the 10 Mile marker.
As is typical of the Shamrock Marathon, the Boardwalk section was tough. If you push the pace here against the wind, chances are you'll waste valuable energy and suffer in the latter miles. Been there, done that. A couple of times. I leaned slightly into the wind, relaxed my shoulders and focused on a quick, efficient cadence. The mantra for the next mile or so was 1, 2, 3, 4…. 1, 2, 3, 4…. 1, 2, 3, 4, until we made the sharp left, then right onto Atlantic Avenue.
Still feeling good I pressed on to Mile 12 and hopefully a sighting of Ally and Shannon who should have finished up their races and would be waiting with words of encouragement. They didn't disappoint, and the boost from seeing them really helped. I took the opportunity to ditch my gloves, and once again pushed on into the wind.
The halfway mark came in just over 1 hour 26 minutes – a fraction slower than I'd hoped for, but with the brutal wind, probably right where I needed to be. The next 3 miles were a straight shot north on Atlantic Avenue – another tough section into the wind, but with the added bonus of seeing some of the half marathon runners finishing up their races. I always get a boost along this stretch, and this time I got to see Michelle and local runner Christopher having fun as they headed south to the finish line.
As soon as I reached the left turn onto Shore Drive I realized for the first time that fatigue was setting in. The headwind really sucks the life out of you, and I started to wonder if I'd used too much energy along the toughest section of the course. I mentioned to the guy I was running with that I'd probably use the next 3 miles on Shore Drive to regroup, before trying to pick up the pace for the final 10K. I glanced down at my Garmin and noticed the average pace had only slowed by a second or two – I just needed to hang tough and get things back together.
Surprisingly the Shore Drive section passed quickly, but as we made the right turn into Fort Story we were greeted once again by the nasty north-east wind. I've run many miles in Fort Story over the years, and despite the wind, I felt strong and in control. I thought back to some of the great Tidewater Striders Distance Series battles I've had in the past and used those thoughts to drive me on. At Mile 20 I was flowing and ready for the final push.
I can't say the last 6.2 miles were easy, but I do remember feeling happy and very much in the zone. Step by step, block by block, and mile by mile, I made my way to the finish line. With about a mile to go I thought back to Shamrock 2009, where I'd faded badly and been passed by a constant stream of fast finishing marathoners. Not today. Today it was me who'd been doing the passing from early on in the race.
Finally I made the turn onto the boardwalk where I'd walked and visualized the finish just 4 hours previous. The only difference now was that spectators lined the bike path and the noise was incredible. My legs felt great and I had no problem whatsoever kicking it in to the finish for a new Shamrock PR of 2:50:53.
Official finish time: 2:50:53
Overall finish position: 22nd
Masters Division position: 3rd
Random stats:
Mile 7 – 49th overall, 9th Masters
Mile 13.1 – 34th overall, 6th Masters
Mile 18 – 28th overall, 5th Masters
Mile 26.2 – 22nd overall, 3rd Masters
Monday:
Enjoyable, but chilly, short run in Saucony's latest zero drop offering; the Virrata. The Virrata features 18mm of foam cushioning underneath the foot, which offers a level of protection comparable to traditional training shoes. In fact, my early miles in the Virrata have felt very Kinvara-like. Which is a good thing of course.
I also made more progress on the Hundred Push-Ups program. and am enjoying using a BOSU ball for my latest attempt at "doing the hundred".
Tuesday
Just ran a nice, easy 10k on the treadmill during my lunch break, and started up some more supplemental strength work with Troy Jacobson's excellent StrEndurance program.
Wednesday
Great day to be outside, so ran steady for about an hour. Ended up with 8.6 miles which is a lot better than all the shorted mid-week runs I've been logging lately.
Thursday
Ran a steady 10k in the Saucony Virrata. Conditions were a bit blustery so very happy with the average pace of 6:18/mile. Also did another round of StrEndurance as a warm up for the run. Lots of push-ups, squats, squat thrusts, mountain climbers, dumbbell rows, shoulder press, crunches, back extensions, jumping jacks and flicks definitely loosened things up!
Friday
Busy day at work, so just ran 5 miles on the treadmill. Started off slightly slower than 7:00/mile pace, but gradually picked things up to finish at 9.5mph. Also did more BOSU ball push-ups, some core work and the latest round of the one fifty dips program.
Saturday

Decided to head down to the Dismal Swamp Canal Trail and run the
Mettle Events 15K
– a no frills event on possibly the flattest, straightest course you'll ever find. Take a look at the GPS track below if you don't believe me!
After a couple of easy, warm-up miles with some drills, it was soon time to race. There weren't too many familiar faces at the start line, so I decided to set off fairly comfortably and see how things panned out.
I soon found myself sitting in 2nd place for the first 2.5 miles, but was able to gradually close the gap between me and the leader, then I think it was just after the 3 mile mark where I was able to make the pass and press on.
I maintained pace to the turnaround cone, then stepped things up a notch for the remainder of the race, feeling good the whole way to the finish line, with no issues whatsoever. Even the tendon on top of my left foot that's been bothering me since Rocky Raccoon didn't trouble me today.
The Saucony Virrata (as seen in the photo above) was the shoe of choice for the race – very responsive, and with a tremendously cushy feel for a zero drop shoe.
My official finish time was 57:15 (6:28/mile pace), but as the course came out a bit long (15.5 instead of 15.3 miles), my actual pace was closer to 6:00/mile – not too shabby at all.
Sunday
Legs felt pretty good after Saturday's race, so I decided to run down to the Oceanfront and back for an enjoyable 20 miler. I kept the Garmin hidden under a jacket sleeve, so I wasn't sure of my pace until I reached the 10 mile mark at Rudee Inlet – it was a pleasant surprise to have averaged sub-7′s as it felt nice and easy. Turning for home wasn't so pleasant, however, as the cold wind was pretty much in my face the whole way back to the house. Nice end to a 66 mile week!
One of my favorite socks at the moment is the PERFORMANCE ZERO sock from Swiftwick. Thanks to the double density weave footbed, the sock is extremely comfortable, offers excellent breathability and wicking characteristics and is very durable.
For road running and racing I prefer a non-cuffed sock, so the ZERO style suits me perfectly. However, I'd probably opt for a ONE or a TWO for trail running, where debris tends to find its way inside my socks.
Swiftwick manufacture the PERFORMANCE sock in 6 different styles (Zero, One, Two, Four, Seven & Twelve) and 4 different sizes (Small, Medium, Large, Extra Large). Black or white are the color options.
Regular pricing for the Zero is $9.99 a pair, with the Twelve style selling for
$24.99. For a limited time, you can save 20% off the entire Swiftwick PERFORMANCE line of socks, which equates to a couple of dollars on a pair of ZEROS!. [Offer ends March 10th, 2013.]
From the Swiftwick web site:
The PERFORMANCE line of compression socks are made in America and designed to be the best socks you will ever wear – GUARANTEED. To deliver top Performance we use Olefin fibers* to produce a fast drying, lightweight sock with superb abrasion resistance and long-lasting durability.

As a fiber, Olefin retains less than .01% of its weight in moisture and resists deterioration from chemicals and perspiration. The combination of nylon and spandex with the Olefin antimicrobial fiber helps create a softer, more comfortable sock with incredible breath-ability for everyday wear.
To take advantage of the 20% offer, simply enter Coupon Code #WickMadness on the Shopping Cart page of the Swiftwick web site. Click here to start shopping!
* Olefin, the only Nobel Prize-winning fiber, has a great story. Its production leaves very little waste; therefore, it has less environmental impact than most polymers and is easier to recycle. Olefin also has the lightest specific gravity of any other fabric. This is why Swiftwick PERFORMANCE socks will float in water.
Disclaimer: links contain a Swiftwick affiliate ID. When you purchase a product through one of these links, the sale is recorded and I receive a small commission.
Didn't eat/drink on my morning 20 miler, so by the time I got back to the house was definitely ready for some recovery calories. All ingredients were to hand, so I was able to quickly blend up the following while my Garmin data uploaded.
Ingredients:
1 cup 1% milk
1 medium frozen banana
8 large ice cubes
2 Tbsp shredded coconut
1 Tbsp instant espresso powder
The
chocolate-espresso smoothie tastes fantastic, has a great texture, with the shredded coconut adding a little extra sweetness.
Basic Nutrition Facts:
Calories – 455
Fat – 8.5g
Carbohydrates – 63.5g
Protein – 34g
What's your favorite post-run food/drink?
Set for a May 2013 release, the Saucony Kinvara series will soon be extended with the 4th edition of their popular neutral running shoe.
Despite the planned May launch date, Saucony were kind enough to send me a pair of Kinvara 4s to test and review. I've been a fan of the Kinvara since its introduction to the running shoe market back in 2010, so was especially pleased when Saucony recently contacted me. I fondly remember my first run in the Kinvaras – a progressive 6 miler in just over 38 minutes – where I was "completely thrilled with the performance, the fit and the feel." Since June 2010 I've owned countless pairs of all three Kinvara versions.
Anyway, back to the newest model….
My sample size 10 weighs in at exactly 8-ounces, just a fraction heavier than my typical size 9.5 Kinvara 3. According to Saucony, the most significant change is an upgraded PowerGrid heel insert for improved cushioning, which supercedes the old ProGrid insert found in previous Kinvara models. Not sure how much of a change this will be for mid-to-forefoot runners like myself, as the PowerGrid insert is touted as delivering a smoother transition from heel to toe.
The most visible upgrade is to the FlexFilm overlays on the upper of the shoe, which should provide a more streamlined fit and improved breathability. You can just make out the changes in the image below.
A few minor modifications have also been made to the shape and positioning of the reflective material at the back of the shoe – nothing too drastic, but a nice subtle safety update all the same. The heel collar has been slightly redesigned too, which should reduce rubbing on the Achilles as reported by Kinvara 3 owners on various message boards and forums. Actually, last weekend at the Distance Series 30K, I fell victim to rubbing on the Achilles for the first time ever in a Kinvara. I'd never noticed the slightly higher heel collar on the 3, but a combination of wet conditions and no-show socks made for a couple of blistered and bloody heels. Ouch!
One other thing worth noting – the outsole remains the same as the Kinvara 3, with triangular lugs providing the trademark piston effect and fantastically cushy feel. All in all, I'm pleased that Saucony has for the most part stuck with their winning formula, as there's nothing more frustrating than when a shoe manufacturer makes drastic changes to a shoe I've grown to love.
According to Saucony the Kinvara 4 launch is set for May 1st, 2013. Here's what Dan Sullivan, Saucony Vice President of Footwear, has to say about the Kinvara upgrade.
[Video courtesy of RunningShoes.com at Outdoor Retailer 2013]
I'm really looking forward to testing out the Kinvara 4 over the coming weeks, and will post a performance review once I've logged some significant miles. Happy miles, everyone!
Happy days at my first race since the Rocky Raccoon 100 – the Tidewater Striders Distance Series 30K. Despite minimal running since the 100 Miler, I had three goals in mind for this race:
Gain payback for the glute injury suffered at last year's 30K, where I pulled up lame after 9 miles and ended my streak of running every Distance Series 30K race since 2003.
Earn redemption

for the DNF at January's Houston Marathon where cold, wet conditions were similar to what were forecast for Saturday's race.

Attempt to beat my current 30K PR of 1:56:25 set back in 2011.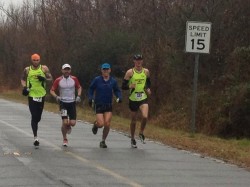 Maintaining 6:15/mile pace for 18.6 miles was never going to be easy. With just a couple of weeks of pure recovery running after Rocky Raccoon, I wasn't sure how my legs would respond to the faster pace.
The plan was to start fairly conservatively for the first 15-20K (maybe 6:20/mile), then push the pace in the second half with the hope of finishing strongly.
I wasn't sure if it was a bit foolish to go for a long distance PR just 3 weeks after the Rocky Raccoon 100, but with my legs feeling pretty good, why not, eh? Conditions for the race were cool and wet – lots of rain, but at least the temperature was in the mid-40s and not any colder. The pace in the first couple of miles went pretty much to plan, but by the first turnaround point at 10K the average was down to 6:12/mile — too fast.
At the 20K turnaround I was at 6:11/mile, but starting to slow and desperate for a boost from the recently-consumed Hammer Espresso Gel. I told myself "it was just 10K to go", dug deep and managed to hang on for a new PR by about 30 seconds. Official time was 1:55:54 in 2nd place overall behind local speedster, Ryan Carroll.
Couldn't be happier. Onwards and upwards!
Photo credit: Lisa Phillips-Jahnke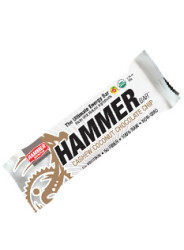 Hammer Nutrition are currently running a special offer on their Hammer Bars and Hammer Recovery Bars – Buy One, Get One FREE! Just purchase a Hammer Bar or Hammer Recovery Bar and get another one FREE.
Hammer Bars typically retail for $2.50 and are available in the following flavors – Almond Raisin, Cashew Coconut Chocolate Chip (my favorite), Chocolate Chip, Cranberry and Oatmeal Apple. They are perfect as
a pre-race meal, post-workout recovery food bar, or healthy snack anytime. They can also be used to complement your liquid fueling regimen for extended exercise periods.
Hammer Recovery Bars contain an impressive 20 grams of a cold-processed whey protein blend derived from grass-fed cows, and are the perfect solid-food recovery fuel. The great tasting Peanut Butter-Chocolate bar also makes the perfect occasional snack to boost your daily protein intake and retails for $3.50.
The Buy One, Get One FREE offer is only available while supplies last, so hurry on over to the Hammer Nutrition web site to place your order!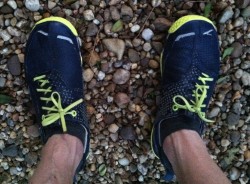 Towards the end of last summer I received an email from Kyle at SKORA Running asking if I'd be interested in getting hold of a pair of their shoes for use and review. SKORA were pretty active on Twitter at the time (actually, they still are), so although I'd never seen their shoes in person, the brand wasn't totally alien to me.
I liked their Run Real philosophy, but if I'm honest the one thing that stopped me buying a pair for myself was the rather hefty price-point – $110 for the BASE model, and $185 for the FORM. So, as you can imagine I jumped at the chance to try the shoes, and after a quick foot measurement Kyle determined I'd need a US Size 9.
A few days later the shoes arrived, packaged in a rather nifty box with magnetic closure no less. Nice touch, SKORA! The first thing I noticed on unwrapping the shoes was the wonderful aroma – not your average foam/rubber/plastic, but the unique smell of a goat leather upper and sheepskin lining.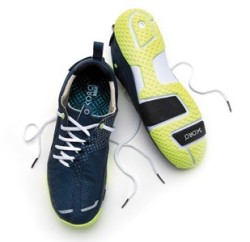 From the SKORA Running web site: FORM is definition of premium performance. Featuring a full-leather upper made of Pittards Goatskin leather with WR100X leather lining, FORM is designed with asymmetric lacing and no-tongue construction to provide a glove-like fit in combination with stitch-down construction and an Ortholite sockliner. A perfect balance of comfort, cushioning and control, FORM will take you further on any road, trail or running surface you throw at it with a Zero-drop, 9mm stack height platform engineered for excellent groundfeel. Be one with your run, in the definitive style-icon – FORM.
FORM is built on the R01 platform composed of the REALFIT™ last, developed to offer a unique anatomical fit that closely matches the foot's shape. The R01 platform also features a zero-drop outsole/midsole with minimal cushioning and a curved section profile in both the forefoot and heel. This allows for optimal natural movement and performance.
Features:
- REALFIT™ last
- Pittards® Armor-Tan® Goat upper
- Pittards® WR100X® Sheepskin lining
- Asymmetrical lacing
- Anti-slip microfiber heelpad
- No-tongue design
- Elastic heel strap
- Reflective details
- 4mm Ortholite® sockliner
- High abrasion rubber
- Zero-drop construction
- Stich-down construction
- 9mm forefoot/heel stack height (13mm with insole)
My thoughts: The FORM is easily one of the most comfortable shoes I've ever worn, if not THE most comfortable. Since receiving the shoes last August I've logged close to 100 running miles in the FORM, and probably just as many walking/kicking around miles. For a zero drop shoe the FORM are surprisingly well cushioned. However, if you're looking for a total barefoot feel, then this probably isn't the shoe for you. Personally, I found the 9mm stack height to be just about perfect.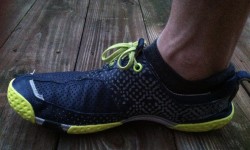 The FORM comes with a removable 4mm Ortholite® sockliner. I've logged several miles with the sockliner in place, but to be honest, much prefer the fit of the shoe without it. The sockliner felt unnecessarily bulky, and on a couple of occasions led to a hot spot on the ball of my left foot – nothing blister-forming, but something to be aware of. My favorite combination is the FORM without sockliner paired with a Balega Merino Hidden Comfort sock. It may be worth noting that I've also logged several sockless runs without major issues, Again, comfort level was high, but the US Size 9 was just a little on the large size and I experienced a small amount of foot movement within the shoe. Tightening the velcro heel strap helped a bit, but didn't totally eliminate the slippage.
Ground feel is very good to excellent, and I found the FORM to be super flexible like a second skin. The sole shows minimal wear after almost 100 miles, which isn't surprising as I've heard of runners with 600 miles and more on their shoes. Speaking of the sole, it may take a few runs to get used to the slapping sound as your foot strikes the ground. I'm not typically a "loud" runner and like to think of myself as being quite light on my feet, but there was definitely some slapping going on in the first 20 or 30 miles of wearing them. Maybe the shoes took a little breaking in or I'm just used to the sound now, but either way the slap, slap, slap is no more.
Likes:
Quality – I don't think you'll find a better made running shoe on the market. From the goat leather upper to the sheepskin liner, the FORM is pure class.
Comfort – although the FORM are not currently my daily go-to shoe for running, I do find myself wearing them most days just for knocking around the house/running errands. They are the most comfortable shoe I've ever owned – period. And the cool thing is, the more you wear them, the more comfortable they get.
Durability – despite only having logged approximately 100 running miles, the upper and sole appear almost like new. I'm pretty sure they'll still be going strong hundreds of miles down the road.
Dislikes:
Price – I guess for the average Joe $185 is a pretty hefty price to pay for running shoes, although if they're going to last in excess of 500 miles, then price per mile isn't *that* bad. I remember shelling out big bucks several years ago on a pair of Nike Mayflys which were advertised as lasting just 100km (62 miles). Not exactly the best purchase I ever made.
Laces – just a minor issue probably not worth mentioning, but the laces are soooo long. Even double-knotted they flap around a lot, so most of the time I just end up tucking them in. Annoying. SKORA do provide a couple of pairs of laces though – my Royal Blue FORM came with both white and fluorescent yellow. For what it's worth, the yellow ones are my favorite.
Heel strap – not really a complaint, but the elastic/velcro heel strap doesn't really do anything for me in terms of fit and function. Think I'd rather see a more traditional heel counter.
If you're thinking of taking the plunge and trying out a pair of SKORA running shoes, you may be interested to read about their current sale where they're offering 30% off specially marked products and FREE standard shipping. For example, the FORM Natural/Black/Red are currently on sale for $129.50 instead of the regular $185.00 price! Click here for more details.
Update: the above sale has now ended, but you can still save 10% when you use the following code at the SKORA Running web site: SKORA-46952556. Happy shopping!
Read more about the SKORA Run Real Philosophy on their web site, or watch the following video for a visual of their product offering. Enjoy!
SKORA Running Video from SKORA INC. on Vimeo.
Disclaimer: The FORM are a media sample provided free of charge by SKORA. Thanks again, Kyle.
Where do I begin?
Guess I should rewind 28 weeks to July 2012 when I took the plunge and signed up for what would be my debut 100 Miler. I'd managed to run 106.25 miles at the 2011 24-HR ATR , but decided the time was right to attempt my first 100. Rocky Raccoon, advertised as flat and fast, appeared to be the logical choice.
At first glance the event web site looks pretty basic, but after clicking around for a while I found it contained tons of information about the event, in addition to a great history section detailing results, reports, records, comments and pictures. I couldn't help notice that the age group record for 46 year olds stood at 16:47:47 – a crazy fast time for 100 miles, but at the risk of sounding a bit cocky, a potentially runnable 10:04/mile average pace. I quickly fired off an email to my new coach which went something like this:
"Will be signing up for the RR100 pretty soon. Just looking on their web site and noticed the course record for my age group [I'll be 46 in 2013] is currently 16:47:47
http://www.tejastrails.com/docs/Rocky__Age_100.html
Think that could be something to aim for?"
Coach's reply –
"Go for it! I am sure that we can get to 16:30 with good training, nutrition etc."
Fast forward 7 months, and after numerous setbacks including a bout of summer poison ivy, pretty significant hip/glute issues in September/October, a case of shingles in December and my first marathon DNF at Houston in January, it was time to race. Despite the setbacks, I was well rested, in good mental & physical shape and nervously excited about my first 100.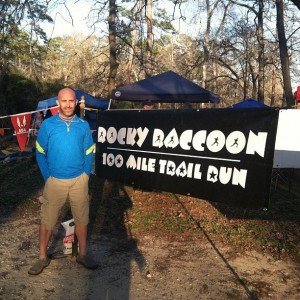 We (my wife Ally who would be crewing for me, and I) flew in to Houston the day prior to the race, picked up the rental car for the 1 hour drive to Huntsville before checking in to the hotel and making our way to Huntsville State Park for packet pickup and the trail brief from Race Director Joe Prusaitis.
Much of the information I'd already reviewed in the detailed race document, but it was invaluable to experience the atmosphere of the park and the other runners, crew and volunteers. It was also cool to meet Ally's coach, Jeff Kline, for the first time in person and several of his athletes who were either running the 100 or the 50. Excitement was building, and to be honest I just wanted to get going and start the race.
Before leaving the park I handed off my drop bag for the DamNation aid station, and took one last look at the start/finish area where I'd be lining up the following morning.
Dinner was my usual burger, fries and a beer. Sleep came surprisingly easily and on waking at 3:45am, I felt rested, nervous, but raring to go. My pacer, Andy O, had flown in from DC and arrived fairly late at the hotel, so we left him sleeping to make sure he would be well rested and ready to pace from the 60 mile mark.
We arrived at the park nice and early which enabled us to snag a prime parking slot. With nothing to do for at least an hour, I set my alarm for 5:35am, closed my eyes and relaxed. I dozed on and off for a while, then finally it was time for one last port-o-john visit and to head to the start line. I tried to put the thought of having 100 miles ahead of me to the back of my mind, and chatted briefly to Virginia Beach runner John Price as the clock slowly ticked away. Facebook friend Joshua Finger (a crazy-talented and experienced Ultra guy) introduced himself a couple of minutes before the start. We wished each other well and then we were off and running. "Wow, I'm running 100 miles!" I thought to myself….
The first hour or so is run in darkness. I'd been warned about the roots on the course so made sure I took things easy in the early miles. I didn't really have any issues, as my Petzl Nao Headlamp (great Christmas gift from Ally) lit the way nicely – so much so in fact, that Mexican runner, Luis Guerrero, ran up alongside me to ask all about it. He was well impressed! I tucked in behind a small group of 4 runners, and with pacing right around 9:00 minute miles, it felt great to be clipping along in the dark. 3 of the guys in front all took a tumble which made me concentrate even more and look out for the roots everyone had warned me about. It also made me wonder what the rest of the course was like, and how bad it would get when tiredness kicked in later on in the day.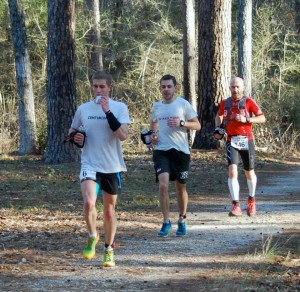 We breezed past the first aid station just 3.1 miles from the start, crossed the main park road before heading back onto the trail and onto the DamNation aid station.
Somewhere on this stretch the 3 lead guys must have taken a wrong turn, as headlamps running towards appeared in the distance. They quickly realized their mistake, turned, and blazed off ahead, quickly followed by 2 of the guys in the pack of 4 that I'd been tracking.
That just left me and a couple of others, who turned out to be great guys from the UK – James Elson and Paul Navesey. I enjoyed tracking James and Paul for much of the first loop – the pace was good and the conversation enjoyable. I also remember James saying "It's a bit scary we're in 6th, 7th and 8th place" which immediately made me think "Steve, what are you doing? You should probably slow down."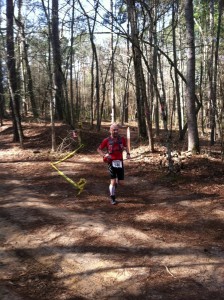 A mile past DamNation (Mile 13), Ally and her coach were waiting patiently. It was great to see them, even if she claimed she didn't know the rugby score when asked. Wales were losing against Ireland, and she figured it wasn't the news I wanted to hear with 87 miles left to run – probably a good call, Ally.
Anyway, we made it back to the Start/Finish in just over 2 hours 44 minutes – about 15 minutes faster than planned. Oops! Ally was right there at the turnaround point with my gear bag, understandably shaking her head in disbelief. Before the race I told her "If I'm quicker than 3 hours per loop, then I've gone too fast." Ah well, too late to do anything about it now I guess… So after a quick exchange of my empty handheld bottle and a top up of gels, I set off for Loop #2.
In the early miles of this loop I started to experience hot spots on the balls of both feet. For some reason the Inov8 Roclite 285s were not working out, so I decided to stop at DamNation (Mile 26) and change into some cushy Saucony Kinvaras instead. The Kinvaras were a last minute addition to my drop bag, and I'm glad I had them. The hot spots disappeared and my feet felt good for the remaining 74 miles. James and Paul sped by while I was changing, but I managed to catch up somewhere on the 2nd half of the loop, and then move past into what I guessed was 6th place overall.
2013 Rocky Raccoon 100 – Mile 33 from steve speirs on Vimeo.
Somewhere on this loop I also started to sense a few glute issues. I popped a couple of Tylenol and tried to ignore the discomfort. I guess they did the job as I don't remember having any pain for the remainder of the loop or the race. At 2 hours 49 minutes, Loop #2 was 5 minutes slower than the first – still too quick, but everything was feeling great. I'd managed to consume all the planned calories, taken salt sticks on time and had gone through enough fluids that I was peeing clear and often. So far so good.
2013 Rocky Raccoon 100 – Mile 40 Inbound from steve speirs on Vimeo.
2013 Rocky Raccoon 100 – Mile 40 Outbound from steve speirs on Vimeo.
Loop #3 I changed things up with regards to fuel and headed out with water and a flask of EFS Liquid Shot. I fancied a change from Perpetuem, and figured the electrolytes in the Liquid Shot would help with the rapidly increasing temperature and humidity. Looking back, I wish I'd stuck with Perpetuem as I really struggled to take in enough calories on this loop. I couldn't stomach the Liquid Shot and my trusty 100 calorie gels were not appealing either. At least I was still drinking, my feet felt fine and generally I was clipping along at a nice pace. I made a mental note of my 50 mile split which was 7 hours 27 minutes, then again at 8 hours I was at something like 53 and a bit miles. I thought of the folks running the ICY-8 in Northern Virginia and nodded to myself at the distance I'd managed in the 8 hours to date. Not a bad effort…
I closed out this loop in just over 3 hours 4 minutes. I vaguely remember seeing 8 hours 30-something on the clock and thinking "Wow, that's a bit quick for 60 miles." I also remember feeling desperate to get some calories inside my body as I arrived back at the Start/Finish area. Ally took care of refilling my handheld bottle. I told her I could only stomach icy water, so with the help of an aid station volunteer, that's what I ended up with. Meanwhile I scanned the aid station for food, but the only thing I fancied was a couple of handfuls of raisins. I realize I really need to work on this nutrition thing if I'm going to do more 100 Milers. Anyway, with my pacer in tow, I set off for Loop #4 in good spirits, and still feeling pretty good.
2013 Rocky Raccoon 100 – Mile 60 from steve speirs on Vimeo.
I arrived at the 63 Mile aid station still a bit hungry and knowing I needed some quick calories. Once again I scanned the food table, didn't see much that I wanted, so picked up 2 banana halves. I swallowed one half, washed it down with some water and headed out of the aid station. I made it about 10 steps before the banana came back up with most of the water I'd consumed. I'm not proud to admit, but with 37 miles still to run, my first thought was to walk back the couple of miles to the Start/Finish area and call it a day. All of a sudden I felt weak, hot and tired, but no way was I about to quit. I think I said to Andy "Let's walk for a while and see how it goes", but I'm really not sure. Maybe he has a better recollection of the moment? Anyway, it was only 3 miles to DamNation, so we set off walking and somewhere along the way we started to run again.
Much of the remainder of the race is quite a blur. I do remember having some tough times running, but also many periods where things felt good again. I guess that's the nature of a 100 Miler. Aid station stops took longer as I became more focused on taking in enough calories to carry me to the next aid station. The 6 mile "DamNation Loop" was probably the toughest stretch of the race, but once back at the aid station, it was such a nice feeling knowing there were only 7.8 miles back to the Start/Finish area.
Loop #4 took a lot longer than the first three (3 hours 42 minutes), but in the back of my mind I knew I was still capable of breaking the age group record. Looking back, I think that's what kept me going – having a goal that I'd publicly declared kept me moving forward, and at a pace where deep down I knew I was safe. Again, Andy may have a different opinion on this, and I probably drove him crazy asking him to calculate "how much time I have left?" or "how many minutes per mile must I run?"
At this point in the game, I should mention that having a pacer is critical to a successful race. Andy talked when I needed to hear something, listened when I needed to say something, walked when I needed to walk, and ran when I wanted to run again. He led when I needed to follow, and followed when I needed to set the pace. All of this took place without a single complaint. Thanks, Andy – couldn't have done it without you.
I think at Mile 80 (the end of Loop 4), someone informed me I was in 2nd place. I didn't remember passing anyone, but then again runners may have dropped from the race. I couldn't believe it – 2nd place at the Rocky Raccoon 100? Impossible. With that thought in my mind, Andy and I set off for the final 20. I strapped on the Petzl Nao, almost picked up an extra layer of clothing to guard against the cooler evening temperature, but decided there was plenty in my 86 mile drop bag if I needed it.
Once again, most of this loop is a blur. I do remember getting passed by the 3rd place guy with about 8 miles to go, and just before the final DamNation stop. He flew by Andy and I as if we were standing still. Maybe we were? Maybe I was sleep walking at that stage? Who knows? At the time it didn't really register who he was and what it meant. I mean I wasn't 100% sure what position I was in, and in my mind all I was thinking of was the 16:47:47 age group record.
After some more Ramen Noodles and Mountain Dew (thanks Jeremy Day for the tip!), and thanking the DamNation volunteers for their wonderful help throughout the day, we set off on the final run for home. I sensed Andy was getting tired (he stubbed his toe and tripped a couple of times), so put it out there that he could take the short cut back along Park Road once we hit the final aid station. I would have 4.4 miles left to run, and was confident I had enough energy and strength to make it to the finish in good shape. Andy agreed, so after another cup of noodles and a quick check of the watch, we parted company. I secretly hoped he'd have a beer waiting for me at the finish, but that's another story.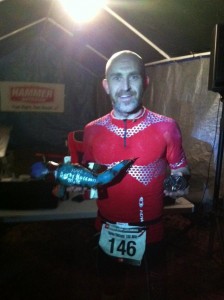 At this stage in a 100 mile race, you'd think it was all about coasting to the finish. Not so. From somewhere deep within I found something that kept me flying along the trails. Runners were heading out on their 3rd and 4th loops, and the constant "Good job!", "Looking strong!", "You're crushing it!" as we crossed paths kept the adrenaline flowing.
I crossed the numerous now-familiar wooden bridges and knew I was close. Then the sound of cheering got louder and the finish area lights brighter. I was almost home. I crossed the last little road and sprinted down the chute to the finish line – 16 hour 16 minutes on the clock and everything a blur. I'd finished my first 100 in 16:16:55 and 3rd place overall.
To close, I'll repeat what I posted on Facebook just a short time after the race. There are many people to acknowledge, but a special shout out must go to Ally for supporting me 100% in my crazy endeavors and crewing like a pro. Cheers to Andy O'Brien for giving up his weekend to selfishly pace me for almost 40 miles. I owe you, Andy. Last but not least, thanks to Dai Roberts for taking me and my ambitious race schedule under his wing, and expertly coaching and getting me to the start line in tip top shape.
Massive thanks also to Joe & Joyce Prusaitis and the whole Rocky Raccoon support team for putting on an outstanding event. Can't wait for Rocky II!
Splits:
Lap 1 02:44:40
Lap 2 02:49:58
Lap 3 03:04:14
Lap 4 03:42:21
Lap 5 03:55:42
Total Race Time 16:16:55
Video credit – Andy O.
Photo credit – Coach Jeff and Angie C. Pratt