After a challenging, but successful, 4 to 5 weeks training since the Seashore Nature Trail 50K, Sunday's Chevron Houston Marathon was supposed
to be a confidence boosting race. In fact, the pre-race plan was to go for broke and target a new marathon PR.
Unfortunately, things don't always go to plan, so instead of kicking off 2013 with a bang, I ended up calling it a day a little way past the 13.1 mile mark.
So, what went wrong when the race preparation seemed to be so right? Here's what I remember…
Several days before leaving for Houston I developed a slightly-sore spot on the inside of the left knee. Not sure where it came from to be honest, and although I hoped it was one of those phantom taper pains, the minor discomfort left me feeling a little nervous. Saturday's short shakeout was quite promising though, and I figured once the marathon started at 7:00am the next day, everything would be fine. Actually, the warm temperature and humidity during the shakeout run were more of a concern than the knee pain.
Ally and I hit the race expo after breakfast and managed to hook up with Andy O and Janet C. Ally decided to buy a Houston Marathon visor as despite the pleasant Saturday weather, potentially heavy rain was forecast during the race. We also picked up a couple of those cheap-and-cheerful Tyvek jackets just in case we needed to stay warm and dry at the race start the following morning. More for peace of mind than anything else, I also waited in line to have my left knee taped up. Runners either seem to love KT Tape, or hate it. As a first time user, I have to say my knee felt a lot more stable after being taped. Good stuff!
Dinner was a fun time with fellow dailymiler Sean Brown, his wife Michelle and two sons, Sam and Matthew. Sean would also be running the marathon, with the family out on the course cheering him on.
After a quick check of the weather forecast and the laying out of the race day gear, it was time to get to bed. Breakfast was my usual Hammer Nutrition Sustained Energy, and then it was time to leave the hotel and walk the mile or so to the drop bag location at the George R. Brown Convention Center. It was already pretty windy and MUCH cooler than the previous morning. Thankfully it wasn't too bad once we started walking, and the Tyvek jackets definitely helped keep the chill at bay.
Despite the huge crowds of runners for both the full and half marathons, dropping the gear bag off was quick and easy. In fact, everything about the Houston Marathon weekend was flawless in terms of organization and logistics – very impressive! Finally it was time to head to the marathon start area. The forecast rain had started, and the wind was picking up, but somehow we managed to find Sean trying to stay warm in his corral. I wished Ally and Sean good luck, then battled my way through the crowds to the get to the start line.
Despite the wind and the rain, I decided to strip off the Tyvek jacket just a couple of minutes before the race got underway. Excitement was building and runners all around me were keen to get going. Then, with a huge boom from a cannon, we were off. The wind picked up even more and the rain lashed down even harder. Some reports say the rain was sleet, but all I remember is fighting against the wind and rain as we made our way up onto an overpass where there was absolutely zero protection from the elements.
Goal pace for the early miles was a fairly conservative 6:20/mile. I glanced down at the Garmin a couple of times but couldn't even read the screen. My effort level seemed to be right, so I just put my head down and ran. The pre-start excitement was quickly quashed – runners all around me were grimacing, straining and breathing hard, and it reminded me of a scene from the final mile rather than the first one. I wished I hadn't disposed of the Tyvek jacket so hastily, but the damage was done and already I was frozen to the bone.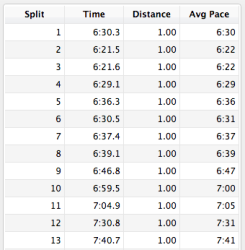 Mile 1 finally arrived. This time I could see the Garmin screen, but the 6:30 mile split wasn't what I'd hoped for. Faster, Steve. Faster. Mile 2 and 3 were better, but the effort level was far too high for the pair of 6:21 splits. Mile 4 was a disappointing 6:29, and from here things went from bad to worse.
Try as I might, I could not run any faster. I tried to relax. I tried to dig deep. I tried to increase my cadence. I tried to "think warm". I called upon all my tough-workout mantras, but nothing worked. I felt defeated. Looking back, mentally my race ended here.
Physically, I gutted out several more miles, but just past the 13.1 mile mark, I did something I've never done in a marathon before – I stepped to the side of the road and informed the medical crew my race was over. At Mile 10, with a 6:59 split, I'd decided to make one big push to turn things around. The next 3 miles were 7:04, 7:30 and 7:40. There would be no turn around today.
In those tough, tough miles, thoughts kept turning to the Rocky Raccoon 100 which was just 3 weeks away. The RR100 was to be my first 100 Miler and the culmination of 7 months of training. As difficult as it was to pull out of the Houston Marathon, it was also one of the easiest running decisions I've had to make – I needed to minimize further damage and save myself, both mentally and physically, for Rocky Raccoon. Job done. DNF.
I pride myself on being a gutsy runner. I always give 110% and typically thrive in tough conditions. Today, for whatever reason, was not my day. The SAG wagon ride back to the Convention Center was an experience. The van was packed with cold, wet and disappointed runners. We traded battle stories and reassured each other that we did the right thing.
The Houston Marathon was not what I hoped for, and definitely not what I wanted, but maybe things happen for a reason and my next trip to Texas will be more successful. I have 3 short weeks to regain my confidence, and psych myself up for my biggest running challenge to date. Let's go!
Looks like the blog has taken a back seat yet again. I wrote the last post over a month ago, just after I'd raced the local Turkey Trot 10K and completed a 66 mile week. Things were coming together nicely according to my notes as I'd "logged 200 miles in the last 3 weeks at an average 6:43/mile pace" with "relatively fresh legs". A good sign with the Cayman Islands Marathon just around the corner. Right?
Well, exactly four weeks ago today, we made our way to Norfolk International Airport to fly to Grand Cayman via Atlanta. The day previous I ran a great little 6 miler (3 easy/3 steady) at an average 6:21/mile pace. I was ready to race! I remember mentioning to Ally at the airport that my legs felt a bit weird, especially in the region of the quads. A prickly, tingly sensation doesn't sound much, but even walking to the security gate was painful and awkward with my shorts rubbing against my skin being the biggest culprit. No need to panic, I figured it was probably due to shaving my legs a couple of days before the trip (yeah, I know….), but I must admit, a couple of other symptoms had me a little bit concerned that things weren't quite 100%.
Fast forward a few hours and we'd landed safely in Grand Cayman, picked up the rental car (a cool MINI Copper Convertible) and checked into the hotel with tons of time for a short shakeout run before dinner and an earlyish night. The 2 mile run at just under 7:00/mile pace was just okay. The legs felt a little sluggish, but I put that down to the day of travel and the heat of Cayman. Tomorrow would be better for sure.
The plan for Saturday morning was just a 20 minute easy run. The pace was quicker than Friday night's run (6:45/mile for 3 miles), but the effort level was way too high for the pace. Again, my legs felt real heavy, but I put it down to the heat and humidity of the Caribbean island. Packet pickup later in the day was fun, and it was nice to relax on the beach for a few hours in the afternoon before an early dinner at the hotel. The legs were still feeling weird – prickly to touch and annoying as I don't know what, but I figured a good night's sleep and the excitement of the marathon would wash all those feelings away.
The 5am race start came around all too quickly. The temperature didn't seem to bad, and there was a nice little breeze to keep the air moving. I jogged a little to wake up the legs and thankfully they didn't feel too bad. Even the Theraband monster walks in the car park felt pretty good. I knew the battle for the overall win would likely be between last year's winner, Justin Grunewald, and the local favorite, Jon Rankin – a 4 minute miler with a marathon personal best of 2:34:xx. My best hope would be 3rd overall, but after doing some research I'd discovered a couple of speedy Canadian runners – Geoff Riggs from Ottawa, and Steve Mattina from Vancouver. Both had very similar race times to me and judging by recent online results were in fine form!
The marathon got away right on time. My goal pace was 6:45/mile for the early stages, with the hope of picking things up in the second half of the race. The first couple of miles were fine with the usual dash of 1/2 marathon and 4-person relay runners sprinting away into the darkness. I settled in to my pace and tried to spot Geoff and/or Steve in the small group of runners around me. No luck though. At around Mile 3, several of the runners in my group gradually moved ahead of me. I figured they were speeding up, but after a glance down at my Garmin, it was me who was slowing down. Weird. My effort seemed to be the same, but the pace had dropped 10-15 seconds for the mile. I tried to quicken the pace to catch back up, but my legs didn't or couldn't respond. Huh?
I struggled a bit the next couple of miles and used far too much energy to regain my place and more importantly my goal pace. I can't ever remember suffering so badly, so early in a marathon, but I stuck at it in the hope that things would improve. Each mile was a real battle and as I crossed the start/finish line in [according to the Race Announcer] 3rd place and a fraction over 1 hour 30 minutes, I contemplated a DNF. My legs had nothing, and the thought of heading back out for another 13.1 mile loop of the course was very daunting. If I'd glanced back as I crossed the halfway mark, I would have spotted Steve Mattina just 22 seconds behind. I'm glad I didn't. Geoff was a further minute or so back, but again, at this time I had no idea where any of my competition was.
I've never DNF'd a marathon in my life, and somewhere between Mile 13 and 14 I decided I didn't want to start a new trend. I put my head down and gutted out another mile. Then another. And another. At the final turnaround and relay exchange point (Mile 19.5), I took in a bit of the energy from the crowd and found a slightly higher gear. Geoff Riggs also provided a wake-up call as he was less than 2 minutes behind and looking stronger than I felt. Time to gut out the final 10K back to the finish.
I don't recall too much about the beautiful stretch along the South Sound, or the small maze in and around Walkers Road. I do remember getting to Mile 24 and having the luxury of a bike lead to focus on and follow all the way to the finish.
Time and time again I tried to inject a bit of pace, but each time the response was the same. Nothing. I knew Geoff would likely be closing in on me, so I just kept running. I didn't dare glance back, but did ask several of the volunteers if there was anyone behind me. Either they didn't understand or they didn't want to tell me.
With less than a mile to go I managed to get close enough to one of the bike leaders, Steve Abbott, to ask if Geoff was in sight. He wasn't. Steve also informed me that Justin (last year's winner) had dropped at Mile 18 leaving me in 2nd place overall. This helped ease the pain slightly as I made my way through George Town to the cheering crowds and energetic finish line.
I don't think I've ever been more relieved to finish a marathon. My time of 3:03:38 was disappointing, and certainly not what I expected, but at the end of the day I was just glad to finish.
Geoff crossed the line a couple of minutes after me and we briefly chatted as the volunteers removed the timing chips from our shoes. The heat had got to him (not surprising coming from Canada), but he was stoked at his 3rd place finish.
Seems like I've rambled on a bit here. To summarize, my 4th Cayman Islands Marathon was a real battle. I'd hoped to run a solid, yet not necessarily fast, marathon, but it was all I could do to finish this one. To add to the story, a day or two later I noticed a weird rash in a rather unusual location. I figured it was just chafing from the race, but after another 2 or 3 days it was still there, and starting to spread. I asked Ally to take a look, and she had no hesitation with a shingles diagnosis. A quick Google seemed to confirm things, so it was just a question of waiting for the pain to disappear and the rash to clear up. I'm not the type to make up an excuse for a poor race performance, but it was definitely reassuring to find out the cause of my lethargy and discomfort. Hopefully I can escape a repeat when next year's Cayman Marathon rolls around.
I ran another 3 times in Cayman. Each one was a bit of a struggle, not in the sense of just having run a marathon, but purely down to having no energy and non-responsive legs. Day by day things started to improve – the skin rash eased up and the horrible nerve pain and tingling sensation lessened – so on the last day of the vacation I took part in a fun Jingle Bell event. The course was a bit short, and as the "race" was not officially timed, it turned out to be more of a tempo run than a race. I was pleased with the 6:09/mile pace for 6 miles though, and the unofficial "win" was an added bonus too.
There's still a lot more to tell about December, so I'll wrap this post up for now and hopefully write some more in the coming days. Thanks for reading!
Wasn't sure how the legs would react to last week's 70 mile "recovery" week, but things turned out good! Seems like my fitness is coming back nicely…
Monday:
Planned – AM 35 minutes easy. PM 40 minutes steady.
Actual – just over 5 misty, morning miles @ 6:53/mile pace to start the week. The afternoon run was a little quicker (6:20/mile), but very blustery. Legs and lungs feeling strong!
Tuesday
Planned – Rest day.
Actual – A planned rest day. Didn't really need it, but I'm sure these recovery days will pay dividends a month or two down the line.
Wednesday
Planned – 40 minutes: 20 easy, 20 steady.
Actual – a thoroughly enjoyable lunch run. The first 20 minutes were comfortable in the "easy" zone (143bpm), but it felt great to push the pace for the closing 20 minutes. Managed just over 6 miles @ 6:29/mile pace.
Thursday
Planned – Turkey Trot 10K.
Actual – a rare mid-week race, with a warm up of just under a mile and a half. Started the race a little too aggressively and went through the 5K mark in a fraction under 18 minutes. Struggled to maintain pace in the closing miles, but still finished in a faster-than-expected 36:38 – my quickest 10K in the last 18 months or so. Finished 1st in the 45-49 age group, which was also the fastest time for male runners over the age of 35. Can't be bad.
Decided to log an extended cool down, so ran the 6 miles from Mount Trashmore back to the house at a nice relaxed pace.
Friday
Planned – 10 miles w/ 5 x 50m strides in each of the last 3 miles.
Actual – Nothing like a double digit recovery run to wake up the legs after a tough 10K! This one went kind of well. Kept things in the "easy" zone (143bpm) for the first 7 miles, then threw in 5 x 50m strides in each of the closing 3 miles to keep the legs primed. Great conditions for a run. Really happy with the 6:47/mile pace!
Saturday
Planned – 17 miles easy with 5 easy and 12 @ MP (Marathon Pace)
Actual – wasn't exactly looking forward to this run to be honest. It's been non-stop since the Richmond Marathon and I was a teeny bit unsure of how I'd deal with the 12 miles at goal marathon pace. The first couple of miles I felt cold and a bit fatigued. The legs loosened up a bit in the next mile, and by the time Mile 6 arrived I was raring to go. Weird how that happens!
I decided to shoot for a marathon pace of 6:45/mile for the 12 mile stint, and aside from a couple of miles into a stiff headwind, I honestly had no issues hitting the goal. Even more surprising was the average heart rate for the 17 miles – just 143bpm, which is the upper limit of my "easy" training zone. 17 miles @ 6:41/mile pace = good stuff!
Sunday
Planned – 8 miles w/ 5 easy, 3 steady
Actual – a pleasant run to close out the week, with the first 5 miles cruising in the "easy" zone. I didn't bother glancing at the Garmin for the closing 3 miles, and just ran by feel instead. Definitely happy with the 6:06, 6:02 and 5:58 splits!
Summary
Surprised how well this 66 mile week panned out, but am more happy at how fresh my legs seem to feel at the moment. Somehow I've logged 200 miles in the last 3 weeks at an average 6:43/mile pace. I haven't checked the stats, but can't recall ever having a mini-training block like that before.
This coming week features a bit of a taper as I head towards my 4th Cayman Islands Marathon next weekend. Thankfully the pressure is well and truly OFF as last year's impressive winner, Justin Grunewald, will be lining up to defend his title. My plan is to have fun, run my own race and enjoy the wonderful event that the Cayman Marathon folks put on.
Have a great week!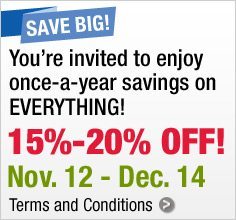 As a token of their appreciation for having the best customers EVER, the good folks at Hammer Nutrition are currently holding their annual Client Appreciation Sale.
As this is an extra special holiday season for them (their 25th year in business!), they are offering a generous 15-20% off all products!
I'll be stocking up on my favorite energy gels, pre-race Sustained Energy, post-race Recoverite and a few of their other great supplements.
The sale runs from November 12th to December 14th, so plenty of time to choose your products and place your order. Happy Hammer Shopping!
[Please note the terms & conditions.]
Not exactly a textbook marathon recovery week, but here's how it went:
Monday:
Planned – AM: 35 minutes easy
Actual – no post-marathon issues to deal with, so straight back at it with an easy 5 miler at just under sub-7:00/mile pace. Foggy and calm made for an enjoyable pre-work run.
Tuesday
Planned – AM: 35 minutes easy, PM: 55 steady
Actual – same as yesterday's morning run, but the pace was a little quicker and the temperature a crazy 62?! The afternoon run also went well – a little blustery, but no issues hitting the required heart rate. 6:30/mile pace for almost an hour = nice!
Wednesday
Planned – 90 minutes w/ 45 easy, 45 steady
Actual – the first 45 minutes went well, but I struggled a bit in the second half to get the heart rate up to the required zone. No issues, just felt a little flat after a few busy days. Nice to run slightly over half marathon distance in the 90 minutes – I still remember the days when 1:29:59 was my PR!
Thursday
Planned – 60 minutes w/ 15 warm up, 5×6 minutes at 10k pace (90 sec rests), 10 minutes easy to cool down
Actual – 9 more miles in the bank! Another blustery run which made for a few challenging 6 minute intervals, but as I keep reminding people – "If you don't train in it, you can't race in it…"
Friday
Planned – rest day
Actual – needed it. Enjoyed it. Bring on the weekend!
Saturday
Planned – 20 miles w/ 8 easy, 12 steady
Actual – not the easiest workout in the world, but the long runs never are. Took a few miles to mentally get into this one, as I think I was concerned the glute injury was going to rear its ugly head again. The 12 "steady" miles were a bit daunting too!
Struggled a bit in the first four miles, "got into it" for the next couple, but then the left turn into the wind slowed me down a bit for the last of the "easy" miles.
The first three "steady" miles were into a headwind (6:45, 6:44, 6:40). It felt like I was working hard, but the HR was only up to about 145bpm – a fair bit lower than the required 153. I stuck with it though and felt good at the turnaround point knowing that the next 9 miles would have a little bit of wind assistance.
The closing miles weren't easy, but thoughts of last week's Richmond Marathon and next month's Cayman Marathon kept me focused and motivated. Really pleased with the splits for the last 9 miles – 6:29, 6:28, 6:24, 6:30, 6:33, 6:27, 6:31, 6:24, 6:15, especially as this was only my 8th run of 20 miles or more in the whole of 2012, compared with 32 and 33 in 2011 and 2010 respectively. Not sure where my endurance is coming from at the moment, but I'm not complaining!
One another thing to note; I [foolishly] completed this run with zero fuel. I carried a couple of gels "just in case", but didn't feel the need to take them or stop for water. Yeah, not very wise and probably lucky I didn't bonk at some point on the way home. 20 miles at 6:44/mile pace one week after Richmond = one happy runner.
Sunday
Planned – 60 minutes easy
Actual – legs felt surprisingly good after yesterday's 20 miler for this "easy" hour. The wind slowed me down a bit in the closing miles, but still managed to knock out 8.6 miles in the 60 minutes.
Summary
So, a 70 mile week following a marathon is not exactly recommended, but I think I got away with it. With the Cayman Islands Marathon just a couple of weeks away, there's still time to do a bit of work before towing the line on December 2nd. Onwards and upwards!
Not a bad week if truth be told! Started things off with a rare double on Monday – 5 steady miles in the morning, followed by a slightly longer/slower run in the afternoon. The morning run was a bit of a struggle, but things went much better in the afternoon.
Tuesday was a solid effort, but one of the most challenging sessions for a while – a 15 minute warm up, followed by 6 x 5 minutes "hard" with a 2 minute recovery between each interval. It was one of those workouts where I was glad to be done, but pleased that I pushed through the discomfort to get it done. 9 miles in 60 minutes was the end result. Not too shabby.
Wednesday morning brought heavy rain and blustery wind, so I wimped out and opted for the comfort of the treadmill. I slogged out 8 miles (5 easy/3 steady) before breakfast, and once again, was glad to be done. After work I headed to Bon Secours In Motion where I ran a couple more treadmill miles as part of a Dartfish Running Gait Analysis, which utilizes high-speed video to detect running/walking oddities. I'm looking forward to receiving my custom DVD of the footage and analysis!
Thursday was a nice 35 minute cruise in the easy zone (143bpm) where I managed to cover 5.4 miles at 6:28/mile pace – a very encouraging run and perhaps the first sign that my fitness is coming back.
Friday was just a watchless 4 miler before breakfast, and the final run before Saturday's Richmond Marathon. It went okay, although to be honest I was hoping for more of a confidence-boosting "felt great" kind of run.
Onto Saturday and the 35th Annual Richmond Marathon – one of my favorite marathons that I've been fortunate enough to take part in. With two months of limited running and a nagging injury that kept mileage pretty low, the plan was to just use Richmond as a fun and long training run. With one "long run" of 15 miles since early September, I'd be foolish to try anything else. Right? Well, several days before the race I made a decision to attempt a 1:30 1st half (6:52/mile pace), and see what happened after that. I've managed to log at least one sub-3:00 marathon per year since 2004 (Ironman year), and deep down didn't want that streak to end. Yeah, silly I know.
The early miles went well – heart rate low, pace steady, but best of all, no pain in the right buttock. Mile 4 I chugged down some fuel and thought of the 22 miles ahead – not the wisest thing to do so early in a marathon, but that one-and-only 15 mile long run was firmly lodged in my brain, and try as I might, I couldn't shake it.
I found myself running alongside 3 guys who were also targeting a sub-3 hour finish. Their pace was impressive so I just kind of zoned out and stuck with them. We took things easy down the hill to the Party Zone at Mile 7, then picked up the pace a fraction as we made our way to the stretch along Riverside Drive. I don't recall exactly where we parted company, but do remember focusing on the huge 3:00 pace group about 100 yards down the road. Slowly, but surely I made up ground and crossed the 13.1 timing mat in 1:29:44 just a few strides behind the group – perfect! Halfway to the finish line, but more importantly, feeling rather tremendous.
I remember at several points in the race shaking my head in disbelief – last weekend I'd struggled through the last 3 miles of a 15 miler and felt daunted at having to face 26.2 miles. I kept expecting to "hit the wall", for "the wheels to come off", or the dreaded pain in the piriformis to return, but as each mile ticked by I think I convinced myself that things were going to be okay, and that I was going to finish. I also decided that if I still felt good at Mile 20, then I'd lay everything on the line and give it 110% for the last 10K.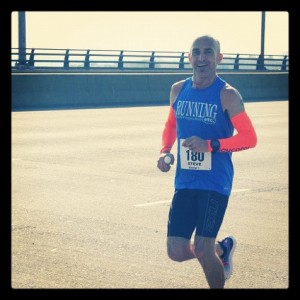 Mile 14, 15 and 16 ticked by nicely. I crossed the Robert E Lee Bridge confidently and pushed on through Mile 19 with no issues whatsoever – nutrition was good, hydration fine and legs feeling fresh. Weird, but I'll take it.
The next couple of miles on North Boulevard are always a test – a long straight road where you just have to maintain form and keep plugging away. I tried to pick up the pace at Mile 20 (W Broad Street), but frustratingly the extra effort didn't translate into a faster mile split. However, the next mile went well (6:21) and the next 3 even better – 6:17, 6:15, 6:16! I even managed to grab a small cup of beer at Mile 22!!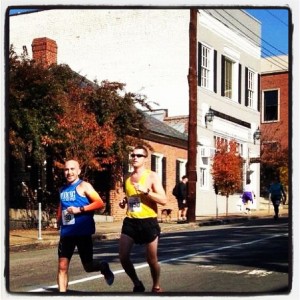 I knew the last mile was mainly downhill, but was totally stunned by how steep (and long) the run in to the finish was – it's almost like you're running out of control with no way of slowing down.
Just before the 26 mile mark, I glanced over to the left and saw Shannon waiting on the sidelines – a nice little boost and extra incentive to kick it up another notch. She managed to snap this pic as I made my way down to the finish line. My final mile was a ridiculous 6:01 and I crossed the line in 2:55:01 – a strong second half, and 5 minute negative split.
Post-race was fun. After hanging and chatting with friend and local runner Kim (congrats on the PR by the way!), I managed to dash back to the hotel, chug down a serving of Hammer Recoverite and change into some much-needed compression gear before heading back to Mile 26. It was cool to watch people closing out their marathon adventures – some people were loving the big downhill, but others were clearly taking things more gingerly as they made their way to the finish. We didn't have to wait long before Ally appeared in the distance – running smoothly and so focused she didn't even hear us shouting her name! She managed to knock 8 minutes off her previous marathon best time, and ran a very even-paced pace. Big congrats!
So, all in all, a very successful weekend. I managed to run a lot faster than planned, but more importantly was able to walk away with no reoccurrence of the injury, and no major soreness from the race. Big thanks to Dai Roberts for steering me in the right direction these past couple of months, and to everyone else who finds time to motivate and encourage me over at dailymile and on this blog. The next couple of weeks will be a challenge as I attempt to fully recover from the marathon whilst also training and avoiding re-injury. Exciting times. Bring it on!
Well, somehow I managed to string together a 56 mile training week. Actually, if I look at my training log I've logged at least one run in each of the last 17 days. I'm still not feeling 100%, but at the moment, am able to run, recover and run again with relatively few issues. Am I ready for the Richmond Marathon next weekend? Definitely not. But the plan is to use the race as a long training run as I rack up some miles before the Cayman Islands Marathon on December 2nd. Not ideal preparation, but I'm hopeful things will work out.
So, here's how last week panned out:
Monday:
Planned – AM 35 minutes easy. PM 40 minutes steady.
Actual – nice easy run on the treadmill to start the day. Averaged 7:17/mile pace and felt okay. Skipped the afternoon run and opted for a nap instead.
Tuesday
Planned – 45 minutes with 15 warm up, 4×5 minutes "hard" with 90s jog recovery, followed by a 10 minute cool down.
Actual – felt guilty about missing Monday's steady run, so decided to get up early and hit the treadmill again. Kind of tough to get the heart rate up to 150bpm, but once there, it was fairly easy to keep it going. 6 miles in 40 minutes.
Nice change of pace in the afternoon. The warm up went well, and even the 5 minute "hard" efforts were pretty comfortable. Nice to log my first two-runs-in-a-day for a long time too. Progress?
Wednesday
Planned – 5 miles made up of 2 easy and 3 steady.
Actual – nothing too exciting for this run. Just over 5 miles in 35 minutes with a slight step up in effort for the final three miles.
Thursday
Planned – same as Monday. AM 35 minutes easy. PM 40 minutes steady.
Actual – another easy, morning run. Heart rate monitor was acting up so I just ran by feel. Pace dipped under 7:00/mile, which hopefully means my fitness is coming back. The afternoon run went out of the window as I managed to arrange a last minute appointment with the chiropractor. It was a great session, with a pretty intense 5 or 10 minutes of Graston treatment. Let's hope the pain was worth it! Oh yeah, I ran a brisk mile on the treadmill after the chiro visit – he wanted me to get the blood flowing to help speed the healing process.
Friday
Planned – rest day.
Actual – no rest for the wicked as I decided to run the Thursday afternoon session instead of taking a recovery day. The first mile was an easy warm up, then I picked up the pace to finish with splits of 6:16, 6:19, 6:22, 6:23 & 6:29. Nice to log a solid workout!
Saturday
Planned – 15 miles easy with an increase in pace in the last 5 miles if feeling good.
Actual – still feeling a bit stiff & sore from Thursday's Graston treatment, but at least I managed to get the planned 15 miles in. Definitely slow to get going, but the middle miles were good until I ran out of gas with a couple of miles to go.
Longest run since September 9th, so all in all a good stepping stone I guess.
Sunday
Planned – 40 minutes easy
Actual – nice, easy 40 minute run at 143bpm. Feeling okay after yesterday's 15 miler and pleased that my pace is coming back for running at the same effort level. Good end to the week!
Summary
So, the last 4 weeks look like this – 10 miles, 26 miles, 37 miles and 56 miles. Not exactly a perfect marathon build up, but I guess I should be thankful to be back running consistently again. Richmond should be very interesting if nothing else. Wish me luck!
Well, there goes the month of October. Not exactly my highest mileage month ever, but at least I feel like I'm heading in the right direction. I ended up with 113 running miles, numerous bike miles and a few thousand yards of swimming. Oh, I should probably mention the multiple physical therapy sessions with Glenda at Bon Secours In Motion at Redmill, Virginia Beach too.
Frustratingly, the piriformis issue is still hanging around. Rest doesn't seem to help the situation, so for the moment, I'm running through minor discomfort and GRID-rolling, lacrosse-balling and stretching often. I know, not the smartest thing to do, right?
October did herald my return to the race scene. Early in the month I hoofed my way through the inaugural Peroni Crawlin' Crab 1/2 Marathon where I managed to snag an age group victory. One week later I took on the 2012 Moe's Challenge, where I wolfed down a Joey Jr in the middle of a 5K and walked away with free burritos for a year. So much fun! This past weekend I dressed up as Batman and "raced" the Blue Moon Wicked 10K. It wasn't my fastest 10K ever, but again, tons of fun and another age group victory.
Now, after 4 pretty mediocre weeks of mileage, I find myself faced with the Richmond Marathon in less than 10 days time, then the Cayman Islands Marathon just 3 weeks later. I won't even mention the Seashore Nature Trail 50K in mid-December….
10/1 — 10/7: 15.3 miles
10/8 — 10/14: 10.5 miles
10/15 — 10/21: 26.5 miles
10/22 — 10/28: 37.8 miles
At this stage in the game, Richmond will be nothing more than an extended training run. I've only run more than 10 miles once in the last 7 weeks, so yeah, I definitely need the miles. My main hope, however, is to come away from Richmond injury free so I can build slightly before Cayman and then finish off December strongly. Longer-term, my main goal is still the Rocky Raccoon 100 in February, so with that in mind, keeping the angry piriformis at bay is key.
Hope everyone has a great November. I'm certainly keen to put September and October behind me and finish off 2012 with a couple of satisfying months.
Had fun at the 2012 Moe's Challenge last weekend, although I think my burrito-eating skills are in better shape than my running ability at the moment. Saying that, I got through the 5K relatively pain-free, and hope to be able to build back into some regular training very soon. For the record, my finish time was 20:11, including just over a minute to consume the burrito. Good fun!
Falling behind a little with the blog updates, and I can't really blame it on lack of time. I guess not much in the way of running has been happening at Run Bulldog Run, so motivation to blog about a mish mash of workouts is pretty low.
Anyway, for those that are interested, cross training is still going well – more biking than anything else, especially as the local pool is "closed for maintenance" at the moment. To help speed things along, on October 1st I visited Bon Secours In Motion – a local, almost-new, state-of-the-art facility offering numerous physical therapy programs. My physical therapist Glenda has been putting me through my paces with regards to rehabbing the weak gluteus muscles and hamstrings, and in just 4 or 5 visits I've noticed a huge improvement in strength, mobility and even flexibility, although she still insists I have the tightest hamstrings she's ever seen.
Many months ago I entered the Inaugural Peroni Crawlin' Crab 1/2 Marathon, with hopes of running a swift race and possibly getting close to my existing PR of 1:18:25. Of course, the recent injury scuppered any chance of that, but as race day approached I was still keen to take part. I managed to run a couple of relatively pain-free miles the day before the race, so [foolishly] decided on race morning to show up and give it a go.
The first 4 or 5 miles were actually pain free (must have been the ibuprofen) and I was surprised to be averaging about 6:06/mile pace. Miles 5 to 8 or 9 were uncomfortable in the piriformis region and caused the pace to slow a fair bit, and from mile 9 to the finish the pain seemed to slide down the back of the leg into the hamstring area. I guess I could/should have pulled out of the race, but the thought of walking back to the finish kept me running….
In the end I managed to find a little extra to finish things off, and was quite surprised to see the clock still reading 1:23 something. Considering the lack of running in the last 4 weeks, I was convinced a 1:25+ was on the cards, so despite the discomfort was happy with the result and genuinely shocked at the 1st place in the 45-49 age group.
Last week I was able to run a couple of times – once for 20 minutes, and once for a whole half hour! I also spent quite a lot of time in the saddle, so feel my general fitness isn't too far off from where it should be. Hopefully a few more physical therapy sessions will get me right back on track so I can attempt to salvage something in the final 7 week build to the Cayman Islands Marathon.