About Me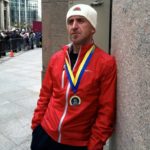 Personal stuff:
Name: Steve Speirs
Age: 47
DOB: 18th August 1966
City of Birth: Cardiff, Wales
City of Residence: Virginia Beach, VA
Connect with me:
Current Sponsors:
Please direct any sponsorship offers to steve.speirs@gmail.com
A few of my favorite things:
Running
I started running as a teenager in the early 80's, initially as a way of keeping fit for my High School football (soccer) & rugby teams. In 1982 my rugby coach persuaded me to enter my first road race – the Barry Half Marathon. I finished in the top 30% and from that point on was hooked.
I enjoy racing everything from a 5k to a 100 Miler, and have also been known to participate in triathlons ranging from Sprint to Ironman distance events.
One of my favorite running events is the marathon and last year's Cayman Islands Marathon was my 40th finish over the classic 26.2 mile distance. My current best marathon time is 2:45:22 set at the 2011 Boston Marathon. I still think I can run a bit quicker, but marathons are not really my main focus any longer.
Since 2009, I've also started to dabble in the world of Ultramarathons, which is basically any event longer than the traditional marathon length of 26.2 miles.
My most recent accomplishment was finishing 4th Overall at the 2014 Rocky Raccoon 100, earning a coveted entry slot to the prestigious Western States 100 in the process. I'll be entering more of these crazy events for sure!
Recent Highlights
3rd place overall at the 2014 North Face Endurance Challenge DC 50 – 7:21:42
Winner of the 2014 Virginia 24-hour Run/Walk for Cancer (126 miles/New Course Record)
4th place Overall/1st place Masters at the 2014 Rocky Raccoon 100 [USA 100 Mile Trail Championships] – 15:26:25
Ranked 33rd fastest 100 Mile time in the USA [2013] – stats courtesy UltraRunning Magazine
Ranked 17th farthest 24-Hour distance in the USA [2013] – stats courtesy UltraRunning Magazine
2nd place Overall/1st place Masters at the 2013 Seashore Nature Trail 50K [RRCA 50K Masters State Champion]
1st place Masters at the 2013 24 The Hard Way (128.87 miles) [USA 24 Hour Championships]
2nd place 2013 Virginia 24-hour Run/Walk for Cancer (112.5 miles)
3rd place overall at the 2013 Rocky Raccoon 100 – 16:16:55
Winner of the 2013 12-HR Adventure Trail Race (71.5 miles)
Winner of the 2011 24-HR Adventure Trail Race (106.25 miles)
Winner of the 2011 Gibbet 50
Winner of the Cayman Islands Marathon in 2009 & 2010. 2nd place overall in 2011, 2012 & 2013
MINIs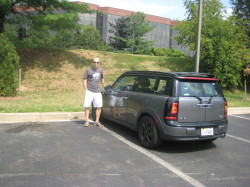 Another passion in life is my MINI Cooper – not just a vehicle but an extension of me as a person. It's fun to drive, has tons of character and a wonderful history dating back over 50 years.
I'm currently on my third MINI – a 2010 Dark Silver/Black Clubman.
Other bits & pieces
I'm happily married to my Scottish wife Allyson, and have a daughter Shannon who works at the local speciality running store, Running Etc.
I'm a web developer by day and also maintain numerous web sites in my "spare time".
I love gadgets – everything from my Petzl Headlamp to my Garmin Forerunner 910XT
I love trying out new beers, and am still trying to pull the perfect espresso shot with my Breville Semi Automatic Espresso Machine. Maybe one day I'll get it right…
What others are saying about Run Bulldog Run:
Talk Ultra Podcast [Episode 60]:
You're an everyday guy… but you're dedicated to what you do, and certainly over the years have chipped away and have improved and improved. Now at the age of 47 you're seeing some of these years of perseverance paying off.
This blog & blogger are both top-notch!
Love the new look!
Tracy Lo:
I just came across your blog and am hooked! i wish i was good a runner as you!
I just wanna say that you are an inspiration- i hope i can get as fast and as strong as you.
Good luck with everything! you rock!
Andy:
Steve thanks, you've improved my training and saved me the £39 I was going to spend today on a new HR monitor. Thanks! Andy
Wow, Steve, Thanks! Needless to say, I thrive on inspiration. Your blog is a BIG sources of inspiration for me and MANY runners.