Fancy getting your hands on a $15 gift certificate from Road ID?
To celebrate a brand new year, I've decided to hold my first ever competition with the top [only] prize being a $15 gift certificate to purchase one of the innovative identification products by Road ID.
One of the most popular Road ID products is the original Wrist ID – a comfortable wrist band available in 6 colors and 3 sizes that can be engraved with your emergency contact information.
Road ID also sell an Ankle ID, Shoe ID and dog-tag-style FIXX ID. Click here to see the full range of ID products.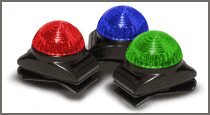 A recent addition to the product line up is an assortment of high visibility products, such as the Firefly Supernova, Firefly Belt, wristband, ankleband and laces. The Firefly Supernova is pictured to the left.
Exercise safety should be your number one priority as we enter a new year of goals, challenges and dreams. If you're looking for reasons why you should buy a Road ID product, just take a quick look at some of the customer testimonials – some of the stories are pretty amazing and will make you think twice about some of the situations you've probably already found yourself in!
Quite simply, if you exercise outside, you need Road ID.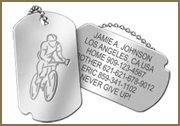 Here are the top 10 reasons, as posted on the Road ID web site, why you should wear ID:
1. If you can't speak for yourself, Road ID will speak for you.
2. Road ID enables First Responders to immediately contact family members and friends.
3. Road ID enables family members to provide additional details about your health or give consent for potentially life saving procedures.
4. Road ID enables hospital staff to locate vital medical records.
5. Road can communicate medical conditions or allergy information to medical staff.
6. Road ID can prevent serious delays in treatment by saving crucial time during the "golden hour" of medical treatment.
7. It's far better to have Road ID and not need it than to need Road ID and not have it. It's not just a piece of gear, it's peace of mind.
8. Accidents happen far more than you think they do. Each year approximately 450,000 of us are taken to hospitals unconscious and without identification.
9. Road ID looks good on and makes a statement about your athletic lifestyle – not to mention that studies would probably prove that people that wear Road ID are considerably smarter than those that don't.
10. Road ID can save your Life. Period.
Ok, let's move on to the competition. On January 1st, 2008, I'll be taking part in the Hair of the Dog 5k in Virginia Beach. All you have to do is predict my finish time for the race and post it in a comment below. If you need any help with your prediction, feel free to take a look at some of my previous 5k race times which you'll find at the following links:
2007, 2006 and 2005.
Things to consider:
I haven't trained much since my last race on December 1st, so I'm not in the best shape at the moment.
Despite the race being a fun one, I'll be giving it my all and won't be holding anything back.
I can't control the weather on race day – it could be blizzard conditions or a perfect winter's day!
The race distance is officially 5k or 3.1 miles – I'm not responsible if it turns out to be long or short.
My finish time will be based on "chip time" and not "gun time" and will be taken from the official results posted here.
The race starts at 10am which should give me plenty of time to recover from any New Year's Eve celebrations 🙂
I don't plan on getting injured during the race, but if I pull up short halfway through the run, the competition will be null and void.
Similarly, if the race is canceled, postponed or I'm unable to take part for any valid reason, the competition will be null and void.
If you have any questions, please let me know. This is my first attempt at a competition, so please bear with me if there are any hiccups. It's meant to be a bit of fun and not taken too seriously, so please enter into the spirit of things and bear this in mind as you make your prediction.
It doesn't cost anything to enter (not even the price of a stamp!), and you could end up winning a $15 gift certificate that can be redeemed via fax, mail, online at www.roadID.com or by calling 800-345-6336. The value of the certifcate is to be applied toward the purchase of a Shoe ID, Wrist ID, Ankle ID or FIXX ID. Limit one gift certificate per order. Not valid with coupons or any other offers.
Have fun and hopefully this will help motivate me to get fitter for the New Year's Day race which is only 5 days away!
Race results should be posted on January 1st, 2008 and I hope to announce the competition winner on the same day. The winner will be the person who predicts my finish time to the nearest tenth of a second. In the event of a tie, I'll come up with a prize of similar value to match the original Road ID certificate.