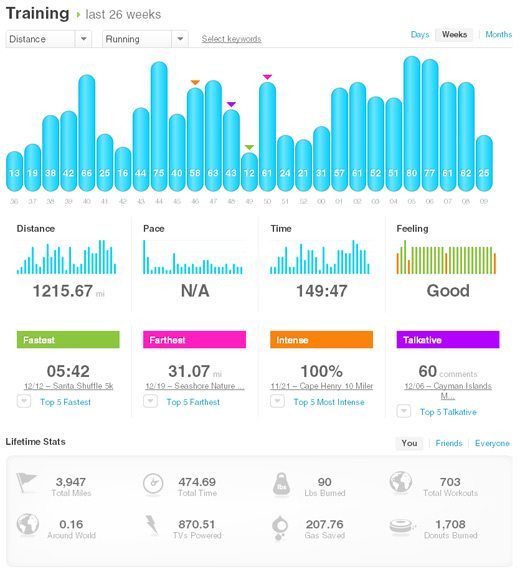 I've received several emails since my last blog post asking what one can expect from the DailyMile web site with regards to training stats. As you can see from the above screenshot (my personal stats page), there are numerous nuggets of data to be viewed.
At the top of the screen you first choose Distance, Pace, Time or Feeling before selecting an activity — Running, Walking, Cycling, Swimming etc. The data can be displayed by Day, Week or Month. For this example, I selected Running by Distance and a Weekly view.
Towards the middle of the screenshot you can view my fastest, furthest and most intense workouts and there's also details of my workout/race that received the most comments — in this case last December's Cayman Islands Marathon.
At the bottom of the screenshot are my "lifetime stats", which in this case refers to all workouts logged since joining DailyMile towards the end of 2008. I guess it's cool to know that I've burned the equivalent of 1,708 donuts during my 703 workouts!
The stats are easy on the eye, quite customizable and provide a fun element to tracking your workouts. Hope the brief intro to DailyMile will persuade you to sign up. It's a great site that offers so much!
Have you signed up for dailymile yet?