UPDATE (July 5th): Received an email from Newton Running containing details of the following offer which is now valid until 7/31/09! What are you waiting for?…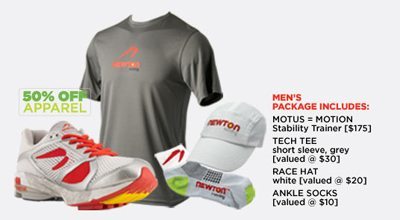 If you're a regular Run Bulldog Run reader, you may have gathered I'm still loving the Newton Experience and looking forward to kicking off my Richmond Marathon training in the Newtons on July 6th. If the fairly high price point has put you off ordering the shoes, the following July 4th special offer may just entice you to try them out.
Newton Running are currently selling the following package for both men and women: Motus = Motion Stabilty Trainer (reg $175), short sleeve tech tee (reg $30), race hat (reg $20) and ankle socks (reg $10) for just $205, which in my opinions is pretty good value. Basically you're getting the shoes for regular price and the three apparel pieces for 50% off regular price.
Just before I left for vacation last week, I received a couple of pairs of the socks, two of the Newton tech tees and a black Newton hat (made by Headsweats) – I'm happy to pass on the news that all of the apparel is great quality, super comfortable and looks pretty cool too!
If you're interested in either of the mens or women's special offer packages, click on the image above and you'll be taken to the Newton Running web site where you can choose shoe size, tee size and sock size.
I know for sure my wife Ally will be ordering in the next day or two. She's been following my training closely and also reading about the benefits of forefoot/midfoot striking and watching the many videos on the Newton Running web site. Think she's definitely convinced about the great Newton experience……