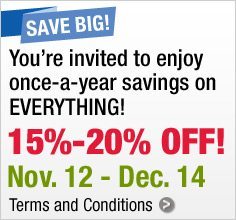 As a token of their appreciation for having the best customers EVER, the good folks at Hammer Nutrition are currently holding their annual Client Appreciation Sale.
As this is an extra special holiday season for them (their 25th year in business!), they are offering a generous 15-20% off all products!
I'll be stocking up on my favorite energy gels, pre-race Sustained Energy, post-race Recoverite and a few of their other great supplements.
The sale runs from November 12th to December 14th, so plenty of time to choose your products and place your order. Happy Hammer Shopping!
[Please note the terms & conditions.]