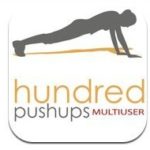 Note to fans of the Hundred Pushups iPhone app: "As a thank you to our customers, the all-new Multi User version will be FREE for one day only on Friday, November 19th!"
iTunes download link available on the Hundred PushUps web site or alternatively use the direct iTunes Store link.
Background info: Numerous requests were received for a Multi User version of the app. It's basically the same as the original, but allows unlimited users on the same device. Now the whole family can join in the fun!
The Multi User version regularly sells for $2.99, so make sure you don't miss out on the one-day-only special offer.