Not a bad week if truth be told! Started things off with a rare double on Monday – 5 steady miles in the morning, followed by a slightly longer/slower run in the afternoon. The morning run was a bit of a struggle, but things went much better in the afternoon.
Tuesday was a solid effort, but one of the most challenging sessions for a while – a 15 minute warm up, followed by 6 x 5 minutes "hard" with a 2 minute recovery between each interval. It was one of those workouts where I was glad to be done, but pleased that I pushed through the discomfort to get it done. 9 miles in 60 minutes was the end result. Not too shabby.
Wednesday morning brought heavy rain and blustery wind, so I wimped out and opted for the comfort of the treadmill. I slogged out 8 miles (5 easy/3 steady) before breakfast, and once again, was glad to be done. After work I headed to Bon Secours In Motion where I ran a couple more treadmill miles as part of a Dartfish Running Gait Analysis, which utilizes high-speed video to detect running/walking oddities. I'm looking forward to receiving my custom DVD of the footage and analysis!
Thursday was a nice 35 minute cruise in the easy zone (143bpm) where I managed to cover 5.4 miles at 6:28/mile pace – a very encouraging run and perhaps the first sign that my fitness is coming back.
Friday was just a watchless 4 miler before breakfast, and the final run before Saturday's Richmond Marathon. It went okay, although to be honest I was hoping for more of a confidence-boosting "felt great" kind of run.
Onto Saturday and the 35th Annual Richmond Marathon – one of my favorite marathons that I've been fortunate enough to take part in. With two months of limited running and a nagging injury that kept mileage pretty low, the plan was to just use Richmond as a fun and long training run. With one "long run" of 15 miles since early September, I'd be foolish to try anything else. Right? Well, several days before the race I made a decision to attempt a 1:30 1st half (6:52/mile pace), and see what happened after that. I've managed to log at least one sub-3:00 marathon per year since 2004 (Ironman year), and deep down didn't want that streak to end. Yeah, silly I know.
The early miles went well – heart rate low, pace steady, but best of all, no pain in the right buttock. Mile 4 I chugged down some fuel and thought of the 22 miles ahead – not the wisest thing to do so early in a marathon, but that one-and-only 15 mile long run was firmly lodged in my brain, and try as I might, I couldn't shake it.
I found myself running alongside 3 guys who were also targeting a sub-3 hour finish. Their pace was impressive so I just kind of zoned out and stuck with them. We took things easy down the hill to the Party Zone at Mile 7, then picked up the pace a fraction as we made our way to the stretch along Riverside Drive. I don't recall exactly where we parted company, but do remember focusing on the huge 3:00 pace group about 100 yards down the road. Slowly, but surely I made up ground and crossed the 13.1 timing mat in 1:29:44 just a few strides behind the group – perfect! Halfway to the finish line, but more importantly, feeling rather tremendous.
I remember at several points in the race shaking my head in disbelief – last weekend I'd struggled through the last 3 miles of a 15 miler and felt daunted at having to face 26.2 miles. I kept expecting to "hit the wall", for "the wheels to come off", or the dreaded pain in the piriformis to return, but as each mile ticked by I think I convinced myself that things were going to be okay, and that I was going to finish. I also decided that if I still felt good at Mile 20, then I'd lay everything on the line and give it 110% for the last 10K.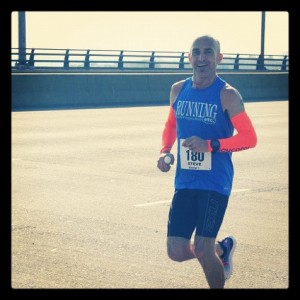 Mile 14, 15 and 16 ticked by nicely. I crossed the Robert E Lee Bridge confidently and pushed on through Mile 19 with no issues whatsoever – nutrition was good, hydration fine and legs feeling fresh. Weird, but I'll take it.
The next couple of miles on North Boulevard are always a test – a long straight road where you just have to maintain form and keep plugging away. I tried to pick up the pace at Mile 20 (W Broad Street), but frustratingly the extra effort didn't translate into a faster mile split. However, the next mile went well (6:21) and the next 3 even better – 6:17, 6:15, 6:16! I even managed to grab a small cup of beer at Mile 22!!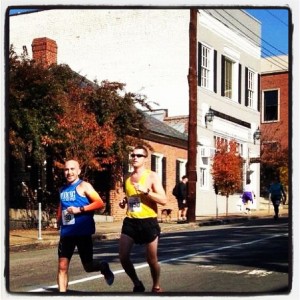 I knew the last mile was mainly downhill, but was totally stunned by how steep (and long) the run in to the finish was – it's almost like you're running out of control with no way of slowing down.
Just before the 26 mile mark, I glanced over to the left and saw Shannon waiting on the sidelines – a nice little boost and extra incentive to kick it up another notch. She managed to snap this pic as I made my way down to the finish line. My final mile was a ridiculous 6:01 and I crossed the line in 2:55:01 – a strong second half, and 5 minute negative split.
Post-race was fun. After hanging and chatting with friend and local runner Kim (congrats on the PR by the way!), I managed to dash back to the hotel, chug down a serving of Hammer Recoverite and change into some much-needed compression gear before heading back to Mile 26. It was cool to watch people closing out their marathon adventures – some people were loving the big downhill, but others were clearly taking things more gingerly as they made their way to the finish. We didn't have to wait long before Ally appeared in the distance – running smoothly and so focused she didn't even hear us shouting her name! She managed to knock 8 minutes off her previous marathon best time, and ran a very even-paced pace. Big congrats!
So, all in all, a very successful weekend. I managed to run a lot faster than planned, but more importantly was able to walk away with no reoccurrence of the injury, and no major soreness from the race. Big thanks to Dai Roberts for steering me in the right direction these past couple of months, and to everyone else who finds time to motivate and encourage me over at dailymile and on this blog. The next couple of weeks will be a challenge as I attempt to fully recover from the marathon whilst also training and avoiding re-injury. Exciting times. Bring it on!