Yes, I know, another week gone by with no blog updates. However, this time there's a valid reason in that there's not been too much running and fitness stuff to blog about.
Last Friday I closed with the following statement:
In the evening, assuming I can still put weight on my foot, I'll be running the Crystal City Twilighter 5k in Arlington, VA, which looks to be a great event and is billed as "the area's premier twilight event with a flat course, great runner premiums and perks, and a fabulous after party." I signed up earlier in the week and so far there are over 2000 entrants (not including elites). Looks like a ton of fun – I just hope I'll be able to enjoy it and race well.
Well, to summarize:
1. I was able to put weight on my foot.
2. The Crystal City Twilighter 5k was a great event and it was a lot of fun.
3. I did enjoy it but I didn't race well. In fact, just past the two mile mark, as the runners headed towards the finish, I pulled up lame with what turned out to be a stress fracture of the 2nd metatarsal.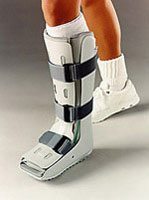 So, for my stupidity in trying to race three 5k's in one day on an already tender left foot, I get to wear the super cool Foam Walker ™ by Aircast ® – a full-shell, semi-pneumatic support effective in fracture healing and managing edema. Healing time should be around the six week mark, but I'll see what the foot specialist says at my follow-up appointment on August 22nd. I'm also hopeful I'll be able to take advantage of a Smith & Nephew EXOGEN Ultrasound Bone Stimulator – an amazing bone healing device approved to accelerate healing of indicated fresh fractures. Apparently, the Stimulator is effective in just 20 minutes a day and has been proven to heal indicated fresh fractures 38% faster.
So, for the time being I'll be focusing on some core and upper body workouts and expect to be proficient in the one-legged push-up VERY SOON! If nothing else it adds a new dimension to the Hundred Push-Ups challenge and it will be nice to be the first to claim "I Did The Hundred One-Legged Push-Ups!"
The foot is still quite swollen and tender to touch, but once the swelling goes down I'll be incorporating some easy spinning on the bike trainer and possibly some swimming/pool running to help maintain my already diminishing cardiovascular fitness. Should be an interesting challenge and the start of another unplanned chapter in the Running Adventures of Steve Speirs. Good times!