Richmond Marathon – 8:00am Saturday, November 15th 2008.
Slept good, woke once or twice to the sound of heavy rain, thunder and lightning. Briefly wondered if the race would be cancelled due to adverse weather conditions, but figured I'd find out soon enough and went back to sleep.
Breakfast alarm went off at 4:55am (3 scoops of Sustained Energy in 24oz water). The plan was to consume breakfast 3 hours before the start of the race and just sip water in the hour or two leading up to 8:00am. I tried this approach at the Stonewall Jackson 20 Miler a month or so ago, and it seemed to work well. Went back to bed after breakfast and managed to sleep for another hour or two.
I left the hotel around 7:20am (elevators were surprisingly empty) and immediately noticed how warm it felt outside – not a great sign 40 minutes before a marathon. Usually I like to be bundled up in long pants, sweatshirt, hat and gloves, but there was no need for any of that as I walked to the start area with my wife Allyson.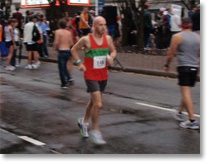 On the way to Broad Street we bumped into good friend and local runner Charlie Schindler. We chatted for a while before I went off to stretch my legs and "warm up" a little. Next thing I know it's almost 8:00am; time to take my place in Corral #1 and focus on the task ahead.
I wasn't concerned about the weather conditions at all to be honest. I'd trained through a hot and humid summer in Virginia Beach and although I would have preferred temperatures in the 40's, I didn't think the heat and humidity would be a huge factor. Looking back, I could have adjusted my race goal, but after 20 weeks of training there was only one thing on my mind – a solid race with a sub-2:51 finish (roughly 6:30 per mile pace).
Mile 1 – the first mile west on Broad Street was a little quick [6:18], although it actually felt like I was jogging. In fact, I made a conscious point of holding back as at least 20 runners went surging past, all chatting to each other and apparently lost in the moment. Wished the guy who placed second at the Stonewall Jackson 20 Miler good luck as he found his pace near the median.
Mile 2 – a little slower [6:26], but still very easy. Managed to exchange a few words with a guy from Buffalo, NY who was also hoping for a time of around 2:50 and commented on the unseasonal humidity.
Mile 3 – nice stretch on Monument Avenue. Had to slow even more [6:35] to pull my average pace back to 6:30 per mile. Street was a little slippery with last night's rain and falling leaves, but nothing to worry about.
Mile 4 – another comfortable mile [6:38] as we took a left and a right onto Grove Avenue. 22.2 miles to go – nothing to think about except sticking to goal pace and remembering to hydrate.
Mile 5 – already soaked with perspiration, so decided to take an early Endurolyte capsule to help stave off cramps in the latter stages of the race. Still feeling great, but a 6:36 mile is a little slow, and I pick up the pace slightly.
Mile 6 – past the port-o-johns that I stopped at last year; luckily, no need to stop today. A quicker mile [6:26], but nothing too crazy and I'm back on track.
Mile 7 – the 7th mile is pretty much all downhill to the Party Zone. Last year I ran too hard, too fast and paid the price later in the race. This year I held back but still ran a 6:22. Party Zone was fantastic – lots of noise and hard not to pick up the pace as the adrenaline kicks in.
Mile 8 – decided to back off a little for the 8th mile, but chatted to the guy from Buffalo, NY who caught me on the fast downhill of mile 7. The crowd of runners who stampeded by in the first mile were already coming back to us and I commented it wouldn't be long before we'd reeled them all in. Checked my mile split [6:35] as I took the sharp left turn down onto Riverside Drive and fumbled in my shorts pocket for another Endurolyte capsule. Still feeling great and just biding my time at 6:30 pace.
Mile 9 – this is the most scenic part of the course along the James River. I remember thinking how quickly nine miles had passed and that in eight more miles I'd see Allyson waiting for me at Mile 17. 6:27 was still a comfortable pace and I started to think today would be my day. Still plenty of running left to do though…
Mile 10 was a 6:34. I passed a couple more runners who appeared to be struggling and thought it a little odd to be suffering this early in a marathon.
Mile 11 – almost the same as mile 10 [6:33] which gave me an average pace of 6:31 per mile; a fraction slower than goal pace so I picked it up a notch.
Mile 12 – think there was a slight uphill in this mile, but not 100% sure. Passed a couple more runners and remembered last year I was already hurting at this stage. [6:27]
Mile 13 – conscious of approaching the half and my goal time of 1:25:00, I picked up the pace a little and actually felt more comfortable for doing so. [6:21] Several spectators shouted "looking good Steve" and it took me a few seconds to realize they got my name from the printed bib # – nice idea Race Director.
Mile 13.1 – crossed the first timing mat of the race in 1:24:57, nodded my head and let out an audible "Yesss!" Bang on pace and feeling so, so good…
Mile 14 – riding high on adrenaline, I recorded a 6:18 mile. Too fast, too early. Told myself to wait six more miles and then start racing. Took my first Energy Surge tablet and let it sit under my tongue as I pressed on for Mile 15.
Mile 15 – [6:08] – wow, what happened? It didn't feel that fast. Slow it down Steve….still a long way to go.
Mile 16 – a rare tailwind across the Robert E. Lee Bridge helped me to another quick mile [6:21] One more mile and I get to see Allyson and I'm still feeling great!

Mile 17 – concentrated on good form in this mile and passed two more runners who appeared to be going backwards. Spotted Allyson on the left of the road opposite the mile marker which gave me a huge lift. She asked if I was ok to which I replied "Yeah!!!" – and I was…..[6:21]
Mile 18 – grabbed a cold towel early on in the mile (nice idea Race Director) and spotted a couple of the faster starting runners who were now walking. Unfortunately, the guy who finished ahead of me at Stonewall Jackson was also walking and made a right turn to head back to the finish area. I felt bad for him; months of training and his race was over. The 6:30 split kept me ahead of goal pace and by now I had almost 60 seconds in the bank. Without counting too many chickens I was already visualizing a 2:49:something….
Mile 19 – [6:24] – one more mile and I get to race the last 10k. Now over a minute in the bank.
Mile 20 – dropped a cup of water at the waterstop and had to stop briefly to collect another. Actually, for the first time in the race I felt HOT and poured a second cup over my head. Probably lost a couple of seconds at the aid station but still recorded a 6:29.
Mile 21 – so, for 20 miles I consciously held myself back. At last it was time to crank up the pace, but bizarrely, I couldn't. My legs wouldn't go any faster and now there was a headwind to contend with. 6:39 mile – slowest of the race so far. Disappointing, but I still had time in the bank and figured I could slow by 10 seconds a mile and still make a 2:50.
Miles 22 – 25 – I stopped looking at my pace band at this stage of the race. I was running as fast as I could and beating myself up over mile splits and goal pace just wouldn't have helped. As hard as I tried, I couldn't speed up. In less than 30 minutes, after months and months of training, my PR slipped away: 6:50, 6:59, 7:01, 7:16 was all I could manage.
Mile 26 – I'm not 100% sure, but I think the clock read in the mid-2:43's at mile 25. To break my PR I guessed I'd need to run a sub six minute mile. Somewhere deep, deep down I found an extra gear and accelerated. Anything is possible, right? Of course, I didn't manage the sub six minute mile, but I did speed up to a 6:38 and flew down the hill to the finish line.
Mile 26.2 – amazingly I ran the last fifth of a mile at 5:27 pace, but it was too little, too late. I could see the clock ticking away and it was definitely 2:51-something, not 2:50-something and could feel myself shaking my head in disbelief and disappointment.
I missed the PR by 27 seconds and like the great wife that she is, Allyson was there to take pictures and console me. I know she knows I was mad at myself and gave me enough space to get it out of my system; all I wanted to do was keep walking and find a quiet spot on a side street. I'd crossed the line, picked up my medal and just breezed through the finish area still shaking my head. I wasn't hungry, I wasn't really tired, I just wanted to keep walking.
It only took me a couple of minutes to come around and be happy. After all, 2:51:27 was my second best marathon time ever and how could I not be happy? Allyson asked if the weather was a factor (meaning the heat and humidity), but I honestly didn't have a problem with either. Sure it was warm and sure it was humid, but the headwind in the final 4 or 5 miles was the biggest enemy. It really made it difficult to make any kind of forward progress and sapped most of the remaining energy at a point in the race when I'd hoped to speed up.
Scanning the online results later in the day, I realized what a great race I actually had; top 20 finish, 1st place Master ($250 prize money!) and a missed PR by just 27 seconds. I also recalled that no-one had passed me in the last 19 miles and that I'd made up over 20 places in the second half of the race. Not a bad effort I guess.
So….
PR? No. Course record though..
Successful marathon? Definitely!
Any regrets? None.
Did I give it my all? Of course.
Will I run Richmond again? Already signed up for 2009.
Thanks for reading, and stay tuned for my next marathon adventure – probably the 2009 Shamrock Marathon…