Just wanted to take a few moments to jot down some thoughts on yesterday's ICY-8 Adventure Trail Race – another great event put on by the Athletic Equation guys.
The event took place at Lake Anna State Park in Spotsylvania, Virginia on a 90%-trail looped course. The race was unique in that you could either choose to run a short loop (4.7 miles with about 350ft of elevation gain/loss), or the longer 8 mile loop with about 640ft elevation gain/loss. The first loop had to be run clockwise, but after that you were free to choose any direction and either of the two distance loops. Timing was straightforward – on returning to the aid/timing station you simply announced your bib number and whether you ran "short" or "long".
Bib/packet pickup was quick and easy, and once my gear was laid out for the makeshift aid station, it was good to chat briefly with fellow dailymiler's Andy O, Janet C and Neil R. Ally S (wife and crew for the day) wished me well, and before I knew it, we were off….
The Start!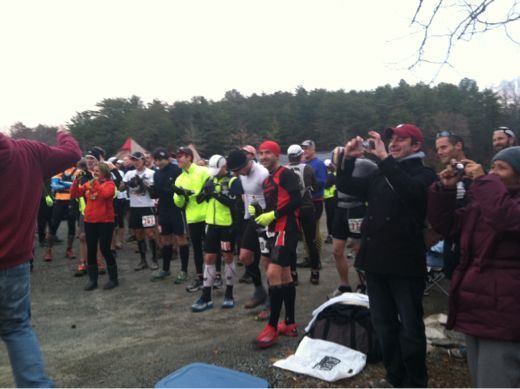 I ran the opening mile with The Flying Frenchman, Olivier Leblond (winner of last September's 12-HR ATR), but at the point where we would decide a short or long loop, he chose long and I chose short. I ended up running the next loop and a half with another cool guy, Alexander Hall, who remembered me from both the 12-HR and 24-HR ATR last year. The miles ticked along effortlessly as we chatted about all kinds of stuff. Great company!
End of the first 4.7 mile loop with Alexander Hall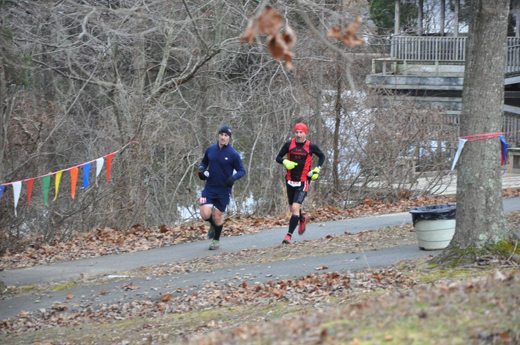 Ally did her typical great work at the aid station. Everything I needed was laid out, so it was literally announce my bib# and length of loop, grab what I needed in terms of fluids/nutrition, and go. My pace was good and the trails, despite the mud, were very runnable. Annoyingly, my left glute started acting up at around the 20 mile mark (I think), so on the next visit to the aid station I asked Ally to grab the foam roller from the car "just in case". In my mind I planned to stop after the next loop to roll out some of the tightness, but it turned out that the glute pain went away and I had no more issues. Weird.
Just over 50K done. Still smiling!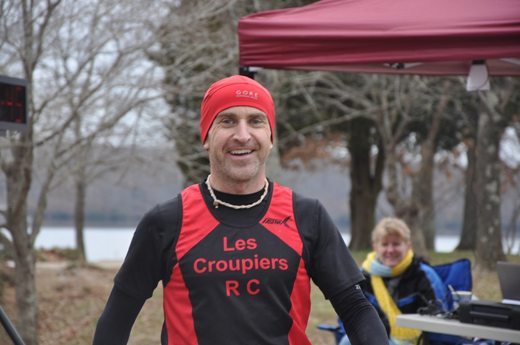 I think I started to feel fatigued around the 4 and a half hour mark, and despite keeping a consistent pace going, was starting to feel a little "lazy" and just a little bit lonely. As luck would have it, however, on returning to the aid station after 3 long loops and 2 short loops (33.4 miles), Andy was just about to head out on another of his loops. We set off walking together and kind of just decided to take things easy and run-a-bit/walk-a-bit. We chose to log a relaxed long loop which proved to be a welcome pick-me-up and a very refreshing change from belting out one mile after another. The eight miles with Andy were easily the highlight of the day, and a reminder of what these ultra events are all about – camaraderie, friendship and just having fun.
Synchronized trail walking. Heading out for a long loop with Andy O.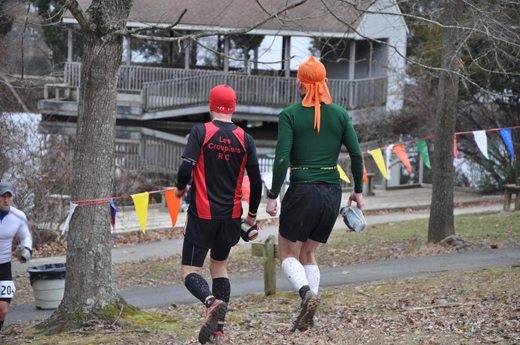 On the loop with Andy I'd kind of worked out in my head (although the maths were pretty tricky to be honest!), that I needed just a couple of short loops to secure my pre-race "goal" of achieving 50 miles. Plenty of time was left on the clock, so I made sure to grab all I needed from the aid station before setting off for my penultimate loop. After the relaxed miles with Andy I was somewhat surprised to find my legs were raring to go again, and had no problem cruising the trails at 8:20 pace. I figured I'd get this 4.7 mile loop done well before the cut off (2:45pm) before we weren't allowed to head out for another loop, leaving me loads of time to cruise one final short loop for a respectable 50.8 miles.
Of course, some times things don't go to plan. Somehow I managed to miss the 90 degree turn which would take me back to the aid station/finish area, and kept on running counter-clockwise instead. By the time I realized my mistake it was quicker/shorter to keep going, making sure not to miss the turn again of course. I ended up running an extra 3.5 miles[ish] which I wouldn't get credit for – my mistake and I'm perfectly fine with it, although it did cost me a potential 2nd place finish. With the rain starting to sprinkle, I must say it was nice to hit the short section of paved path back to the finish line where I announced my bib# and "short" for the final time.
The Finish! Did I really get lost?
My official distance for the ICY-8 hours was 46.1 miles (4 long and 3 short loops), but thanks to the missed turn my Garmin displayed 49.3 miles. It's not every day you get to run 50 miles, so after a quick chat with Ally, I headed back out onto the course to run an extra 0.7 and round things up to the big FIVE-OH.
After peeling off the cold, damp race gear it felt so good to put on some warm, dry clothes. The HopSlam IPA (courtesy of Andy) tasted like nectar too. We hung around for a little while after the race – chatting with fellow runners and sharing stories about our day. The ultra scene is something special – no-one really cares how many miles you ran, how fast you were, what place you ended up. Everyone was out there tackling the sloppy trail conditions and working through their own challenges, but the amazing thing is everyone was smiling and having a great time. Love it!
So, official distance 46.1 miles for a 4th place finish. Congrats to Olivier Leblond for crushing the 8 hours with a massive 54.1 miles (new course record I do believe), and to everyone else for challenging themselves to the max. Special thanks to Ally for her total support and great crew job, and to Andy and Janet for the post-race chatter. Fun times.
Finally, if you ever get chance to run one of the Athletic Equation Trail Events, I can guarantee you'll have an amazing experience. Thanks Alex for putting on a 1st class event!