Saturday turned out to be one of those rare race days when everything just clicked. Maybe it was the slightly-longer-than-usual four mile warm up, or perhaps it was the fact that I actually took time to stretch and further loosen up the legs before heading to the start line? Who knows? Anyway, for some reason I was really fired up for this race, although if I'm being honest with myself, I had no right to expect anything decent after running 50 miles at the ICY-8 ATR last weekend. I guess taking things easy this week really paid off….
Focused at the start line
Mile 1 was the usual scramble for position to establish some personal space. I don't tend to go out too fast and was perfectly happy to settle in to about 10th place as we made our way past the Team Hoyt racers. My form felt good and I knew my shoe selection for the day was a good one – I always seem to race well in the Inov8 Road X-Lite 155s. At the 1 mile flag I was surprised at the 5:42 split as it felt so comfortable and relaxed. I maintained pace and focused on reeling in a few of the runners up ahead.
As promised, Ally was there taking pics at the 1.5 mile mark, which gave me a bit of a boost as I chased down a couple of the fast-starters. It was also cool to glance back at the turnaround point on Dam Neck Road and see the gap I'd opened up on some of the runners behind. I thought for a split second that I may have started out too quick, but decided it was too late to back off, so kept on pushing. Running through the Amphitheater was cool as always, and by mile 3 I'd caught and passed the only two Masters runners ahead of me. Once again, I was pleased to look down at the Garmin to see I was averaging around 5:45 per mile. My legs felt good, breathing was relaxed and everything was just feeling spot on.
Mid way through the 2nd mile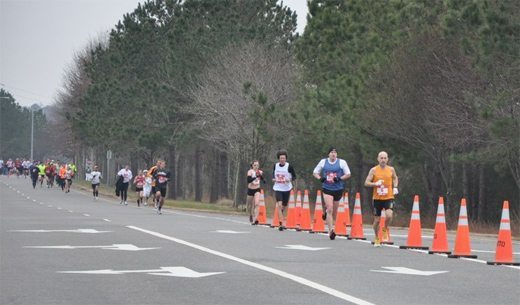 The middle miles were all about maintaining pace. The extra crowds and familiar faces at the mid-point Relay Exchange were a bit of a boost, and as I made my way to mile marker five I decided to set my sights on the runner about 70 strides ahead. He'd beaten me soundly at the Hair of the Dog 5K on January 1st, but looked to be fading and was the perfect incentive for me to keep things ticking along. Stride by stride I gained on him, until just before mile 7 (where Ally was patiently waiting with camera) I managed the catch-and-pass to move into 5th place overall. I told him "Good job!" and blurted out that we still had time to catch the runner [Drew Midland] in front. Deep down I kind of knew this was impossible, but wanted to show I was still up for a battle anyway.
Mile 7 – focused on the guy ahead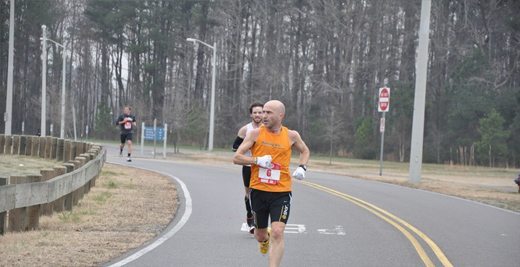 Despite being passed by the fast-finishing Jason Myers on Salem Road, I was pleased how well I maintained pace on the run in to the finish. The wind was a bit nasty from mile 7.5 to 8, but the thought of a PR kept me going as I looped around the Sportsplex car park. Form and focus stayed good and I crossed the line in 49:48 – beating my best 14K time by about 20 seconds for 6th place overall and a 1st Male Masters finish.
As usual, J&A Racing put on a fantastic event which is excellent value for money. At packet pickup, all entrants received a quality, full-zipped jacket featuring the event logo. On completing the race runners were awarded the cool Virginia is for Lovers medal (featuring a handy bottle opener AND removable heart charm) and large VIFL-logod stemless wine glass. In addition, all female finishers received a flower. Nice touch! Post-race festivities were excellent too with plenty of beer and tacos from Moe's Southwest Grill. Yeah, you know I like my Moe's…
Event "swag" including my 1st Place Masters Award
Next up is the Tidewater Striders Distance Series 30K on Saturday, where I plan to run more of a relaxed, tempo kind of race. The legs are feeling a bit tired this week, so I'll be looking for a solid effort without getting too beat up. See you on the trails!