Not sure where to start, so here goes…. The 2010 HAT Run 50K was probably the toughest race I've taken part in. Last year I wasn't prepared for the fairly significant elevation change over the 31.1 miles, and I certainly didn't know how to pace myself for the rollercoaster-like course. The run-in to this year's event had gone well. Back in January I recorded an unexpected new marathon PR at the P.F. Chang's Rock 'n' Roll Marathon in Arizona, which I followed up with a couple of solid 30 mile training runs, a challenging, yet enjoyable Ragnar Relay experience and a best ever cumulative finish time at the Tidewater Striders Distance Series (20K/25K/30K). I'm still very inexperienced at ultra racing, and of course a lot depends on who shows up on race day, but decided to set myself a few secret pre-race goals to keep things interesting.
Beat my 2010 finish time of 4:44:59. Last year after a bad fade in the latter miles, I walked too many uphills and didn't take advantage of the faster sections of the course. Barring crazy weather conditions or an unforeseen injury, I was confident of achieving goal #1.
Claim another Top 10 finish. I surprised myself last year by finishing 10th overall, but the disappointment of being passed by two runners during the last 13.7 mile loop has never gone away. Smarter pacing would be required to stay strong for the duration of the race.
Win my age group. One of the runners who passed me on the second loop last year happened to be in my age group, and ended up putting seven minutes on me in the last 6 or 7 miles. Heading into the event I knew I couldn't be competitive against the younger, yet more experienced guys in the race, but figured a quicker time and a solid performance *could* get me close to a coveted age group win. Of course, with almost 150 guys in the 40-49 age group, and not knowing 95% of them, the age group win was more of a pipe dream than anything else.
Sleep came easily the night before the race (must have been the two Guinness I had at the dailymile meetup), and I woke without an alarm at around 5:25am. My gear was already laid out, so I dressed in the dark, mixed up my Sustained Energy breakfast and checked in with the Twitter world to help pass the time. It was nice to relax for a while before leaving the hotel to arrive at the race site for around 7:30. Packet pickup was straightforward and after a quick chat to fellow dailymilers Andy O, Brodie W and Peter L, I made my way to the Pavilion to drop my gear bag and arrange supplies for the race.
After pinning my bib number I decided to stretch my heavy legs and check out a short part of the course. It felt good to get away from the crowds and enjoy some alone time to focus on the race and mentally prepare for the 31-plus miles that lay ahead of me. After taking a few pics on the way back to the Pavilion, I stripped out of my warm up gear and headed over to hang with the dailymile crew before making our way to the start line.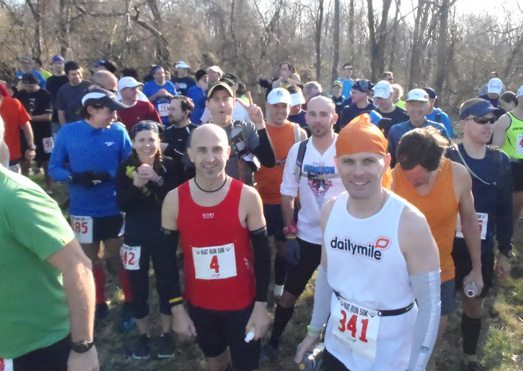 Preston G., Jenny J., Thomas N., Jon S., Peter L., Andy O. and yours truly. [Photo taken by Brodie W.]
I decided several days before the race to run sans-Garmin. Last year I remember losing satellite several times and becoming a bit obsessed with the pace/mileage. In a race like the HAT, I believe it's more about staying within yourself than trying to stick to a pre-determined pace, so the plan was to find a conservative, yet aggressive balance which I could maintain for as long as possible. Probably easier said than done though…
Anyway, after exchanging some lighthearted dailymile banter at the start line, we were off and running, charging across the field towards the entrance road where we'd run a short out and back before making our way onto the trail. The pace was very comfortable at this stage in the game, and I was able to chat to several runners around me, most of whom were running HAT for the first time. The field soon strung out though as we headed towards the singletrack and I found myself in about 10th place with room in front and behind to go at my own pace.
Things were going well (as they should be just a couple of miles into a 50K race), until I misjudged a hop over one of the wooden steps on the way down to the stream. I landed kind of awkward on the outside of my right foot, and felt a sharp stab of pain from the ankle bone up the outside of my shin. The sharp pain didn't last long, but every step after the landing made me grit my teeth and grimace slightly and the pre-race confident thoughts started to drain away as we climbed back up to the open field. I can remember limping quite a bit on the run up to the Pavilion. Ally was there taking pics and video, and I'm sure my "ankle is sore already" comment wasn't what she expected at all. It was way too early in the race to consider calling it a day though, so I grabbed a couple of cups of water at the aid station before setting off on the first 13.7 mile loop. Note: Opening 3.6 mile loop completed in 27:12 – a couple of minutes quicker than 2010.
Just a minute or so later my thoughts turned to my shoes. When I got dressed in the dark earlier that morning I'd deliberately left my laces "unlocked" so as not to build up any pressure on my feet (I use those little plastic lace-lock things to make for a quick changeover should I need to swap shoes). I'd warmed up and literally run the first 3.6 miles with my laces untied, probably a contributing factor to my awkward landing on the twisty, turny trail. I pulled off to the side of the singletrack, slid both locks down to tighten things up and decided to slide down my right compression calf sleeve which was annoying me too. A couple of guys ran by and asked if I was okay. I let out a muffled "Yeah, I'm good" before standing up and setting off in pursuit; feet much happier and confidence semi-restored.
The cold water of the stream crossing seemed to help numb the pain too, and some time before we reached the first aid station I realized I'd successfully run off the some of the "injury". I stopped for a quick cup of water to wash down the first batch of Endurolytes. One of the guys said I was in 7th place and "looking good". I replied "I hope I look this good on the second loop" and set off for some climbing.
I closed in on a guy-in-a-red-top on one of the climbs before we hit the gravel road, and decided to settle my pace down and coast for a while. Last year I pushed the pace at this point in the race, and probably paid the price late on. This year I wanted to be more patient to see if it would make a difference on the second loop. Red top guy and I ran side by side for at least a couple of miles, but I think he stopped for a bottle refill at the next aid station whilst I scooped up a couple of quick water cups before scuttling away. I also remembered to take my second batch of Endurolytes which I hoped would help keep the cramps at bay.
I really enjoyed the next leg of the race and felt much better second time around as I approached the Pavilion. One of the spectators near the finish clock told me I was in "5th place if it matters to you" I replied "Yeah, that's cool. It does". The clock displayed 2 hours 12 minutes something as I ran by, and I remember thinking "Wow, I have a 2 and a half hour cushion to beat last year's time. I wonder…."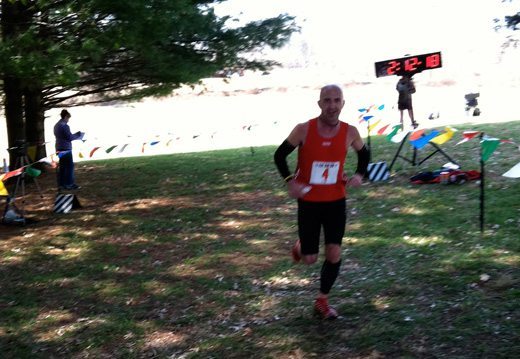 I stopped briefly at the aid station to pick up my hand-held of HEED and a Hammer Bar and chug down some more water. Ally was there taking more video, but I don't really remember if we exchanged many words. I was more in a hurry to set off again for the challenging final loop.
Dailymiler Orla was in place at the top of the small rise. He told me I was in 5th place and to go get #4 who was right ahead of me. Appreciate the words of support, Orla. They really helped.
Sure enough, as I crested the top of the rise, there he was, about 100m or so ahead of me. As I made the right turn into the woods, I noticed he'd stopped on the side of the trail for a pit stop, so took my chance and sped on by. Shortly afterwards though I could hear footsteps right behind me. I sensed he was running easier than me at that particular moment, so stepped to one side to let him by. I found it mentally easier to follow from behind than to be the one setting the pace. It helped me regroup and start thinking about the miles that were still left to run.
I was able to stay fairly close to Mr Shirtless until we hit the open fields, when my legs seemed to sieze up a little and I found it difficult to get any kind of pace going at all. I had no choice but to let him go and hope that I'd be able to reel him in later on in the race. Just as I was thinking a 5th place finish would be pretty sweet, the plain-white-tee-guy that I'd run a few early miles with cruised up next to me. Daniel was looking strong, relaxed and fleet of foot in his VFFs. I was amazed at his pace, but it was still cool to exchange a few words before he set off in pursuit of Mr Shirtless and relegated me to 6th place.
Aid station number 3 came along pretty quickly. I found the slight decline a bit quad-challenging so stopped for a few seconds to stretch and chase down another 3 Endurolytes. For some reason I wanted/needed to know how far I'd run, but none of the aid station crew knew what mile mark we were at. I said it didn't really matter and took off gingerly for the next set of climbs. I think I passed Mr Shirtless on this section of the race, but white-tee-guy was too far ahead to spot. My quads were beginning to scream at me now, and the left side of my groin was also letting me down. It felt like I couldn't push off my toes on the ups, and on the downs my quads and calves were on the verge of going into a spasm. I backed off the pace a little and figured I'd wait 'til we hit the road again before striding out.
My next glimpse of white-tee-guy was on the gravel road; a good distance ahead, but at least he was within view. However, my idea of striding out on the road came to nothing, as my quads seemed to lock up more with every step. I chomped down half of the Hammer Bar I'd been clutching in my hand for the last 5 or 6 miles, but it didn't hit the spot like I thought it would. The taste of HEED was also getting pretty old, and I found myself thinking about the final aid station which would be stocked with all kinds of goodies.
Turning right towards the aid station was a great feeling. Friendly faces, soft grass and as much food/drink as you can manage. I handed my bottle to a guy for a water refill and popped over to the other side to drink a couple of cups of cola and mountain dew and take my final 3 Endurolytes. I noticed white-tee-guy was still eating and drinking, and wondered if he'd hit the same wall I had hit last year. In 2010 I must have spent 3 or 4 minutes at the same aid station, desperately munching on fig newtons, pretzels and M&Ms; anything to get my tired legs moving again. This year I was tired, but still feeling surprisingly spritely. I set off and told myself not to look back, but to just concentrate on moving forward.
At this point in the race I'd moved up to 4th spot. I walked some of the steeper climbs, but managed to keep a fairly good rhythm going on the flatter sections and downhills. I couldn't help but look back on a few occasions, but I'm glad I did as the lack of white-tee-guy helped my confidence grow. I also started to lap some of the runners on their first loop and knew the end of the race was rapidly approaching. I made sure to offer words of support as I passed and everyone was wonderfully supportive of me too. One guy confirmed I was in 4th place and "looking strong". Another lady said I was "3rd place overall", but to be honest my only thoughts were on wrapping up the race, giving my legs a much needed break and scoffing handfuls of HAT french fries that were waiting in the Pavilion.
Exiting the woods and hopping out onto the open field is probably one of the best feelings a HAT runner can experience. All of a sudden my legs felt light and I was able to run like a real runner again. With the finish line in sight, I picked up the pace some more, spotted Ally taking pics and video on the left and kicked it in to the finish. I felt bad seeing Greg S standing on the sidelines, race obviously over, and looking a bit dejected. As I ran by I remember asking if he was okay but didn't hear the response. Next thing I know I'm crossing the finish line in 4:13:12 and being told I'm the 3rd place guy. Quite amazing, and it still hasn't really sunk in to be honest – 31 minutes quicker than my 2010 finish time, and I'd managed to meet all of my rather ambitious pre-race goals.
Post-race was a lot of fun once I'd been fed, watered and was able to change into some warm, dry clothes. The post-race food is second to none and mixed with some great company and a couple of tasty brews, the whole HAT experience will be hard to beat. I'm sure I'll be back in 2012, and already plotting how this old man from flatland Virginia Beach can go even faster!
PS Turns out I was beaten by a sub-2:30 marathon runner, Michael Dixon, who crushed the old HAT course record, and super-talented Alex Barth; an experienced ultra guy and previous HAT winner. Definitely think I can live with that….
Stats:
Official finish time — 4:13:12
Overall position — 3rd out of 362 finishers (420 starters)
Age-group position — 1st out of 95 finishers (40-49 age group)
Links:
HAT Run Facebook page
HAT Run on Twitter
Other HAT race reports:
Peter Larson
Alex Barth
Thomas Neuberger