It's been four full days since the 2010 HAT Run, so I guess it's about time I jotted down my thoughts before everything blurs into a distant memory. I signed up for the HAT about six months ago, after learning that DailyMile friend Andy O had taken the plunge. The web site described the HAT as "an event that is both accessable to first time ultra runners and a challenging early season training run for veterans". In addition, every online reference I found painted a great picture of a well organized event that was also a lot of fun.
Despite a pretty rough winter weather wise, my training had gone well. I set a 30k PR at the Tidewater Striders Distance Series in February, logged numerous weekend 20 milers and also racked up my two highest weeks of mileage ever. The only minor set back was a sore throat and minor aches and pains that appeared from nowhere about five days before the race. However, after a day of total rest and a few more days taking it easy, I soon felt like I was back to my old self.
Friday rolled around and it was finally time to make the five hour drive to Maryland. I arrived late afternoon at the hotel, checked in and decided to head out for an early dinner; also a good opportunity to check directions to the race site for the following morning. Dinner was a just a burger and fries at a local chain, but I did treat myself to a lucky pre-race Guinness once back at the hotel. I also laid out my race gear, and prepped my Hammer Nutrition supplies for the morning. With nothing else to think about I headed to bed, definitely a little nervous but also very excited about the adventure that lay ahead of me.
I slept fine, woke easily to the 5:30am alarm, got dressed and began mixing up my Sustained Energy breakfast. I also mixed up a couple of flasks of Perpetuem, a couple of bottles of HEED and pinned four ziplock bags of Endurolytes to my race belt. The weather forecast called for a warm, sunny day and I hoped the Endurolytes would help stave off any cramps, especially late on in the race when the going got tough.
Strangely enough, my nerves seemed to disappear as I drove to the race. I parked up, headed to the old barn where packet pickup was taking place and waited patently as the volunteers received last minute instructions. Heading back to my car I noticed Thomas N and his VW Westy entering the car park. I *knew* Thomas from the excellent DailyMile web site, but had never met him in person. However, within seconds of chatting to him, it felt like I'd known him for years. Very cool. I left him to collect his bib and race packet and headed back to my car to get myself organized.
Next time I looked up, Andy O had arrived. I jogged over to greet him and he asked if I'd heard the music he was playing as he entered the car park — Overdrive by DJ Scott — one of his favorite techno songs. Sadly, I'd missed it, but I knew exactly what he was talking about. Anyway, to cut a long story short, we all grabbed our gear bags and headed up to the Pavilion where we could leave supplies for during the race.
Jeanne B was the only missing DailyMile link, but she finally arrived and it was nice to exchange a few nervous words. Finally, people started heading down to the start area, and after a quick photo, the four of us made our way too (Jeanne, Thomas, Me, Andy):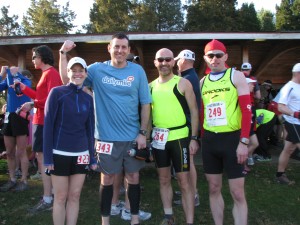 At the start line I chatted briefly to Andy who had taken it upon himself to line up next to bib #1. I think he was attracted to the Brooks singlet. Going into the race, I really had no idea what to expect. I found it impossible to predict a time, so my only goal was to keep it easy for the first mini loop (3.6 miles) and first major loop (13.7 miles) and then pick up the pace if I were able. It turned out that "keeping it easy" was pretty much me running at my limit and I didn't have much left for the final loop at all. Oh well. All good experience eh?
The initial 3.6 loop was part road and part single track trail. The road was a bit odd considering the HAT being a trail race, but it gave me and Andy a chance to chat and settle the nerves. The first section of trail was quite an eye-opener — a sharp descent with no room to pass or be passed — a whole new experience for me. The pace felt pretty comfortable as we trotted along nicely and pretty soon we were back at the Pavilion for the first time. The clock displayed just under 30 minutes. I grabbed a quick cup of HEED and then dashed across the straw field to catch up Andy who hadn't needed to stop this early in the race.
Andy and I ran another couple of miles together, but I'm not sure at what we point we lost each other. The rest of the race was basically one long rollercoaster. If we weren't climbing, we were descending. For 10 or 11 miles, everything felt great. My climbing skills were definitely better than my descending skills and I found myself braking on the down hills rather than going with the flow. Around 12 miles I felt the first twinge of a cramp in my left quad, more from the steep down hills than lack of fluids, which meant slowing down even more to prevent the quads locking up. Not sure if this was the best strategy, but it seemed to work for a while. My energy levels were high and I managed to take in plenty of HEED, water and perpetuem at the excellent aid stations which I hoped would help me out later in the race. Still a long way to go!
I don't remember my split for the first loop, but I vaguely recall someone in the Pavilion aid station saying I was in 8th place. Surely that was a mistake?? I wasn't really sure and it didn't really matter, so I grabbed my handheld bottle of HEED and set off for the second loop. I think at around the 20 mile mark, things started getting tough. The temperature was rising and I spent a good minute or two at the aid station cooling off with icy water. It was a bit weird. On the ups I found myself looking forward to the downs, and on the downs I just wanted to run on the flat. When I finally arrived at the brief sections of road, I couldn't wait to get back on the trail. It was definitely hard to get into any kind of rhythm, totally unlike my usual road races.
The last six or seven miles were tough. Very tough. My quads, hamstrings and calves were all suffering. My upper body also felt fatigued too. It was obvious this trail running lark uses totally different muscles to the road running in Virginia Beach I'm used to. I was never on the verge of quitting, but it did get to be a mental battle out there. One minute I felt great and was ticking along nicely. The next I felt rock bottom and was forced to walk for a while to regroup. The race was nothing like any I've taken part in before and tested me to the limit. Totally challenging but absolutely amazing.
Eventually I reached the end of the trail and appeared back on the straw field with the Pavilion in site. I'd been aware of a guy closing on me over the last couple of miles, but somehow had enough in the tank to kick it in to the finish. What a great feeling to finally cross the line after almost five hours of chugging along. My time was right at 4 hours 45 minutes as the guy at the finish line presented me with my huge HAT Run stein and Brooks HAT Run hat. I wandered over to the Pavilion, grabbed some Mountain Dew, fig newtons, pretzels and headed back to my car to change into some comfortable clothes.
The rest of the afternoon was just as memorable as the race itself — mainly due to the excellent company of my DailyMile friends. We all finished well and had a great time hanging out for a couple of hours before I set off on my long drive home. Great to meet some new friends too — Matt, Jason, Steve and Adam to name just a few…
Stats:
Official finish time — 4:44:59
Overall position — 10th out of 336 finishers (414 starters)
Age-group position — 2nd out of 75 finishers (40-49 age group)
In summary, the HAT Run 50K is a fantastic event — very well organized with a tremendous support crew of volunteers and aid station workers. The trails were in a great condition and it was a real pleasure to test myself to the limit. I will definitely return to *have another go* as I know I can do better and learn from some newbie mistakes. Thanks to all concerned for putting on a great race!
Links:
HAT Run Facebook page
HAT Run on Twitter
Other HAT race reports:
Andy O'Brien
Jeanne Bayers
Thomas Neuberger
Matt aka No Meat Athlete