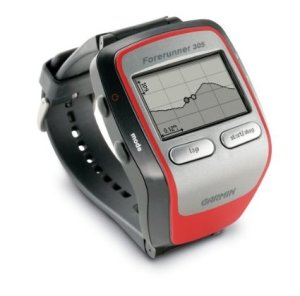 Spent some time last night updating various software versions for my Garmin Forerunner 305. Yesterday I thought I'd failed to charged my Garmin 305 correctly and therefore didn't/couldn't use it on my 15 mile long run. Today, despite being on charge for almost 24 hours, the same thing happened and the screen went blank as soon as I removed the unit from the charging cradle.
I searched online for a solution, but the news isn't good; it appears the battery inside the wrist unit will no longer hold a charge and is actually quite a common problem. Several newsgroups, forums and even the Garmin web site suggested a soft reset — which is performed by pressing the lap and mode buttons at the same time, and then pressing the power button to switch the unit on — but this didn't help at all.
I also read several blog posts where 305 owners had taken their units apart to check the battery connections – a bit too drastic a solution for my liking. I guess I'll contact Garmin in the next couple of days to find out what my options are, but my gut feeling is that a repair will be almost as expensive as buying a brand new unit with full warranty.
I'll let you know what Garmin comes back with….