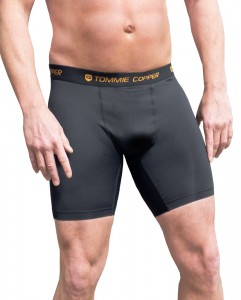 A couple of weeks ago, the folks at Tommie Copper tweeted about their latest product offering – "the world's first copper-infused compression shorts for men & women".
A quick visit to their web site to read more about the shorts left me intrigued and wanting to try a pair. After suffering with a dodgy hip/glute for over two months, I guess it was the "designed to help relieve pain and inflammation" that intrigued me most.
From the web site:
Tommie Copper compression shorts are ergonomically designed to relieve pain and enhance comfort in the lower torso and upper thighs. Tommie Copper's Therapeutic Copper Compression provides unmatched comfort and wearability while providing the ultimate in therapeutic pain relief.
Highly wickable fabric keeps skin dry
Stimulates blood flow, decreases inflammation and increases mobility
Gentle effective compression allows for 24 hour use, even while asleep
Silicone under the bands help sleeve stay in place
Comfortably and discreetly wear under pant or dress
Machine washable. Do not use bleach, fabric softeners or dryer sheets as it masks the copper
Sold individually
Featuring Therapeutic Copper Compression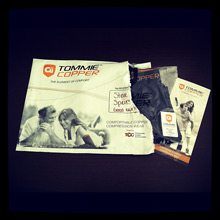 With the Boston Marathon just a few days away, I figured I'd left it too late to get a pair before race day, but after a frantic direct-message-exchange with the Tommie Copper folks, they assured me they'd do what they could and to expect a call from one of their customer service reps.
Long story short, on arrival the next day at my hotel in Boston, there was a neat little "Good luck, Steve" package waiting at the reservations desk. How cool is that for customer service?!
I tested out the shorts on a 15 minute Saturday morning shakeout. I'd hoped that they wouldn't feel restrictive around the waist like other compression shorts I own, and wasn't disappointed. The Tommie Copper waistband was soft and fitted perfectly, with no "rolling-over-itself" as is common on similar products. The actual shorts themselves fitted well, with a comfortable snug compression fit that allowed for excellent freedom of movement. Finally, the silicone at the bottom of the bands was a nice touch that kept the legs from riding up during the run. So far, so good.
The big test would come on Monday during the 2012 Boston Marathon. Thanks to picking up an injury back in February my build up to Boston was very poor, with just one run of 10 miles in the 9 weeks leading up to the race. Although I wouldn't be "racing" Boston this year (I'd offered to pace Ally for a potential PR attempt – a plan we decided to postpone because of the crazy weather conditions), the thought of running 26.2 miles on a tough course like Boston was just a little bit daunting.
Fast forward to race morning. It was already mid-70s when our wave started. The temperature allegedly got up to 89F at one point of the race, so as you've probably heard, it was a little warm out there. My chafing concerns came to nothing, and for the most part, the shorts (and me) stayed cool and dry. Wickability (is that a word?) was excellent! The hip held up pretty well, and it was more the shorter stride/slower pace that messed with my muscles, than the old glute pain flaring up. Mission accomplished I'd say.
I've since worn the shorts on a couple of short recovery runs, and more recently in the Full Bloom 13.1 trail half marathon this past weekend. Once again, the shorts performed well and my hip/glute held together under the pressures of racing. In fact, I'd go as far as to say the Tommie Copper compression was a definite contributor in my ability to hold off the opposition for a sweet race victory.
Compression in sports apparel is quite a hot topic lately, and for this post I'm not going to delve in to all the pros and cons. I'm also not qualified to testify the claims of "increased oxygen flow to the blood", or "stimulates conductivity to muscle tissue", but I will say that the shorts feel great, don't impede range of motion and definitely provide support and compression where needed. Great product. Great customer service. Great company. Thanks, Tommie Copper!
Useful links:
Product details – Men's Compression Shorts
Tommie Copper on Amazon.com – Tommie Copper Store
"Follow" Tommie Copper on Twitter – http://twitter.com/tommiecopper
"Like" the Tommie Copper Facebook page – http://www.facebook.com/tommiecopper