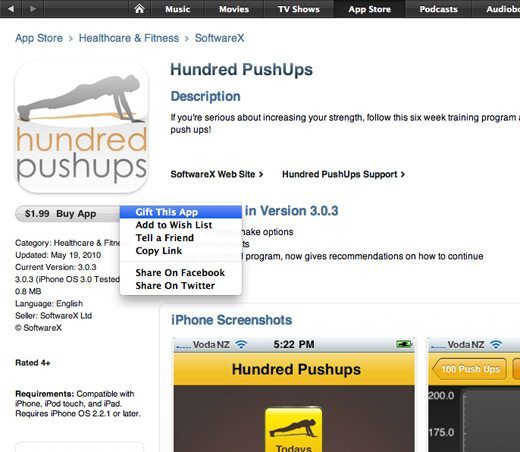 Great new feature in the iTunes App Store, which allows you to "gift" iPhone, iPod Touch and iPad apps to other users. To gift an app, simply click on the triangle next to any app's price and select "Gift This App". This will bring up a form where you enter the Sender's Name (that's you), Recipient's Name, Recipient's Email and Personal Message (500 character limit). I believe you can send to multiple people by separating recipient email addresses with a comma.
You can choose to send the gift via email, or print off a purchase certificate for inclusion in a card of letter. With Father's Day just around the corner, the Hundred Push-Ups app could be the perfect gift for the dad in your life!
Don't forget! Also available are the just-as-challenging Two Hundred Sit-Ups and Two Hundred Squats apps, both of which are suitable for the iPhone, iPod Touch and iPad.
Note: Gifts can only be redeemed in the store country from which they were originated.