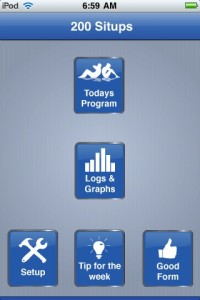 Not sure how well known (or official) this "national" holiday is, but thought it would be a good idea to promote the benefits of a strong core. Sit-ups and crunches are one of the basic and most common exercises for the human body. In conjunction with a balanced diet, sit-ups will help build a strong and well-balanced mid-section which is instrumental in practically all sports and physical performance. Not only that, a strong core helps in maintaining good posture and preventing injury.
If you're running a spring marathon, a strong core will definitely help you in the latter miles when the going gets tough. According to running bio-mechanics expert Michael Fredericson, Ph.D, roughly 90 percent of runners have weak abs which leads to faulty running patterns and bad form. Having weak abs can easily translate into taking too long or too short of steps, or a pelvis that swings from side to side. So, what are you waiting for?
If you're not already following the popular 200 Sit-Ups challenge, now would be a great time to jump on board and strengthen those abs. The six-week progressive program will help take you from your current fitness level right up to a couple of hundred consecutive sit-ups in a matter of weeks. You can either follow the plan online or download the hugely popular iPhone App from the iTunes App Store. The App currently costs just $1.99, but word on the street is that the price will soon be reduced to $0.99 for a limited time period to celebrate National Abs Month.